Amsterdam vs. Kinheim to resume game on Monday-evening
Nederlands

HAARLEM (Neth.) - This is the continuing story of a Play-Off, as rain played another major role on Sunday, when L&D Amsterdam Pirates and Corendon Kinheim faced each other for the fourth time in the best-of-five Play-Off in what originally was to be Game 5 of this series, as the orginal Game 4, which rained out on Saturday rained out and was re-scheduled for Monday-evening and now has been pushed back to Tuesday and became the new Game 5, while the remainder of the original Game 5 will be played on Monday-evening, no, not in Amsterdam, but in Haarlem. Is it all clear to you?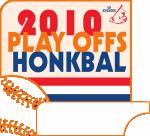 OK, let's go back to the start of this weekend. On Saturday, Game 4 of the series was to be played in Amsterdam, but then was canceled and was re-scheduled for Monday-evening at Amsterdam. On Sunday, the original Game 5 became Game 4 with the Pim Mulier Stadium in Haarlem as the playing site. Again, rain disrupted everything. As in Amsterdam, the groundscrew prepared the field, it rained again, the umpires checked the field and the game was postponed twice. The game then finally began at 3:15 PM (one hour and 15 minutes later than scheduled). Amsterdam rallied for seven runs in the second inning to take a comfortable lead, but 52 minutes after the game started, Home Plate Umpire Henk van der Linde halted play, just after the fourth inning had started, as it started to rain heavily. Ten minutes later, the game was canceled. According to the rules, the remainder of the game has to be played before the next scheduled game between the two teams. That next game was Monday-evening in Amsterdam. However, in case Kinheim would come back to win Game 4, it would simply be impossible to play a fifth game on Monday-evening, as several players simply have a regular day-job and therefore, it would not be possible to start a game late in the evening and continue through the night. So, therefore, after Sunday's game was canceled, the KNBSB-Board decided after a conference call that only the remainder of today's game would be played on Monday-evening and not in Amsterdam, but in Haarlem. If necessary, Game 5 will then be played on Tuesday-evening at Amsterdam.
In Sunday's game, the sides were retired in order in the first inning, but Amsterdam rallied for seven runs on six hits in the second inning off David Bergman, who gave up some hard hits. The first seven batters reached base safely and four of the seven runs were unearned, due to an error. The first run was scored when Bas de Jong and Vince Rooi changed places after leading off with back-to-back doubles. Rooi then scored when Kenny Berkenbosch followed with a single. Next, Rashid Gerard also singled, but then Berkenbosch was forced out on a grounder by Roelie Henrique. A grounder by next batter Michael Kramer should then have ended in a force play at second base, but a throwing error by short stop Björn Henrichs led to a run and two baserunners. Wesley Connor then followed with another RBI-single, before Nick Urbanus popped out for what would have been the third out. Instead, there were two outs and runners on first and second base when Sidney de Jong hit a 3-run homerun to make it 7-0. It marked the end for Bergman, who led the regular season in victories. The righthander was replaced by Nick Veltkamp, who then ended the inning when Bas de Jong grounded out.
In the third inning, Amsterdam reached base twice when Vince Rooi's lead-off grounder was misplayed and Roelie Henrique walked with two outs, but no runs were scored. Amsterdam-starter Rob Cordemans gave up a lead-off single to Bryan Engelhardt in the second inning and an one-out single to Niels van Weert in the third, but that would be all for Kinheim.
In the top of the fourth inning, lead-off hitter Wesley Connor flied out, then Nick Urbanus singled. Next batter Sidney de Jong then had an one ball-no strike count on him when Home Plate Umpire Henk van der Linde signaled that he interrupted the game because of heavy rain. After a 10-minute delay, the game was stopped definitively.
So, on Monday-evening, at the Pim Mulier Stadium, the game will resume in the top of the fourth inning with Amsterdam hitting and having a 7-0 lead. In the fourth, there is a runner on first base (Nick Urbanus) and one out and the batter (Sidney de Jong) has an 1-0 count.
To be continued.
(August 29)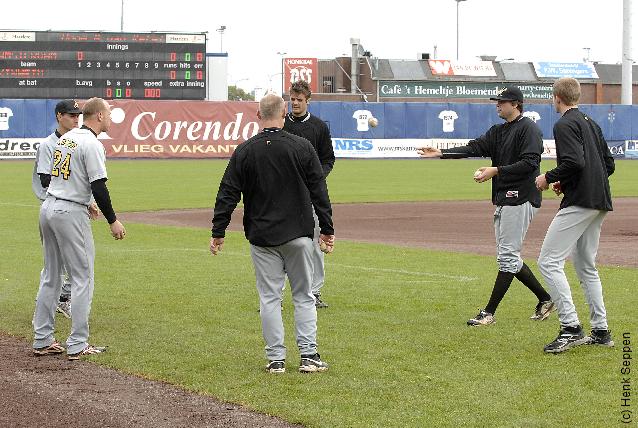 ...The players of Amsterdam Pirates prepare before the game...
(© Photo: Henk Seppen)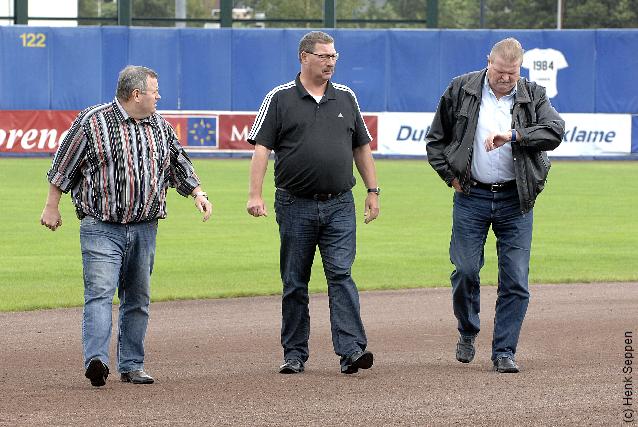 ...Umpires Peter Brink, Henk van der Linde and Fred van Groningen Schinkel...
...do their inspection before starting the game...
(© Photo: Henk Seppen)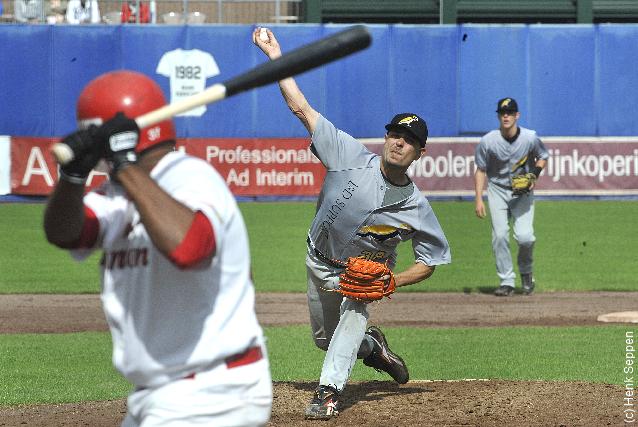 ...Amsterdam-starter Rob Cordemans delivers a pitch...
(© Photo: Henk Seppen)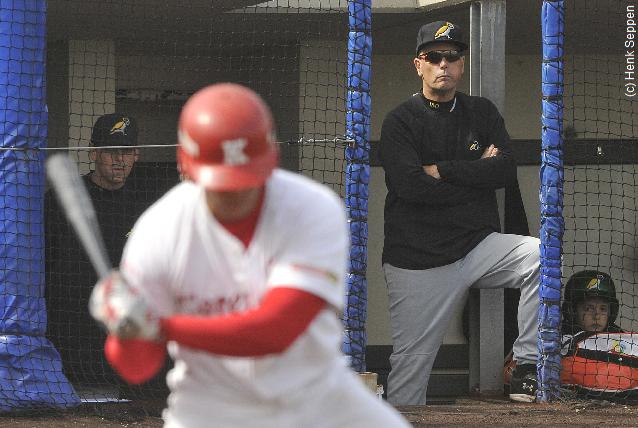 ...Amsterdam's Head Coach Charles Urbanus (right) and Pitching Coach...
...Raban Schalm keep their eyes on the batter...
(© Photo: Henk Seppen)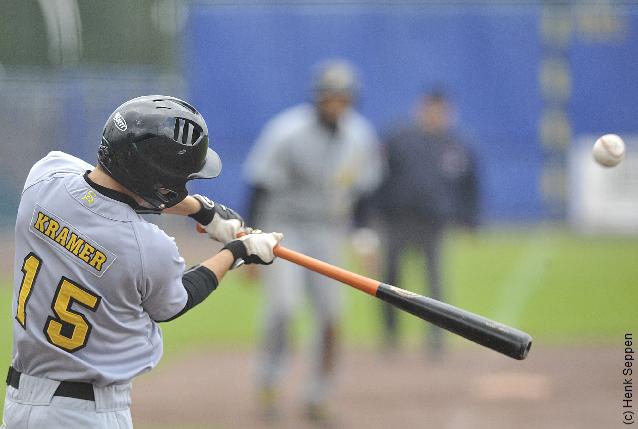 ...Michael Kramer connects in the second inning...
(© Photo: Henk Seppen)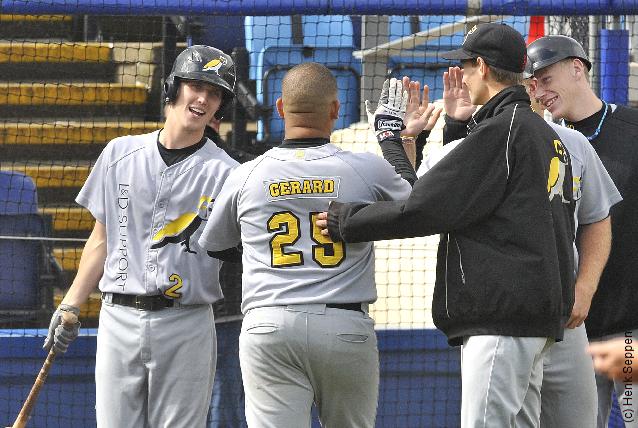 ...Rashid Gerard is greeted after scoring when an error is made on Kramer's grounder...
(© Photo: Henk Seppen)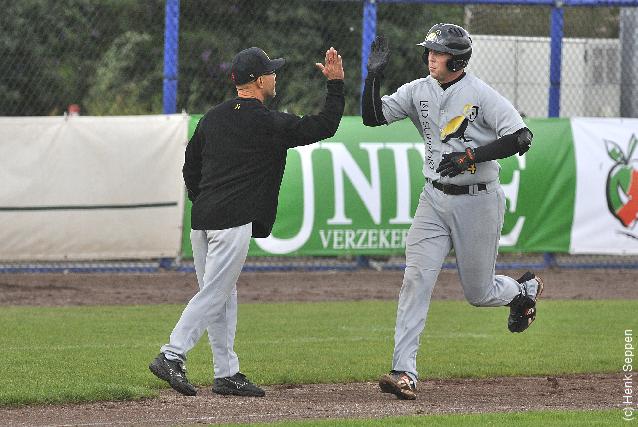 ...3B Coach Randell Hannah high-fives Sidney de Jong after hitting a 3-run homerun...
(© Photo: Henk Seppen)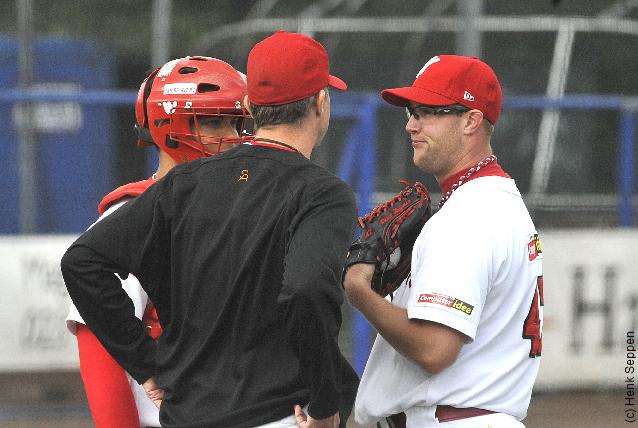 ...Kinheim's Head Coach Eelco Jansen is replacing starter David Bergman...
...Standing at left is catcher Jason Halman...
(© Photo: Henk Seppen)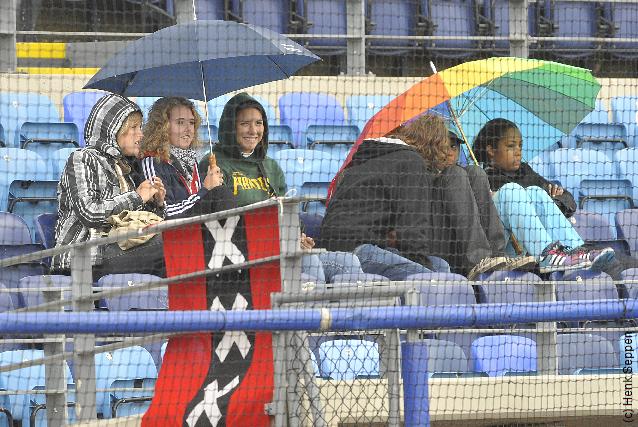 ...Amsterdam-supporters sitting in the rain...
(© Photo: Henk Seppen)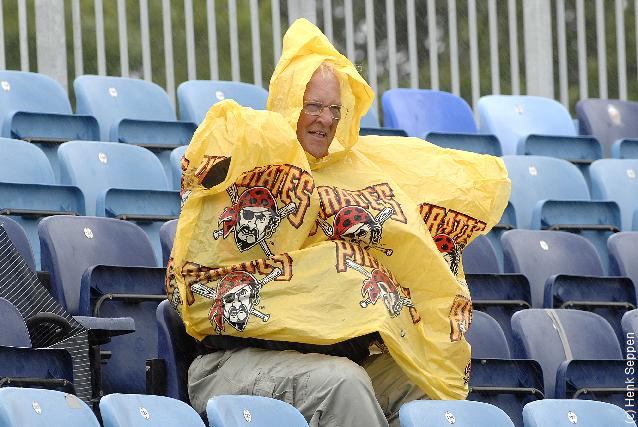 ...Despite the rain, Mr. Pirates Loek Loevendie also remains seated...
(© Photo: Henk Seppen)