Six of seven championships decided in Third Division
Nederlands








MEPPEL / NIJMEGEN / HOOFDDORP / BERGEN / VLAARDINGEN / RIDDERKERK / HEERLEN / BEEK / SCHIJNDEL (Neth.) - In the Third Division, there are seven different pools, who all have a regional alignment (just as is the case in the Second Division). The champions of these seven pools all will promote to the Second Division, while the teams in last place relegate to the Fourth Division. Six of the seven champions have been decided, five relegations have been decided. The lone division-championship that is still on is the Third Division G, which can be decided coming weekend. In the Third Division E and F, the situation regarding the relegation isn't decided yet.
---
Third Division A

MEPPEL - This pool is compiled of eight teams of the Northeast of the country.
On Sunday, August 29, Blue Devils-2 from Meppel played a 6-6 tie vs. WHSC at Winschoten in its 18th game of the season.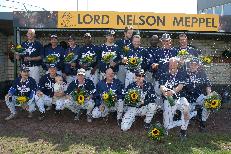 The point the team earned with this gave Blue Devils a total of 31, making them out of reach for second-placed Cubs from Hardenberg, meaning the team from Meppel was the champion in this pool. At that moment, Cubs had still five games remaining, meaning them could end up with 30 points. The one-point Blue Devils earned from the tie proved to be very important, as hereafter, they lost their remaining three games of the season. Blue Devils was beaten 8-4 a week later at home by Cubs, then lost twice on the road, 12-5 to The Pioneers at Assen and 20-17 vs. Knights at Leek.
At the moment, Blue Devils-2 (which finished the season with a 15-5-1 record) is five points ahead of Cubs, which will close the season coming Sunday vs. The Pioneers. Currently, Cubs shares second place with Northern Stars from Leeuwarden. Officially, Cubs has one more game left vs. Drachten Diamonds-2 from Drachten, but that game probably will not be played anymore, as it isn't listed in the remainder of the schedule. The game is not necessary, as Drachten, which won only one game, relegated to the Fourth Division.
(photo copyright Remco Neslo, Blue Devils)
---
Third Division B


NIJMEGEN - In this pool, eight teams are playing from the center of the country. A ninth team, Robur '58-3 has witdrawn from this league.
On Sunday, September 12, despite heavy rain, De Hazenkamp-2 from Nijmegen won 8-5 vs. Domstad Dodgers-3 at Utrecht to win the title in this pool and promote.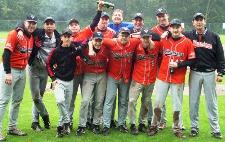 The team, coached by Bas Beuker, Paul Sabel and Mark Flink, finished the season two points ahead of UVV-3 and closed with a 12-2 record.
Finishing in last place was Blue Socks from Veenendaal, which won only once. Blue Socks was one of three 'standard'-teams in this league, the other being Wombats and Moorfielders. The remaining five teams in this pool were either second or third teams.
The playing in this pool is concluded, as there are no games left on the schedule.
(photo copyright De Hazenkamp)
---
Third Division C


HOOFDDORP - This pool is compiled of six teams from the Amsterdam/Haarlem-area and three from the center part.
On Saturday, September 18, Hoofddorp Pioniers-3 won 16-9 at home vs. Falcons to claim the title in this pool. For the team from Hoofddorp, this not only was a joyous moment, but also an emotional moment.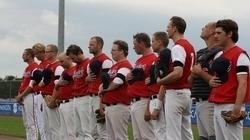 On July 9, the team lost player Sjoerd de Jong, who passed away at age 29 due to cancer. When the team opened the second half of the season on Sunday, August 1, playing against Vennep Flyers, the game was dedicated to their teammate and was named Sjoerd de Jong Memorial Game. After a moment of silence before that game, Pioniers won it 11-6.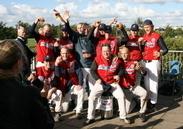 Last Sunday, Pioniers, which is coached by Ewoud Slot and Jasper de Jong (Sjoerd's brother), closed the season with an 11-7 win vs. Ban-Topa Future Stars, finishing five points ahead of second placed Centrals. Pioniers finished with a 13-1-2 record, with the lone loss coming on June 12 vs. Centrals (12-4).
Almere '90-2 finished in last place, winning only one of their 16 games played. Also playing in this pool is Quick Amsterdam, which is the oldest baseball-club in the Netherlands, being founded in 1913, so playing in its 97th season! At the moment, Quick shares third place with Falcons, but has a still to be scheduled game remaining.
Two games in this pool have yet to be replayed, but a new date isn't scheduled yet.
(memorial photo (left) copyright André Steensma; championship photo (right) copyright Hanna Oosterwijk)
---
Third Division D


BERGEN - This pool is made up from six teams, who are all coming from the province Noord-Holland.
On Sunday, August 15, league-leader The Bears from Bergen faced second placed and title-contender Red Stars Vitesse from Castricum.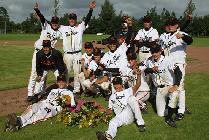 The Bears, who are coached by former big league-coach Dave Tromp, won the game 9-7. With this, The Bears became unreachable and thus winning the championship-title in this pool, resulting in promotion to the Second Division.
Last Sunday, The Bears closed the season with a 9-6 loss at home vs. Sparks Haarlem-3. With this, the team ended with a 13-2 record and finished six points ahead of Red Stars Vitesse. The only other loss of The Bears also came vs. Sparks Haarlem, who won 13-3 on June 12.
Alcmaria Victrix-3 finished in last place.
The season in this ends next Sunday with the match-up between Double Stars-3 and Olympia Haarlem-2.
(photo copyright The Bears)
---
Third Division E


VLAARDINGEN - This pool is compiled of six teams from the Rotterdam/The Hague-area.
Vlaardingen Holy dominated this season and closed it with a 16-2 record. In their 18 games, the team from Vlaardingen scored 233 runs and gave up only 47.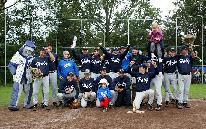 On Sunday, September 19, playing at home, Vlaardingen Holy won 4-2 vs. Spikes to win the championship and promote to the Second Division. In this game, Vlaardingen Holy broke a 2-2 tie in the home of the seventh inning. A double by Maikel Benner gave the team a 3-2 lead and moments later, he scored himself on a throwing error. Benner also was the winning pitcher in this game, striking out six and giving up seven hits.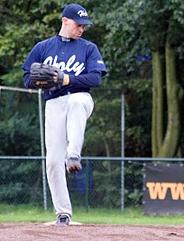 Last season, Maikel Benner (photo right) concluded a career in the Dutch Major League, while playing for L&D Amsterdam Pirates. Before that, Benner also played for Sparta-Feyenoord, Neptunus and ADO and has been a member of the Dutch National Baseball Team. Benner, who started his career with Gophers in Maassluis, played the majority of his career as a catcher, but this season, his first with Vlaardingen Holy, he was one of the pitchers for the team, which was coached by former big leaguer and former National Team-player John Jonkers, assisted by Ton Benner.
At the moment, Vlaardingen Holy is 11 points ahead of second placed Storks-2. Orioles-2 is currently in last place, four points behind Braves-2, whom they will meet coming Sunday. The season isn't over yet in this pool, as there are still 10 games scheduled to be played. The last of these is scheduled for Sunday, October 24, which is only six days before the expiration of the transfer deadline for next season.
(photos copyright Vlaardingen Holy)
---
Third Division F


RIDDERKERK - In this pool, three teams from the Rotterdam-area are combined with three teams from the province of Noord-Brabant. A seventh team, Jeka-2 has withdrawn from this pool.
Ridderkerk Rowdies won the title in this league and with this won their first championship in six years. As the team will promote, it will play in the Second Division next year for the first time in 10 years.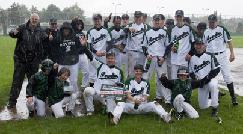 On Sunday, August 29, playing in heavy rain at home vs. The Hawks-2, Ridderkerk Rowdies won 11-0 to become unreachable and win the championship title. The Rowdies struck early with four runs in the first inning, thanks to back-to-back triples by Ossy Monte and Wouter van Toorn, followed by a single by Rogier Vleugels, double by Matthijs Bakker and single by Jesper Perik. While it started to rain heavier, the game continued and the Rowdies added seven more runs in the fourth at bat and it then became official after the top of the fifth was played. Winning pitcher Alex van Burik raised his record to 11-0.
Rowdies-player Rogier Vleugels briefly played in the Dutch big league, while teammate and captain Marcel Buurman has a long career in the highest division, playing for several teams.
Ridderkerk Rowdies, which is being coached by Anthony Monte, finished the season a week later with a 6-1 loss vs. second placed Gryphons-2. This was only the second loss for Ridderkerk, which on Wednesday, June 2 also lost its first meeting vs. Gryphons (11-4). Between the two losses, the Rowdies had a 7-game winning streak. The Rowdies closed with a 13-2 record. Gryphons close the season coming Sunday vs. The Islanders from Oude Tonge. This is the last game in the season in this pool, but is very important, as The Islanders currently share fifth (and last) place with The Hawks-2.
(photo copyright Ridderkerk Rowdies)
---
Third Division G



HEERLEN / BEEK / SCHIJNDEL - Eight teams from the southeast of the country are forming this pool in the Third Division.
This is the lone pool, where the championship isn't decided yet. At the moment Parkstad/Cheetahs (17-2) is four points ahead of Starlights (15-4) with both teams having two games remaining in the season. Coming Saturday, Parkstad/Cheetahs can win the championship, as it will face Starlights at their site in Schijndel. A win will give the team the title, but a loss means Starlights will narrow the deficit to two points. On Sunday, Starlights is playing against MULO-2, which is in fourth place. When Starlights also wins that game, they have to wait another week for the decision, as Parkstad/Cheetahs will close the season on October 10 also vs. MULO-2.

On May 9, Parkstad/Cheetahs and Starlights met for the first time this season with the first winning 5-3. On July 4, Starlights won the next meeting, 9-6. In case of a tie, an one-game tiebreaker will decide the championship.
ASC Parkstad from Heerlen was formed in June 2006 after a merger between All Stars and Samacols, with ASC standing for All Stars and Samacols Combination. Parkstad has a working agreement with Cheetahs from Beek, resulting in a joined team, nicknamed Raptors, playing in this pool. The team, which is coached by Arjan Blokland, splits playing its home games between the fields of both clubs in Heerlen and Beek.
Starlights from Schijndel is led by playing coaches Jeroen Duynisveld and Stijn van der Spank and is the club where former Dutch big league and international umpire Edwin van den Berk once played as catcher and third baseman.
There are four games left in this pool, including one for DVS, which is currently in last place with an 0-20 record. Next Sunday, DVS will close the season vs. Nuenen-2, which is in fifth place.
---

(September 29)

Coming up: the situation in the Fourth and Fifth Divisions