Dutch defeat Koreans to remain in race for final
Nederlands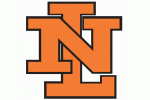 DOULIU CITY, Yunlin County (Taiwan) - The Dutch National Baseball Team on Friday-afternoon won 3-1 vs. Korea on Day 7 of the Intercontinental Cup to remain in the race not only for a medal, but also for a spot in the final on Sunday. On Saturday, the Dutch closes the Championship Round vs. Taiwan and a victory against the host will be crucial for reaching the final. Four years ago, the Dutch played in the final vs. Cuba.

The Dutch Team started well on Friday, scoring two runs in the first inning. Starting pitcher Leon Boyd first retired the side, then the Dutch struck in their first off Korean starter Wong-Jun Ko with two outs. Sidney de Jong and Curt Smith then singled and both scored when Sharlon Schoop followed with a triple.
In the second inning, Boyd gave up a lead-off single, but then struckout the next two hitters, followed by a pop-fly. In the third, Boyd again struckout two batters and retired the side.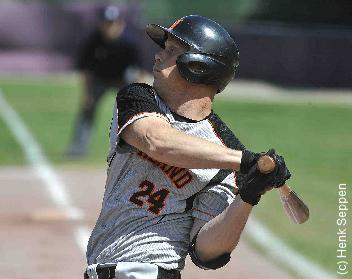 ...Sidney de Jong: run, 2 hits, double...
(© Photo: Henk Seppen)

The Dutch Team got two runners in these innings. In the second, Danny Rombley was hit by a pitch, but then Bryan Engelhardt grounded into a double play. In the third, Sidney de Jong doubled with two outs, but stranded.

In the fourth, Korea got a run back when Joo-Hwan Choi tripled with one out and scored on a throwing error. The Koreans threatened again to score in the fifth. Leon Boyd gave up a lead-off single to Ji-Hwan Oh, then an one-out single to Soo-Bin Jung and was relieved by David Bergman, who ended the inning with a foul-out and groundout.

The Dutch added an insurance run in the home of the fifth. Bryan Engelhardt led off with a walk and advanced on a sacrifice bunt by Shaldimar Daantji and a wild pitch. Next, Eugène Kingsale walked and the bases got loaded when Sidney de Jong was hit by a pitch with two outs. Hereafter, Curt Smith also walked to bring in a run, but then a grounder followed, leaving the bases loaded.

The Dutch Team stranded two more runners in the sixth inning and one in the seventh. But Korea was unable to come back off David Bergman, who gave up only one basehit in the 4 2/3 inning he pitched. Bergman struckout four and earned his second win of the tournament.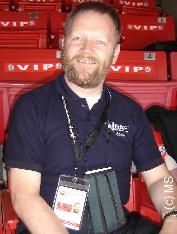 ...Feiko Drost...
(© Ph: Marco Stoovelaar)

Also on Friday, Cuba beat Japan 4-1, meaning the latter is almost eliminated for a medal. The day ended with a 6-2 win by Taiwan vs. Italy.

At Taichung, Cuba trailed 1-0 in the third inning, then scored twice in the home part of this at bat and added runs in the fourth and seventh inning.

In the evening, Taiwan took an early 3-0 lead in the first inning, then gave up two runs in the second, but answered with two runs in their second. Italy then was unable to add more runs in the remainder of the game. Dutch umpire Henri van Heijningen was behind the plate of this game.

Also at Taichung today, the semi-finals were played for 7th through 10th place. Both games were played at the older Taichung Baseball Stadium. In the afternoon, the Czech Republic won 13-3 vs. Thailand in 7 innings on 12 basehits, including three by Pavel Budsky, who played in the Dutch big league a few years ago for Mr. Cocker HCAW. In the evening, Nicaragua won 12-2 vs. Hong Kong in 7 innings and collected 15 basehits, including three by Davila Martinez and a solo-homerun by Cesar Granera. Dutch scorer Feiko Drost was one of the Official Scorers in both of these games.

With this, the Czechs now will meet Nicaragua on Saturday-evening in the 7th place-game, while Thailand and Hong Kong will meet in the afternoon in the 9th place-game.

So what are the scenarios on Saturday for the Dutch squad?

scenario 1
When the Dutch beat Taiwan on Saturday (and Cuba defeats Italy), they will end in a tie with the Asians, but would clinch the final based on the win and face Cuba on Sunday. Taiwan then ends up in third place, while Italy will share fourth place with Japan (in case the latter beats the Koreans). Italy will then be fourth, as they haven beaten Japan.

scenario 2
When the Dutch beat Taiwan and Italy should surprise and beat Cuba, there will be a 3-way tie between the Dutch, Taiwan and Italy. In that case, the Dutch also will clinch a spot in the final, as they have beaten both Taiwan and Italy, while these two will then face each for the bronze medal.

scenario 3
The Dutch are losing to Taiwan, Cuba beats Italy and Japan wins vs. Korea. In this case, Taiwan will play the final and there will be a 3-way tie for third place between the Dutch, Italy and Japan. Based on the runs against tiebreaker, the Dutch will then meet Japan in the bronze medal-game, with Italy finishing in fifth place.

scenario 4
The Dutch are losing to Taiwan, Italy beats Cuba and Japan wins vs. Korea. In this case, Taiwan will reach the final and Italy ends up in third place. The Dutch then finishes in a tie with Japan and will be empty-handed, as they lost to the Asians, who will then meet Italy for bronze, while the Dutch then will play for fifth place against Korea.

(October 29)