Former pitcher Gerard Salemink passed away
Nederlands
IN MEMORIAM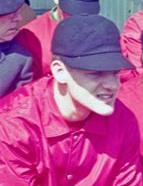 ...Gerard Salemink...
(1946 - 2010)

AMSTERDAM (Neth.) - Former pitcher Gerard Salemink has passed away on December 23 at the age of 64 after a courageous battle with an unfair disease. The memorial service will be held on Thursday, December 30, at Crematorium Westgaarde, Ookmeerweg 275 in Amsterdam and starts at 2:00 PM.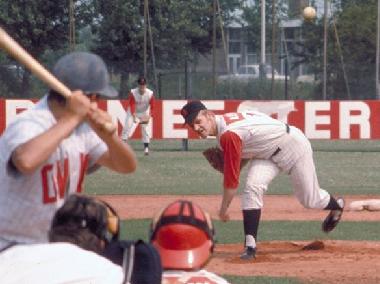 ...Gerard Salemink while pitching against OVVO...

The lefthanded Gerard Salemink was a pitching ace for ADO from The Hague in the sixties and early seventies, when the team played in the Second and First Division. In 1970, Salemink was one of the pitchers of the team when it won the championship in the First Division and promoted to the Major League.

In his first big league-season in 1971, Salemink appeared in 16 games and was 1-11 with a 4.88 ERA, while striking out 58 batters in 90 1/3 inning. Salemink's teammates with ADO in that first season on the highest level included players like King Zschuschen (who was the eighth best hitter in the league with a .323 average), John Barrett (who later became more known as an umpire), Berry Eijgendaal, Hans Leenen (who also went into umpiring later), Jaap Bijl and Louis Witloks. The team finished in last place with a 4-24 record and relegated again to the First Division.

ADO returned to the Majors in 1973 and this time was able to secure their spot in the highest league for the following seasons. Since then, ADO played in the big league ever since, except for 1979 and 1988. In the first year back at the top, Salemink played in 24 games and batted .239 in a team, which again included Zschuschen, Eijgendaal, Barrett, Witloks and Bijl, but also Ferry Neuteboom, Harrie Heikoop and Hugo Wapperom.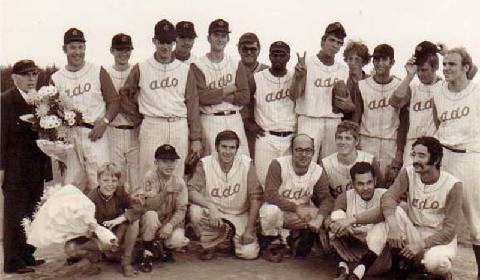 ...The championship team of 1970...
...Gerard Salemink stands in the back row fourth from left...
...Second from left is Head Coach Leen Volkerijk...
...Sitting right is King Zschuschen; 4th from right is John Barrett...

In this stage of his career, Salemink started to throw lesser games, as new pitchers like Ferry Neuteboom and Bart Volkerijk (who made his debut in 1974) started most games. In 1974, Salemink played in 20 games in what would be his last season in the main squad of ADO.

During most of his career in the main squad of ADO, Salemink was coached by Leen Volkerijk, who led the team from 1963-1972. His teammates John Barrett, Hugo Wapperom, Berry Eijgendaal, Jaap Bijl and Bart Volkerijk all would coach ADO in later years.

In the sixties, Salemink, who was a very talented lefthanded pitcher, was a member of the Dutch National B-Team, but also got an invitation to participate in practices with the National Team, as well as play in an exhibition game.

A career highlight came during the 1969 season. In a game against Rap (which is now known as Amsterdam Pirates), Gerard Salemink hit three homeruns and with that outhit Amsterdam-slugger Terry McIntosh, who hit two homeruns in the match-up. ADO went on to win 10-3 and finished in third place that season, while the Amsterdam-team finished in sixth place. A year later, ADO captured the title and promoted to the big league.

John Barrett and Hans Leenen were not the only ADO-players, who went on to continue in an umpiring career. After he retired as a player, Gerard Salemink did the same and officiated in national divisions from 1981-1986. Besides that, he remained a frequent visitor to games of ADO and also participated in several veteran games of the club.

(December 29)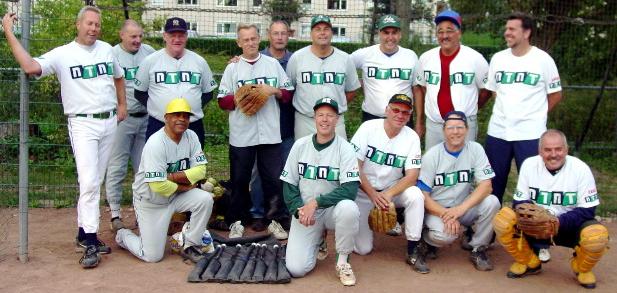 ...Gerard Salemink with a team of veteran players of ADO...
...Back row: Bart Volkerijk, Harm Nieuwland, Gerard Salemink, Louis Witloks...
...Hans Hendriks, René Nieveld, Frank van Rest, King Zschuschen, Berry Eijgendaal...
...Front: Frank Luyando, Erik Volkerijk, Hugo Wapperom, Rob Lucas and Willem Tuin...
(thanks to Bart Volkerijk for the photos)