Tjerk Smeets Head Coach RCH-Pingu´ns
Nederlands

HEEMSTEDE (Neth.) - Tjerk Smeets, who retired after this season as an active player, will make his debut as Head Coach next season, as he was named in that position to lead First Divisionist RCH-Pingu´ns. The former catcher succeeds Peter van 't Klooster, who led RCH-Pingu´ns this season in his first year as Head Coach with the club.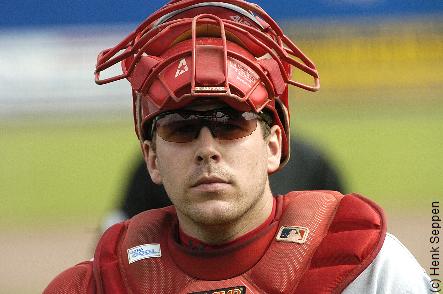 ...Tjerk Smeets...
...Coaching debut in 2011...
(© Photo: Henk Seppen)

This year, Tjerk Smeets appeared in 41 games for Corendon Kinheim, playing at first base or being the designated hitter. Before that, Smeets was the regular catcher for the Haarlem-based team, but stopped with catching due to an injury. Earlier last year, Smeets ended his international career. The 30-year old Smeets started to follow the Level-4 Trainer/Coach Course and this season was added to the coachingstaff of the Dutch National Baseball Team. In the staff of Manager Jim Stoeckel, Smeets was the Bullpen Coach and in that capacity, he got his first coaching experiences and took part with the team in the Haarlem Baseball Week in Haarlem (Netherlands) and the European Championship in Germany.

Smeets started his baseball career with ABC in Amsterdam and then went on to play for TIW-Survivors in Diemen. After the 1997 season, at age 17, Smeets came to Amsterdam Pirates and played for one season for the second team of the club, which was nicknamed Bucs. Towards the end of the 1998 season, Smeets started a study in the USA and played some years for the baseball-team of Middle Tennessee State University in Murfreesboro, Tennessee. In 1999, Smeets started the season again playing for Bucs, but in the same season, he was added to the main squad of Amsterdam Pirates and made his debut in the Dutch big league, playing in 13 games.

Tjerk Smeets, who also played a winter in Australia, played in seven seasons for Pirates (1999-2005) and then opted to play for Kinheim, where he played the last five seasons. In his first two seasons in Haarlem (2006-2007), Smeets won the Dutch championship title with Kinheim. In 2008, Kinheim again qualified for the season's final, but then was swept by Amsterdam Pirates. In the last two seasons, Kinheim reached the Play-Offs, but was eliminated both years, respectively by DOOR Neptunus and L&D Amsterdam Pirates.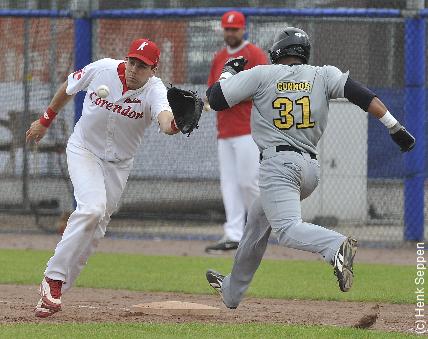 ...This season, Tjerk Smeets played at first base...
(© Photo: Henk Seppen)

This season, Smeets played in 41 games and was 34-for-144, finishing with a .236 batting average. He scored 14 runs and had 20 RBI's. In 2009, Smeets batted .243 after having batted .329 the year before when he had 33 RBI's and 52 basehits.

In 2006, his first year with Kinheim, Smeets led his team with a .349 average, collected 53 basehits, scored 25 runs and had a league-leading 36 RBI's, resulting in him being named Most Valuable Player of the Dutch Major League.

On August 16, 2000, Tjerk Smeets made his debut in the Dutch National Baseball Team and then played in two games of a 5-game friendship series vs. Taiwan in The Netherlands. Back then, Smeets was of several talented players who got a chance to play in the national team. Three years later, in 2003, he was selected for the team that participated in the World Port Tournament and then hit a homerun in his first at bat of the event. After completion of this tournament in Rotterdam (Netherlands), he was dropped from the rosters for the European Championship, Olympic Qualifier and World Championship, which all were held in The Netherlands. Smeets then returned to the national team in 2005 when he played in the European Championship in the Czech Republic, but was left of the roster for the World Championship that same year in The Netherlands. Early 2006, he was a member of the provisional roster of the Dutch squad for the World Baseball Classic, but didn't made the team. Shortly hereafter, he became one of the regular players in the national team for the remainder of 2006, followed by 2007 and 2008. In these years, he participated in one Olympic Games (Beijing 2008), one World Championship, one Intercontinental Cup, one European Championship/Olympic Qualifier, one European Baseball Series, two Haarlem Baseball Weeks and one World Port Tournament. In total, Smeets played in 30 official international games, before being named to the preliminary roster again for the 2009 World Baseball Classic. He again didn't made the final team for this event, then was left of the roster for the remainder of the year by then-Manager Rod Delmonico, resulting in Smeets retiring from the national team.

RCH-Pinguins, the club where Tjerk Smeets starts his coaching career, is one of the oldest clubs in The Netherlands, being founded in June 1934 and celebrated its 75th anniversary last year. In 2009, RCH-Pingu´ns relegated from the big league. The team, which was then coached by Bernie Beckman, finished in last place, then lost the best-of-five Promotion/Relegation Play-Off vs. First Division champion Almere Magpies.

This year, RCH-Pingu´ns closed the first half of the season with a 13-9 record to finish in fifth place. This division was then split, with the top-6 playing for the championship. The results of the games played against the other five teams in this pool were taken into the second half. In the second half of the competition, RCH-Pingu´ns was 8-5-2 to finish in this pool with a 14-9-2 record, giving them second place, seven points behind UVV, which won the title and went on to play a best-of-five Promotion/Relegation Play-Off vs. Almere Magpies. The latter swept UVV in three games to secure their big league-spot for next year.

(September 30)