Nick Urbanus signs professional contract
Nederlands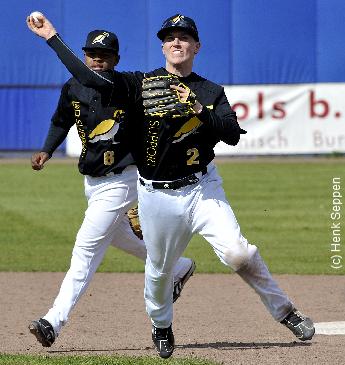 ...Nick Urbanus...
(© Photo: Henk Seppen)

AMSTERDAM (Neth.) - Nick Urbanus is the latest Dutch player to have signed a professional contract with a Major League-organization, as the middle infielder of L&D Amsterdam Pirates has signed a contract with the Texas Rangers, the club announced on Tuesday, November 30. The previous last player to sign a contract was catcher/infielder Rodney Daal (Mr. Cocker HCAW), who signed a contract with the San Diego Padres on August 24.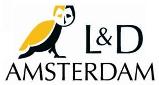 This year, the 18-year old Urbanus played in his first full season in the Dutch big league, playing in all 42 regular season games of Amsterdam. The lefthanded hitting Urbanus batted .236 (37-for-157) with six doubles and one triple, scored 17 runs and had 19 runs batted in. His RBI's were the fourth highest in the team. Defensively, the solid playing and skillful Urbanus committed 13 errors, but also had a league-leading 144 assists and made 46 outs himself. On the basepaths, the speedy Urbanus was second best in the team with six stolen bases and was caught stealing only once.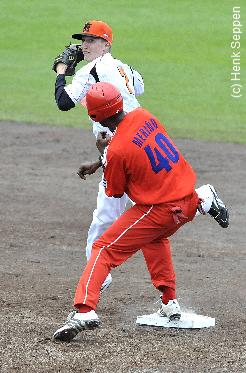 ...Nick Urbanus during last...
...years World Port Tournament...
(© Photo: Henk Seppen)

Last year, Urbanus made his debut in the Dutch big league and then appeared in five games, hitting 1-for-8 (.125) with one run and one RBI. Also last year, Urbanus played his first games in the Dutch National Team when he was a member of the squad that participated in the World Port Tournament in Rotterdam. During the event, Urbanus played in eight of the 10 games, including two official international games.

Urbanus is the first Dutch player to sign a contract with the Texas Rangers. In 1996, Rikkert Faneyte (who also came from Amsterdam Pirates) played in eight Major League-games for the Rangers after having been traded from the San Francisco Giants, where he had signed his original contract.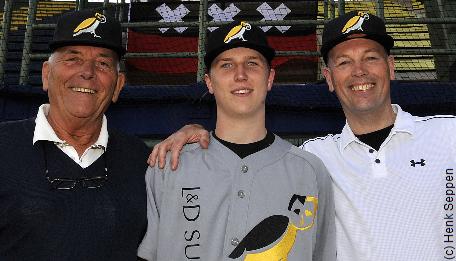 ...Three generations: Han, Nick and Charles Urbanus...
(© Photo: Henk Seppen)

Urbanus is the son of Charles Urbanus, who currently is the Head Coach of Amsterdam Pirates, whom he led to the Holland Series. In the season's finale, Amsterdam made it favorite DOOR Neptunus quite difficult, but lost the best-of-seven 4-2. Charles Urbanus himself also was a solid infielder, after having been a pitcher initially. Urbanus was the longtime recordholder of games played in the Dutch National Team. Nick's grandfather and Charles' father Han Urbanus also played a longtime in the national team, as well as 24 years in the Dutch big league (24 years). Han's brother Charles 'sr.' also played for some time in the big league, but earned his name as a coach on both the club-level as well as the national team.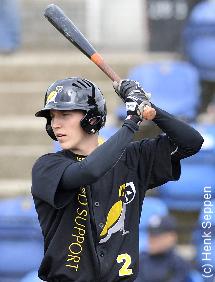 (© Photo: Henk Seppen)

After completion of last season, Urbanus was named Sports Talent of the Year in Amsterdam.

Nick Urbanus is the 45th Dutch player to have signed a professional contract since pitcher Win Remmerswaal was the first when he signed in 1974. From this group, seven players who were born and/or raised in the Netherlands reached the Major League: Win Remmerswaal (Boston Red Sox), Rikkert Faneyte (San Francisco Giants-Texas Rangers), Robert Eenhoorn (New York Yankees-California/Anaheim Angels), Ralph Milliard (Florida Marlins-New York Mets), Roger Bernadina (Washington Nationals), Rick van den Hurk (Florida Marlins-Baltimore Orioles) and Greg Halman (Seattle Mariners).

The Major League-team of the Texas Rangers can look back to a successful season after an initial troubled start. The club was in financial problems, but turned around when former pitcher Nolan Ryan took control of the club. Ryan became the co-owner and also became the club's president in August. The Rangers went on to reach the World Series, which was eventually won by the San Francisco Giants. With this, the World Series was played by the two teams where former Pirate-outfielder Rikkert Faneyte played. Last year, Faneyte was the Head Coach of Amsterdam and so is responsible for the debut of Urbanus in the Dutch big league, who now, in his turn, signed a professional contract.

(November 30)