Amsterdam second finalist after completion of game!
Nederlands

HAARLEM (Neth.) - L&D Amsterdam Pirates became the second finalist on Tuesday-evening after winning 9-3 vs. Corendon Kinheim, as the teams completed their game, which was interrupted by rain in the top of the fourth inning last Sunday-afternoon. With the win, Amsterdam won the best-of-five Play-Off 3-1 to qualify for the Holland Series. In the best-of-seven final, Amsterdam meet reigning champion DOOR Neptunus, that reached the Holland Series after a 3-0 sweep vs. Konica Minolta Pioniers. The Holland Series opens next Saturday at Rotterdam.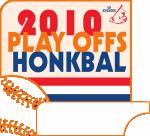 51 hours and 39 minutes after the game was interrupted by rain on Sunday-afternoon, it resumed on Tuesday-evening under fine conditions of both the weather and the playing site. The remainder of the game started in the top of the fourth inning with Amsterdam leading 7-0 and having a runner on first base with one out, while the hitter had an 1-0 count. As was more or less expected, Kinheim was unable to turn the deficit around in its favor, but did come back with three runs, thanks to two homeruns. However, the Haarlem-club was unable to get closer, as Amsterdam also added two more runs of its own.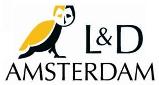 With the victory, Amsterdam Pirates returned to the Holland Series after having won the Dutch champion in 2008. In that series, Amsterdam swept Kinheim in three games in another series which was bothered by rain. Two years ago, four games rained out, which led to the same discussions as this year regarding the re-scheduling of games and losing home advantage.
Did the Play-Off between Neptunus and Pioniers resulted in three shutout-victories (which was a first in postseason-history), the Play-Off between Amsterdam and Kinheim also ended in an unique way, as all victories were registered by the visiting team (so how about home advantage?). Amsterdam won its three games played in Haarlem, while Kinheim won the lone game played in Amsterdam. It marks the first time since 1993 that all games in a Play-Off were won by the visiting team. Seventeen years ago, the Play-Off between Neptunus and Quick Amersfoort ended in five wins for the visiting squad. That series also was unique for another reason, as all games ended in one-run victories. Neptunus won that series 3-2 and went on to win the title.
It marks the third time that Amsterdam and Neptunus will face each other in the Holland Series, but the first time since 1990. The first two series were both won by Amsterdam. In 1987, the two teams faced each other in the very first Holland Series, which back then was a best-of-three and was won by Pirates (2-1). The next series between the two teams was in 1990 when Amsterdam swept Neptunus in three games.
When the game resumed on Tuesday-evening, Nick Veltkamp, who had taken over the pitching in the second inning from starter David Bergman on Sunday, returned to the mound with an 1-0 count on batter Sidney de Jong and having Nick Urbanus as the runner on first base. De Jong walked, but the inning then ended when Bas de Jong grounded into a double play. In the home of the fourth inning, Ben Grover became Amsterdam's new pitcher, taking over for Rob Cordemans, who had thrown the first three innings on Sunday. Grover was greeted with a homerun by Rafael Jozefa, but Amsterdam got the run back immediately in the fifth at bat. Vince Rooi led off with a single and scored when Kenny Berkenbosch followed with a line drive double down the rightfield-line to make it 8-1. It marked the end for Veltkamp, who was replaced by Duko Jansen, who then gave up a single to Rashid Gerard, but then three outs followed.
In the home of the fifth inning, Kinheim narrowed the deficit to 8-3. Grover first struckout Onno Jansen, then walked Niels van Weert (who stole second), but followed by striking out RenÚ Cremer. But with two outs, Jason Halman also homered. However, it were the last runs scored by Kinheim this season.
In the sixth, Tjerk Smeets reached on an error with one out, but then Bj÷rn Henrichs grounded into a double play. In the seventh, Kinheim could have come back into the game, but some crucial outs were made then. Trailing 8-3, Kinheim's lead-off hitter Onno Jansen led off with a single, then next batter Niels van Weert walked. Next, an important out was registered, as Jansen was picked off second base by Ben Grover, who then struckout RenÚ Cremer for the second out in the inning. Grover then walked Jason Halman and was relieved by Rik Geestman. With runners on first and second base and two outs, Rafael Jozefa went after the first delivery by Geestman and popped out to third baseman Vince Rooi to end the inning and probably also end the lone possibility for Kinheim to get closer. Amsterdam underscored how important this inning was, as it added an insurance run in the top of the eighth inning to take more distance and made it 9-3. Wesley Connor led off with a single and advanced to third base on a single by Nick Urbanus, who himself was eliminated at second base. Connor then scored when Sidney de Jong also singled.
Rik Geestman completed the game for Amsterdam. In the ninth inning, the lefthander started with his second strikeout, then gave up singles to Niels van Weert and RenÚ Cremer, but then was supported with a game-ending double play. Wesley Connor was named Most Valuable Player of this Play-Off.
(August 31)