Dutch again win silver in Intercontinental Cup!
Nederlands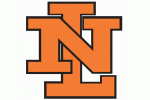 TAICHUNG (Taiwan) - The Dutch National Baseball Team on Sunday-evening lost 4-1 to Cuba in the final of the Intercontinental Cup to again win the silver medal in this event. Four years ago, the Dutch reached the final for the first time and then also faced Cuba. In the same stadium. Back then, Cuba won 6-3, but needed 11 innings to decide the game.

After the final, the individual awards were announced (see at bottom).

The European success in the Taiwan was complete. Not only did the Dutch win silver again, Italy won the bronze medal by winning 4-3 vs. Taiwan. Japan finished in fifth place after winning 2-1 vs. Korea.

The Dutch Team had only two basehits today in eight innings off starter Miguel Gonzalez, which came early in the game. Only four batters reached base off Gonzalez. After the first five batters were retired in order, Raily Legito was hit by a pitch with two outs in the second inning, but was left behind. In the third inning, Bryan Engelhardt led off with a double and advanced on a wild pitch and Eugène Kingsale walked. In the fourth, Curt Smith doubled with one out, but then Gonzalez retired the next 14 batters in a row.
Dutch starter Rob Cordemans was supported with a double play in the first inning, then retired the side in the second. The veteran righthander then gave up four hits in the third inning, which led to the first two Cuban runs. José Abreu led off with a double, then Ariel Pestano singled. The two then scored when Yorbis Borroto followed with a double. Giorvis Duvergel then added a single, but then a flyout and double play ended the at bat.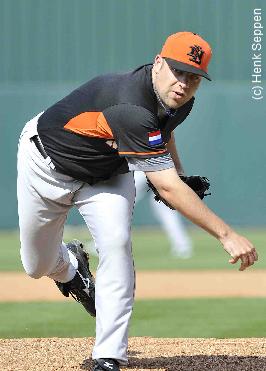 ...Reliever Nick Stuifbergen...
(© Photo: Henk Seppen)

In the fourth inning, the Cubans got two more hits, but didn't score. With one out, Yohandri Urgelles and Yulieski Gourriel singled. After the next batter flied out, Cordemans was relieved by Nick Stuifbergen, who ended by striking out Ariel Pestano.

In the fifth inning, Cuba got its first two batters on base, but a strikeout and double play prevented more runs. In the sixth, Stuifbergen retired the side, then gave up a single in the sixth, but was supported with another double play.

In the eighth inning, Berry van Driel took over and gave up the next two Cuban runs. He gave up a lead-off double to Giorvis Duvergel and then, with one out, a 2-run homerun to Alexis Bell, which made it 4-0. And that gave the Cubans an important bigger lead, as the Dutch started to do something back in the ninth.

Yadier Pedroso became the new pitcher for Cuba when the ninth inning started, but he lasted only four batters and left without an out. Eugène Kingsale led off with a walk, then Mariekson Gregorius, Sidney de Jong and Curt Smith all singled to bring in the first Dutch run. Cuba quickly went to the bullpen and brought in strong reliever Jonder Martinez. With the bases loaded, he got Sharlon Schoop to flyout, then struckout Raily Legito and Danny Rombley (both looking) to end the game.

The day started with the game for sixth place between Japan and Korea at Douliu City. The latter took an 1-0 lead in the fifth on a basesloaded walk, but three runners were left behind. Japan then scored twice in the sixth inning on two singles. In this game, Dutch umpire Henri van Heijingen was at second base, while Feiko Drost was one of the Official Scorers.

At Taichung, Italy won bronze by winning 4-3 vs. Taiwan. Italy scored two unearned runs in the first inning when Taiwan committed two errors. Taiwan got one run back in its first and came alongside in the next. Italy re-took the lead in the fifth on a 2-out double by Jairo Ramos Gizzi then added a run in the seventh. Taiwan scored only one more run in their seventh.

After completion of the final, the individual awards were presented and the All Star Team was named.

Best Hitter: Hector Olivera (Cuba), .593.
Best Pitcher (ERA): Wei-Lun Pan (Taiwan), 0.00 in 10 innings.
Best Pitcher (W-L): Dalier Hinojosa (Cuba), 2-0 in 9 2/3 inning.
Most Runs Batted In: Alfredo Despaigne (Cuba), 9.
Most Home Runs: Jae-Hwan Kim (Korea), 3.
Most Stolen Bases: Soo-Bin Jung (Korea), 5.
Most Runs Scored: Hector Olivera (Cuba), 10.
Outstanding Defensive Player: Mariekson Gregorius (Netherlands).
Most Valuable Player: Hector Olivera (Cuba).

All Star Team
Starting Pitcher: Wei-Lun Pan (Taiwan).
Relief Pitcher: Yadier Pedroso (Cuba).
Catcher: Juan Pablo Angrisano (Italy).
1st Baseman: Curt Smith (Netherlands).
2nd Baseman: Hector Olivera (Cuba).
3rd Baseman: Yulieski Gourriel (Cuba).
Short Stop: Mariekson Gregorius (Netherlands).
Outfielders: Alexis Bell (Cuba), Giorvis Duvergel (Cuba), Che-Hsuan Lin (Taiwan).
Designated Hitter: Jae-Hwan Kim (Korea).

(October 31)