Pirates, Sparta-Feyenoord win tournament-openers
Nederlands


BUSSUM / ROTTERDAM (Neth.) - L&D Amsterdam Pirates and Sparta-Feyenoord on Friday-evening won the opening games of two of the annual pre-season tournaments. At Bussum, Amsterdam won 6-2 vs. host Mr. Cocker HCAW in the opener of the 29th edition of the In Memoriam Charles Urbanus Sr. Tournament, while in Rotterdam Sparta-Feyenoord nipped ADO 4-3 in the opener of the 13th edition of its own Hudson John Tournament. Both tournaments also have games scheduled on Saturday and Sunday.
---
Mr. Cocker HCAW vs. L&D Amsterdam Pirates (game 1 In Memoriam Charles Urbanus Sr. Tournament)
At Bussum, Amsterdam-starter Rob Cordemans struckout seven batters and went on to win his third exhibition game, throwing four innings vs. HCAW. Amsterdam collected 11 basehits off two pitchers, including three by lead-off hitter Wesley Connor, who was 3-for-4 with two doubles.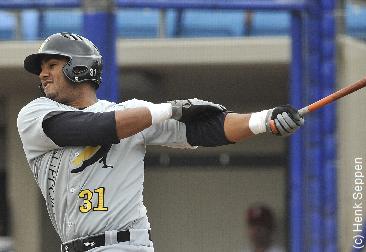 ...Wesley Connor...
...3 Hits, 2 RBI's...
(© Photo: Henk Seppen)

Amsterdam took charge of the game early by scoring twice in the first and second inning. In the first, with two outs, Sidney de Jong singled, then Percy Isenia reached on an error. Singles by Bas de Jong and Kenny Berkenbosch then made it 2-0. In the second at bat, Seb Visser led off with a walk, moved on a grounder and scored on a double by Wesley Connor, who then scored moments later on a 2-out single by Percy Isenia.

In the home of the second, HCAW scored its two runs off Cordemans, thanks to back-to-back doubles by two rookies. Adrian Anthony led off with a walk, then two outs followed. But then Jimmy Froberg (son of Head Coach Bill Froberg) and Jasper Keijzer both doubled to bring in two runs. Keijzer played in his first game for the main squad and went 2-for-2.

Amsterdam added a run in the fourth inning when Sidney de Jong (fielder's choice) scored on a single by Percy Isenia. The sixth run was scored in the fifth at bat when Kenny Berkenbosch led off with a double and scored on a 2-out single by Wesley Connor.

Line Score & Box Score
Exhibition Standings & Schedule
---
Sparta-Feyenoord vs. ADO (game 1 Hudson John Tournament)
At Rotterdam, Sparta-Feyenoord nipped ADO 4-3 by scoring the winning run in the last at bat.

ADO took the lead twice in this game, but was left empty-handed again, as it remains the lone big league-club without a win in this exhibition season. In the first inning, Gino Hersilia walked with one out, advanced to third base on a double by veteran Harvey Gumbs and scored on a grounder by Dave Steward. But in the second inning, Sparta-Feyenoord came alongside. With one out, former pro Rudney Balentien (another new player on the Sparta-Feyenoord roster) doubled and went on to score on a single by Quintin De Cuba.


...Rudney Balentien...
...2 Hits...

In the third inning, ADO re-took the lead by scoring two runs off starter Marc Hennep. Jarreau Martina led off with an infield-hit and moved to third base on an one-out single by Gino Hersilia. Next, Gumbs followed with a single to give ADO a renewed lead. Moments later, Hersilia moved to third base on a failed pick-off by the catcher, then scored on a wild pitch. With two outs, Enrique Tromp (a newcomer on the ADO-roster) walked, which marked the end for Hennep, who was relieved by Quin Tramm. The latter retired seven batters in a row, then gave up a lead-off single in the sixth and walked the next batter. Tramm was relieved by Gilean Gerardus (yes, another newcomer), who retired the side and went on to become the winning pitcher.

In the home of the sixth, Sparta-Feyenoord struck with three runs to win the game. After scoring in the second inning, the team did reach base in the next at bats, but left three runners, while another was eliminated in a double play and one player was caught stealing. In the sixth, ADO-hurler Jurandy Girigori struckout the first batter he faced, then walked Ramiro Balentina, but followed with another strikeout. Next, three pinch-hitters all reached base. Girigiro first walked Kevin van Nederpelt and everyone was safe on a grounder by Anthony Vrolijk, loading the bases. Hereafter, Ludwin Obispo walked to make it a 3-2 score. Next, Jesus Castillo hit the ball back to Girigori, who had time to eliminate him at first base, but opted for the force out at home. This went wrong, there was no out and Van Nederpelt scored the tying run. Next hitter Rubinet Koko then beat out an infield-hit, enabling Vrolijk to score the winning run, which was celebrated as if the team had just won the championship.

Line Score & Box Score
Exhibition Standings & Schedule

(April 1)