Amsterdam Pirates opens Series with marathon-win
Nederlands

HOOFDDORP (Neth.) - L&D Amsterdam Pirates opened the 2011 Holland Series on Saturday, September 3 with a 5-4 victory in 14 innings vs. Vaessen Pioniers. Amsterdam led 4-1 in the seventh inning, but failed to hold onto the lead, as Pioniers came alongside. In the 14th inning Amsterdam came back to win, thanks to a stolen home plate in a squeeze-situation. Game 2 will be played at Hoofddorp on Sunday, starting at 1:00 PM.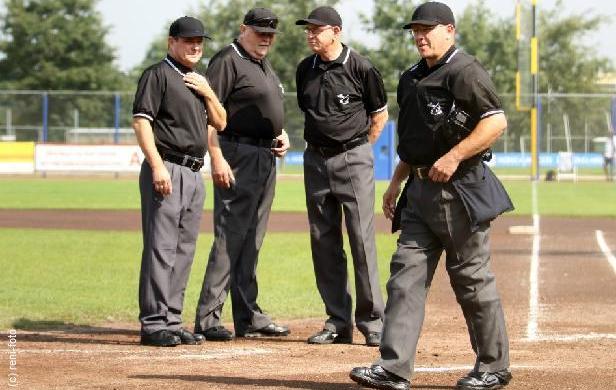 ...The umpiring crew of this historic game: 3B Fred Oosterling,...
...1B Fred van Groningen Schinkel, 2B Fred Groenewegen & HP Olav Steijger...
...This was Oosterling's first Holland Series-game, while Van Groningen Schinkel...
...officiated in his 22nd Holland Series since 1989...
...For Steijger this was his first HP-assignment in an opener since 2007...
(© Photo: www.reni-foto.nl)

Saturday's game was the longest game in both innings and playing time in the history of the Holland Series, which was played for the first time in 1987. The 14 innings break the previous record of 13, which was set in Game 2 of the 2007 Series on October 6. In that game, Pioniers also was the home team and the lost 4-3 to Kinheim, which went on to sweep the Hoofddorp-squad 3-0 in a best-of-five. That game also was the longest in time so far, lasting three hours and 47 minutes. Today's contest took four hours and 14 minutes.

Today's game was the fourth extra inning game in Series-history. Three of them were played by Pioniers. Besides today's game and the mentioned game in 2007, Pioniers also played the first extra game in Series-history, which was Game 2 of the 1997 Series on September 27 vs. HCAW. That game also was played in Hoofddorp and Pioniers also lost that game, 6-3, but went on to win the Series (which was their first), 3-1. On August 27, 2000, in Game 3, Neptunus defeated ADO 8-7 in eleven innings to win a then best-of-three, 2-1.

Today's game was the first in Series-history between Pirates and Pioniers, who both participated in four previous Series. Amsterdam had won three of its previous four appearances (1987, 1990, 2008), while Pioniers won one of its four Series (1997).

Amsterdam got on the scoreboard first, scoring runs in the first and third inning off starter Eddie Aucoin, who led the regular season with eleven victories and only one loss.

In the first inning, Wesley Connor led off with a single and moved on an one-out single by Sidney de Jong. He then advanced to third base when Bas de Jong flied out and scored when Vince Rooi followed with a single. In the third at bat, Bas de Jong hit a 2-out homerun (his first-ever in a Holland Series) to make it 2-0.

Amsterdam-starter Jos de Jong retired the first nine batters he faced, then walked Michael Duursma to start the fourth at bat. He then advanced when an error was made on a grounder by Mark Duursma, but then Nik Gumeson grounded into a double play. Duursma, who advanced to third base, then scored the first run for Pioniers when veteran Dè Flanegin singled.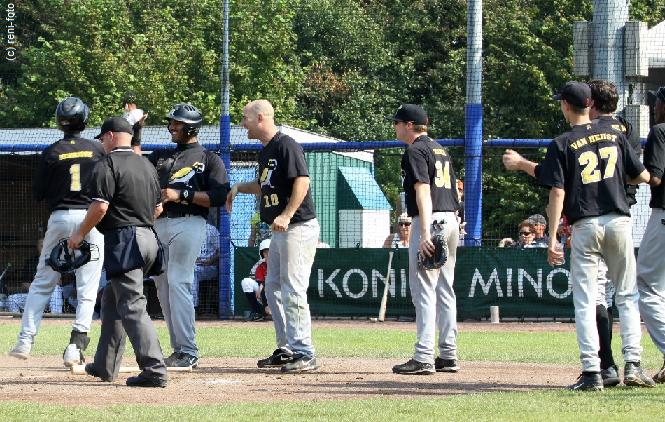 ...Roelie Henrique (1) is greeted after his homerun in the 7th inning...
(© Photo: www.reni-foto.nl)

Amsterdam was silenced in the middle three innings, but then added two runs in the seventh at bat. With two outs, Wesley Connor walked, then scored when Roelie Henrique homered to lift the lead to 4-1. Henrique is known for his speed, but not for hitting homeruns. Henrique, who made his big league-debut last season, has never hit a homerun before in the highest division.

Pioniers left two runners on base in the fifth inning, then scored its second run in the seventh. With one out, Mervin Gario was hit by a pitch and moved on a sac-bunt by Zerzinho Croes, then scored when Jefferson Muzo followed with a single.

In the top of the eighth inning, Amsterdam got two runners on base with two outs when Kenny Berkenbosch and Percy Isenia singled. Hereafter, Eddie Aucoin (who gave up nine hits) was relieved by lefthander Jean-Paul Gulinck, who ended the runscoring threat, as Bas Nooij grounded out.

In the home of the eighth inning, Al Morales Gomes took over for Jos de Jong, but was credited with a Blown Save, as he gave up two runs to Pioniers that tied the score. He first hit Michael Duursma with a pitch, then gave up a 2-run homerun to Nik Gumeson, that made it 4-4.

In the ninth inning, Rashid Gerard led off for Amsterdam with a walk, then Czech Jan Řeháček was brought in to relief Gulinck. Gerard advanced on a sac-bunt by Wesley Connor, but then Roelie Henrique struckout. After Gerard moved to third base on a wild pitch, Řeháček also struckout Sidney de Jong to end the inning.

In the Pioniers ninth, Morales gave up 2-out singles to Zerzinho Croes and Jefferson Muzo and was replaced by Jurrian Koks, who then fielded a comeback grounder by Michael Duursma to end the inning.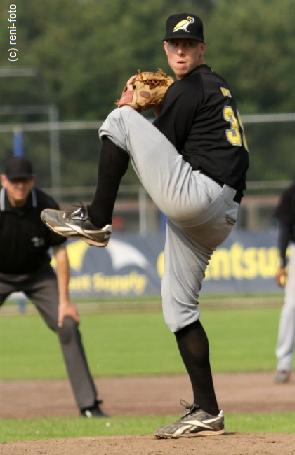 ...Winning pitcher Jurrian Koks...
(© Photo: www.reni-foto.nl)

As the score was tied at 4-4, the game went into extra innings. During the Holland Series, the tie-break rule is not in effect, meaning extra innings in a tied game will be played (until a winner) with the 'old' rule.

In the tenth inning, Amsterdam was retired in order, then Gumeson reached for Pioniers on an error with one out, but then (with two outs) was caught stealing.

Amsterdam also was retired in order in the 11th inning and again Pioniers got a baserunner, but didn't score. Mark-Jan Moorman led off with a single and advanced on a sac-bunt by Norbert Lokhorst. Next, Mervin Gario was walked intentionally to set up a force play and that worked as next batter Zerzinho Croes grounded into a double play to end the at bat.

In the 12th inning, both teams reached base. Wesley Connor led off for Pirates with a single and advanced on a sac-bunt by Roelie Henrique, but then a flyout and grounder followed. For Pioniers, Mark Duursma singled with two outs, but was left behind.

In the 13th inning, both teams reached third base. For Amsterdam, Vince Rooi led off with a single and advanced on a sac-bunt by Kenny Berkenbosch and a grounder by Percy Isenia, but was left behind on third base, as Bas Nooij grounded out. For Pioniers, Dè Flanegin led off with a single, then his pinch-runner Linoy Croes moved on a sac-bunt by Mark-Jan Moorman. Norbert Lokhorst was then walked intentionally and Mervin Gario followed with a force play-grounder which moved Croes to third base, but then Zerzinho Croes flied out.

In the fourteenth inning, Pirates decided the game. With one out, Wesley Connor singled and advanced all the way to third base when Řeháček threw the ball passed first base into rightfield during a pick-off. Next batter Roelie Henrique then turned for a bunt-squeeze, but pulled his bat back while Connor came running towards home. The ball was thrown in the ground in front of catcher Mark Duursma, who got the ball quickly and went after Connor, but barely missed him while tagging. Home Plate Umpire Olav steijger was in a great position and look right into the play to make the correct call: Safe! Connor was credited with a stolen base and Amsterdam had taken a 5-4 lead.

In the home of the 14th, Jurrian Koks retired the side to seal the win and became the winning pitcher. Last Wednesday, in the deciding Play-Off game against DOOR Neptunus, Koks also was the winning pitcher in relief after he had earned a save the evening before to set up the deciding game of the Play-Offs.

The three homeruns today were the most in one game since October 7, 2008 when Amsterdam Pirates and Kinheim hit three in the second game of their Series. That game and today's are the only two multi-homerun games since six homeruns were hit on September 25, 1999 in the opener of the Series between Neptunus and HCAW. A year later, wooden bats were re-introduced in the Dutch baseball league. Since 2000, only 14 homeruns were hit in the 44 Holland Series-games played before today.

Another Holland Series-fact? Only three Series have started earlier than September 3, being the Series of 1989, 2000 and 2009. The latest Series-start? October 4 in 2007.

(September 3)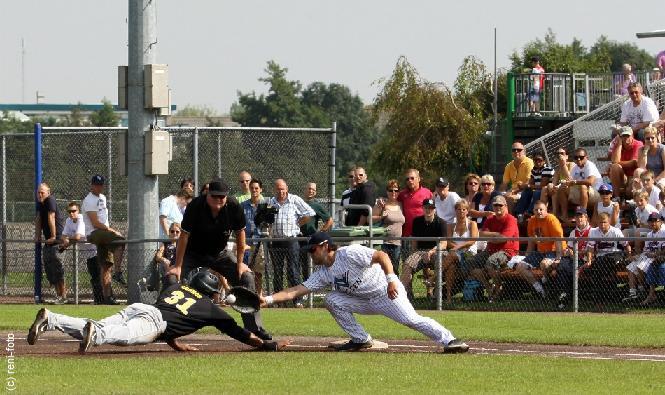 ...Wesley Connor dives back safely into first base...
(© Photo: www.reni-foto.nl)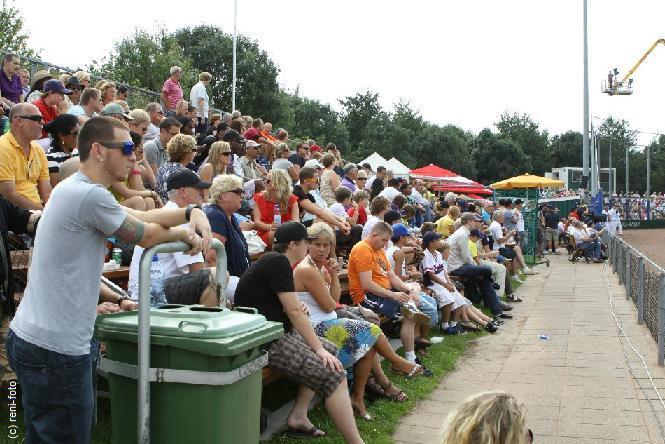 ...Some 900 spectators watched today's game...
(© Photo: www.reni-foto.nl)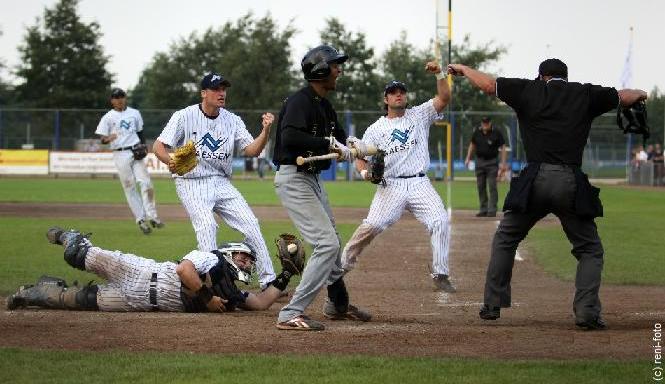 ...Catcher Mark Duursma shows the ball, while pitcher Jan Řeháček and...
...1B Mark-Jan Moorman hope for an out-call, but umpire Olav Steijger...
...is on top of the situation and rules Wesley Connor (out of sight) safe...
...Batter Roelie Henrique celebrates as Amsterdam has taken a 5-4 lead...
(© Photo: www.reni-foto.nl)