Pioniers evens Holland Series with one-run win
Nederlands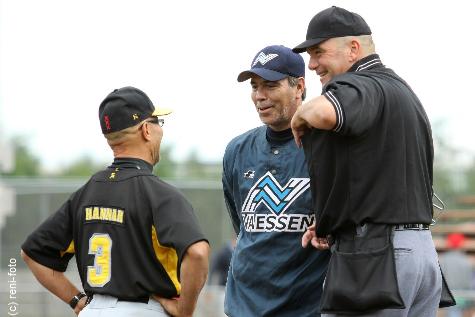 ...Coaches Randell Hannah and Robert Klaver share...
...a laugh with HP Umpire Henri van Heijningen...
(© Photo: www.reni-foto.nl)

HOOFDDORP (Neth.) - On Sunday, with the score tied at 5-5, it appeared that Game 2 of the Holland Series also was en route for extra innings, but then a bloop-hit just behind first base in the ninth inning resulted in a run and gave Vaessen Pioniers a 6-5 victory against L&D Amsterdam Pirates to equal the baseball-final at 1-1. The Series now will shift to Amsterdam for the next three games, scheduled to be played on Thursday, Saturday and Sunday.

It marks the first time since 1993 that the first two games of a Series end in one-run victories. In 1993, Neptunus won 2-1 in the opener vs. Kinheim. Then, after three rainouts, Kinheim won the next game, 6-5. In that year, Charles Urbanus, the Head Coach of Amsterdam, was the Head Coach of Neptunus. This weekend, Urbanus sat out a 2-game suspension. His assistant Randell Hannah was in charge of the team on Saturday and Sunday.

Initially, Amsterdam again led comfortably with a 4-1, just like the team did on Saturday. But, as they did the day before, Pioniers was able to come alongside and this time turned the game their way.

Pioniers, which left runners on first and third base in the first inning (both walked by Amsterdam-starter Ben Grover), opened the score in the second inning. With one out, Mervin Gario singled through the middle, then Zerzinho Croes walked. The two runners then advanced on a sacrifice bunt by Jefferson Muzo. Next hitter Michael Duursma then surprised with a 2-out bunt, which was fielded by third baseman Rashid Gerard. He appeared to have a play at first base, but opted for the out at home and threw the ball to catcher Bas Nooij. Mervin Gario ran into Nooij, who fell down and failed to hold onto the ball, resulting in a run. A grounder then ended the at bat, but Pioniers had taken an 1-0 lead.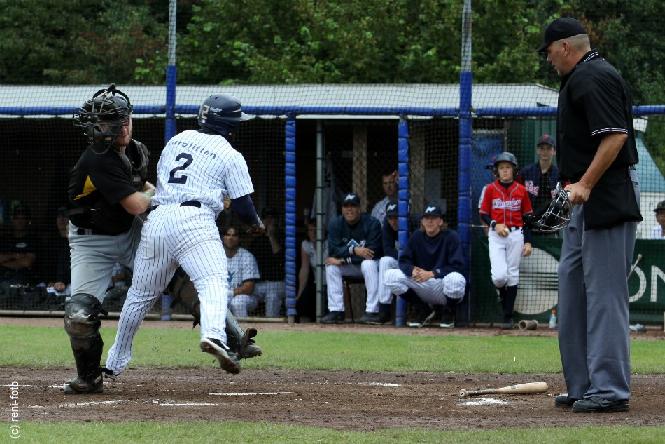 ...Mervin Gario runs into catcher Bas Nooij to score the first run in the 2nd inning...
...HP Umpire Henri van Heijningen is ready to give the safe-signal...
(© Photo: www.reni-foto.nl)

After veteran pitcher Roger Kops of Pioniers had retired the first six batters in order, he gave up three runs on four basehits in the third at bat. Percy Isenia led off with a single and advanced on a sac-bunt by Bas Nooij. Next, Rashid Gerard's single was followed by an error in centerfield that enabled Isenia to score the tying run. Wesley Connor then also singled and an error on a force play-grounder by Roelie Henrique led to a basesloaded situation. Sidney de Jong then accounted for the fourth basehit in this inning and brought in two runs to lift the lead to 3-0, before Kops ended the inning by striking out Bas de Jong.

Amsterdam added a run in the fourth inning when Kenny Berkenbosch doubled with one out and scored on a 2-out single by Bas Nooij. Rashid Gerard then followed with a bad-hop infield-hit off the shoulder of third baseman Mervin Gario, which led to a pitching change. Shane Gnade took over and the inning then ended with a flyout.

Pioniers (which had only two hits in the first four innings) came alongside in the fifth inning when they scored three unearned runs thanks to two errors. Jefferson Muzo led off with a single, then reached second base safely when second baseman Roelie Henrique made an error on a force play-grounder by Michael Duursma. Hereafter, another force play-situation followed. Mark Duursma bunted the ball to pitcher Ben Grover, who threw the ball to third baseman Rashid Gerard. Muzo was quicker and so Duursma was credited with a sacrifice bunt. At the same time, Gerard missed the ball and leftfielder Kenny Berkenbosch had to come in to pick it up, but in the meantime, Muzo had scored, while the other two runners also advanced. With runners on second and third, a wild pitch led to another run, then Nik Gumeson lined out to short stop Vince Rooi. Dè Flanegin was then hit by a pitch and Mark-Jan Moorman followed with a sacrifice fly that tied the score. And so, Pioniers had made it a 4-4 score by scoring four unearned runs!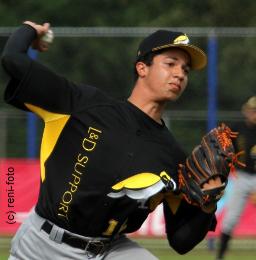 ...Ian Delamarre...
(© Photo: www.reni-foto.nl)

In the seventh inning, Pioniers took a 5-4 lead. In the inning before, rookie Ian Delamarre took over for Grover. The 18-year old righthander had made his debut in the Amsterdam-squad during the last game of the European Cup-tournament in June, but this was his first appearance in a season's game for Pirates. He retired the side in the sixth, but then gave up a run in the seventh. Michael Duursma, who was hitless in his previous eleven at bats, led off with a single, then advanced on a sac-bunt by his brother Mark Duursma and scored on a single by Gumeson. A strikeout-caught stealing double play then ended the inning.

Amsterdam tied the score again in the eighth, but failed to score more as they got the bases loaded with no outs. Sidney de Jong led off with a walk and Shane Gnade was then relieved by Jean-Paul Gulinck, who gave up singles to Bas de Jong and Vince Rooi that loaded the bases. Hereafter, Jan Řeháček, who had thrown the last six innings yesterday in relief, was brought in again. The Czech started by striking out Kenny Berkenbosch, but then gave up a sacrifice fly to Percy Isenia that tied the score. Bas Nooij then flied out to end the inning, leaving runners on first and third base.

In the bottom of the eighth, Norbert Lokhorst walked with one out for Pioniers, but was doubled up on first base when next hitter Mervin Gario flied out to rightfielder Bas de Jong, which was Amsterdam's third double play in this game.

In the top of the ninth inning, Amsterdam was retired in order with short stop Michael Duursma making all the outs on three consecutive grounders.

For Pioniers, Zerzinho Croes led off the home of the ninth with a single and advanced on a sac-bunt by Jefferson Muzo. To set up a force play, Michael Duursma was then walked intentionally. Hereafter, Ian Delamarre was relieved by Rik Geestman, but the lefthander gave up a basehit just over first base into short rightfield by Mark Duursma. On the hit, Croes raced towards home to give Pioniers a 6-5 win and equal the Series.

(September 4)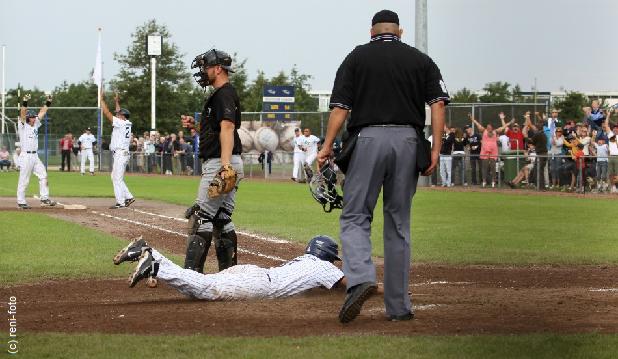 ...Zerzinho Croes scores the winning run in the ninth inning...
...In the back, Mark Duursma and 1B Coach Peter Barentsen celebrate the win...
(© Photo: www.reni-foto.nl)