On-line voting Baseball All Star Game activated
Nederlands

UTRECHT (Neth.) - Before the start of the game between UVV and Vaessen Pioniers on Sunday, Head Coaches Royce Holder (UVV) and Robert Klaver (Pioniers) activated the on-line voting procedure for the upcoming All Star Game, which will be played at the site of UVV on June 19.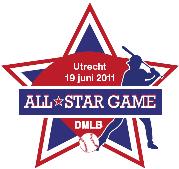 On the website of the 2nd All Star Game, everyone can cast their votes by naming their favorite players for the different positions. The voting procedure ends on June 5.
Like last year, Team North will meet Team South. Team North is made up from players of L&D Amsterdam Pirates, Vaessen Pioniers, Corendon Kinheim and Mr. Cocker HCAW. Team South will be formed from players of ADO, DOOR Neptunus, Sparta-Feyenoord and UVV. Team North will be led by Head Coach Eelco Jansen (Kinheim), while Team South is being coached by Jan Collins (Neptunus).
Last year, the first Dutch All Star Game was played on the site of ADO in The Hague. Team South won the inaugural edition, 7-4. Team South was then led by Steve Janssen, who in 2010 was the Head Coach of DOOR Neptunus, while Eelco Jansen also was the Head Coach of Team North in the first edition. In the first All Star Game, Pioniers was a member of Team South, while players of Almere Magpies were eligible for Team North. But after the season, Almere withdraw from the big league and UVV took its place. UVV is playing in Utrecht, which is located south of Hoofddorp, the home site of Pioniers. Therefore, UVV's players will play in Team South, while Pioniers moved to Team North.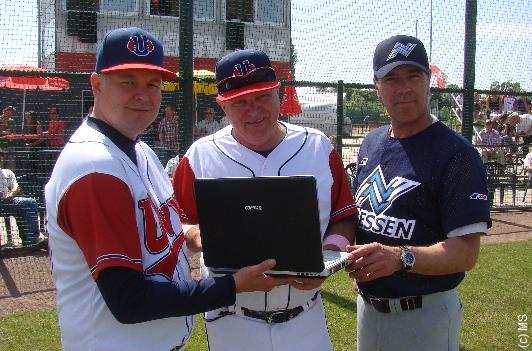 ...UVV's Head Coach Royce Holder (center) and...
...Pioniers' Head Coach Robert Klaver (right) activate...
...the on-line voting for this years All Star Game...
...Holding the laptop is UVV's Team Manager Miguel Bos...
(© Photo: Marco Stoovelaar)
(May 8)