Small loss Dutch Team vs. Tampa Bay Rays
Nederlands


ST. PETERSBURG, Florida (USA) - The Dutch Baseball Team on Wednesday suffered a small 4-3 loss against a split-squad of the Tampa Bay Rays. The Orange squad initially took an 1-0 lead in the second inning, but then the Rays rallied for four runs in the seventh at bat. The Dutch came back with two runs in the eighth, but ended up empty-handed.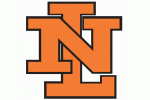 The Tampa Bay Rays sent a team to St. Petersburg that existed entirely of non-roster players, who all were invited for Spring Training of the Major League-squad. The big league-team, including stars as Johnny Damon and Manny Ramirez, today played a game of itself against the Toronto Blue Jays.
Bill Foster, the Mayor of St. Petersburg and the one who took the initiative for organizing the invitational baseball tournaments in his city this year, threw out the ceremonial first pitch. For the occasion, Foster wore a Dutch jersey and cap, but also wooden shoes.
Tampa Bay got on base for the first time in the second inning. Starting pitcher Rob Cordemans then gave up a lead-off double to Chris Carter and walked Daniel Mayora with two outs, but both were left behind. After Cordemans retired the side in the third inning, David Bergman took over in the fourth and retired five batters in a row, before giving up a 2-out single to Stephen Vogt in the fifth, but he also stranded.
The Dutch Team left a runner in the first inning (Danny Rombley walked with one out), but then opened the score in the second inning off starter Chris Bootcheck. Raily Legito led off with a single, advanced on a wild pitch and an one-out single by Jeffrey Arends, then scored on a force play-grounder by Dwayne Kemp. This was to be the lone Dutch run for a long time, as, after Kemp had reached on the fielder's choice, the Tampa Bay-pitching retired 16 of the next 17 batters! After nine batters were retired in order, Dwayne Kemp became the next runner when he doubled with one out in the fourth inning off reliever Cory Wade. But hereafter, the next eight batters were retired in order again.
In the sixth inning, Dutch Manager Brian Farley replaced his team almost entirely again. Bryan Engelhardt (from DH to first base) and Raily Legito (who moved from third base to short) were the lone players to play the entire game.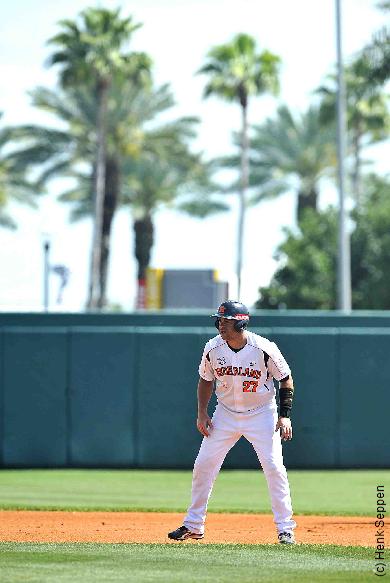 ...Danny Rombley running at second base...
...with palmtrees in the background...
(© Photo: Henk Seppen)

In the top of the sixth, Leon Boyd became the third Dutch pitcher and walked lead-off hitter Tim Beckham, but he was caught stealing, followed by two flyouts. But then, in the seventh, Boyd ran into problems. Chris Carter led off with his second double in the game and was replaced by pinch-runner Dustin Biell. With one out, and error was made on a grounder by Cuban Leslie Anderson (who in the past faced the Dutch Team while playing for the National Team of Cuba). Next, Daniel Mayora singled to bring in the tying run and put runners on second and third base. After pinch-hitter Craig Albernaz grounded out, the bases got loaded when Boyd walked J.J. Furmaniak. The Rays then scored twice on an infield-hit by pinch-hitter Cole Figaroa, which was played well by 2B Michael Pluijmers, but he couldn't prevent Anderson and Mayora from scoring. After Boyd enabled Figaroa to advance on a wild pitch and walked next hitter Justin Ruggiano, he was replaced by Berry van Driel. But the new pitcher started with a wild pitch that enabled Furmaniak to score the fourth Tampa Bay-run. Van Driel walked Casey Kotchman and ended the inning with a flyout, but the Rays had taken a 4-1 lead.

In the bottom of the eighth inning, the Dutch came back with two runs off new pitcher Jonah Bayliss. Michael Pluijmers led off with a bunt-single and Eugène Kingsale walked with one out. Bas de Jong then followed with a single to bring in Pluijmers, followed by an RBI-single by Bryan Engelhardt that made it 4-3. It also brought in new pitcher Brian Baker, who then got Bas Nooij to flyout and struckout Raily Legito to end the inning, leaving two runners on.

In the final at bat, new pitcher Richard De Los Santos started by striking out Rien Vernooij and then gave up a single to Jason Halman, who was replaced by pinch-runner (and pitcher) Nick Veltkamp. The inning (and the game) then ended when next hitter Michael Pluijmers grounded into a double play.

Playing for the Dutch Team were:
C - Sidney de Jong (Bas Nooij)
1B - Jeffrey Arends (Bryan Engelhardt, started as DH)
2B - Dwayne Kemp (Michael Pluijmers)
3B - Raily Legito (Rien Vernooij, replaced Van 't Klooser in batting order)
SS - Michael Duursma (Raily Legito, moved from 3B => SS)
LF - Danny Rombley (Eugène Kingsale, replaced Duursma in batting order)
CF - Shaldimar Daantji (Roelie Henrique)
RF - Dirk van 't Klooster (Bas de Jong, replaced Rombley in batting order)
DH - Bryan Engelhardt (Jason Halman, replaced Arends in batting order)
P - Rob Cordemans (3 inn.), David Bergman (2), Leon Boyd (1 2/3), Berry van Driel (1/3), Nick Stuifbergen (1), Diegomar Markwell (1)
Nick Veltkamp replaced Halman as pinch-runner in the ninth inning

(March 9)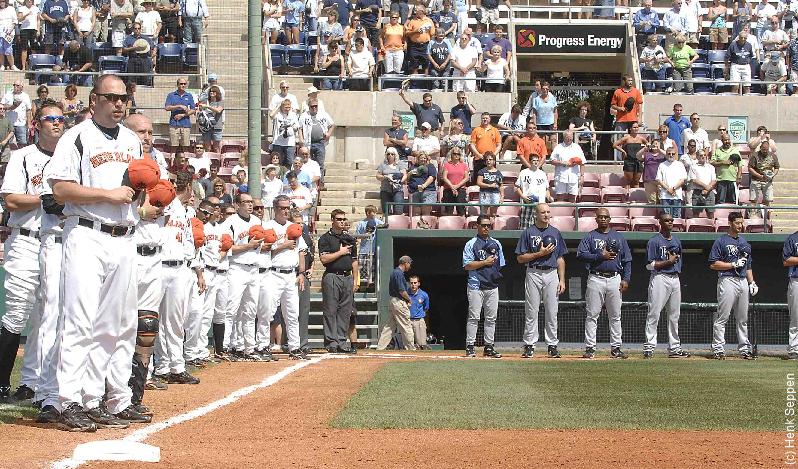 ...The teams line up for the playing of the National Anthems...
(© Photo: Henk Seppen)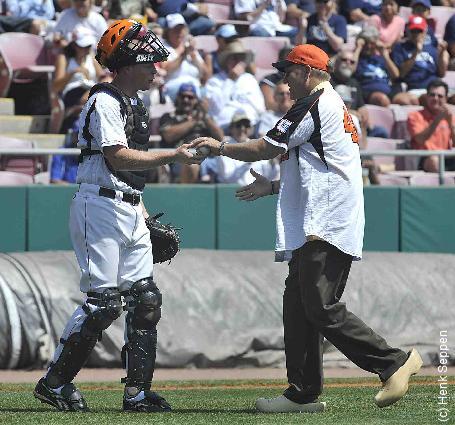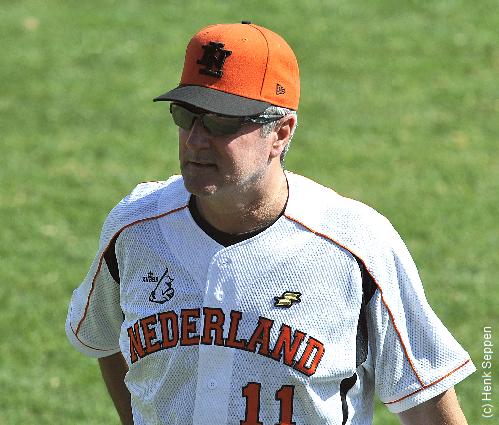 ...Left: St. Petersburg Mayor Bill Foster, wearing wooden shoes, a Dutch jersey and cap, threw out the ceremonial first pitch...
...Catcher Sidney de Jong caught the ball of the Mayor - At Right: Dutch Manager Brian Farley...
(© Photos: Henk Seppen)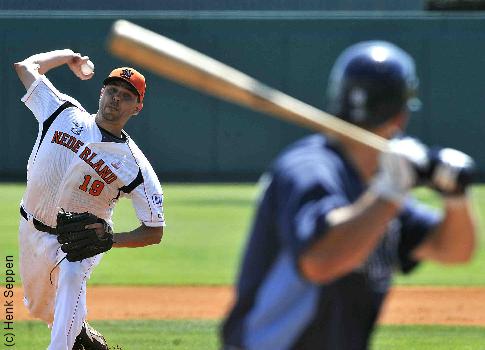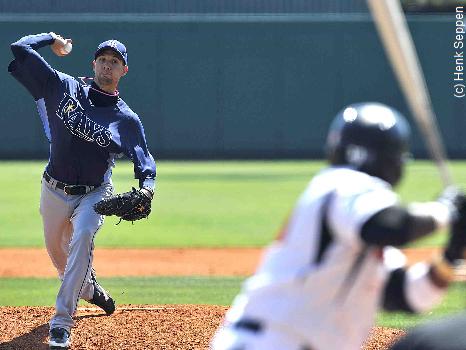 ...Starting pitchers Rob Cordemans and Chris Bootcheck...
(© Photos: Henk Seppen)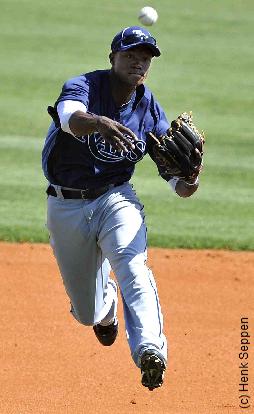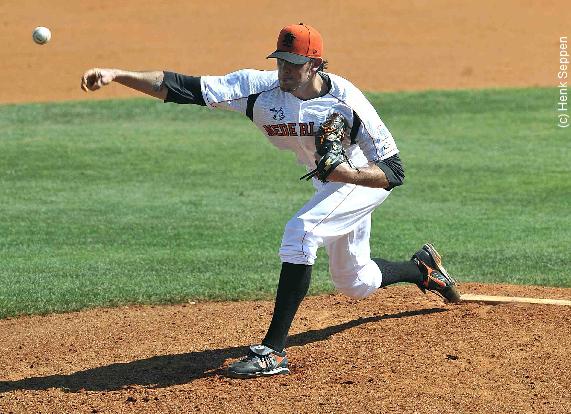 ...Left: Tampa Bay short stop Tim Beckham - Right: Dutch reliever Leon Boyd...
(© Photos: Henk Seppen)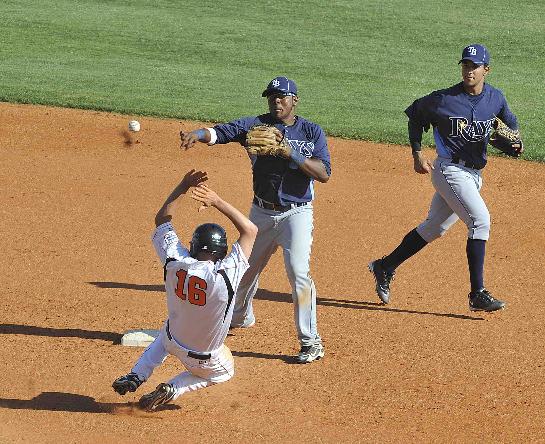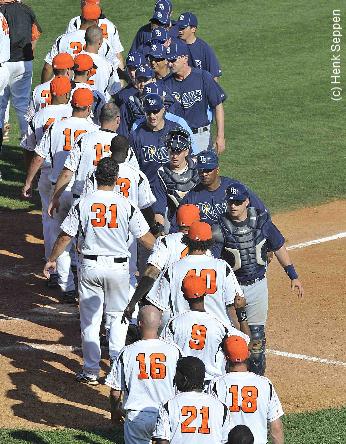 ...Left: Pinch-runner Nick Veltkamp is forced out by 2nd Baseman Daniel Mayora - Right: End of the game...
(© Photos: Henk Seppen)