Isenia HRs twice; Amsterdam Pirates first league-leader
Nederlands

ROTTERDAM (Neth.) - L&D Amsterdam Pirates is the first leader of the big league-season after completion of the very attractive opening series vs. reigning champion DOOR Neptunus. Amsterdam opened the season on Thursday-evening with a 2-0 loss, then won on Saturday at home, 3-2, and today also won at Rotterdam, 4-3. And it was done with something that wasn't seen in 12 years!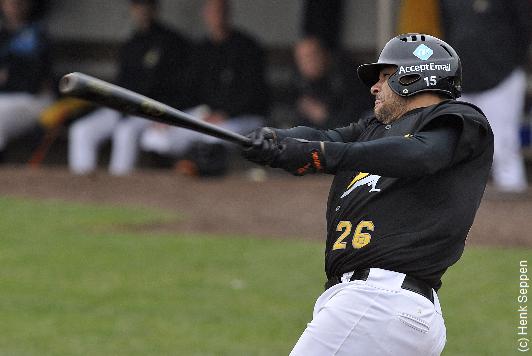 ...Percy Isenia...
...2 homeruns, 4 RBI's...
...repeat after 12 years...
(© Photo: Henk Seppen)

Amsterdam took the lead twice with the long ball and both times, it was Percy Isenia, who handled things. In the first at bat, with two outs, Sidney de Jong singled. Hereafter, Percy Isenia hit a 2-1 delivery of rookie starter Kevin van Veen over the leftfield-fence for a 2-run homerun and a 2-0 lead. The homerun, which was hit at 2:08 PM, was the first in this years big league-season. For Isenia, it was his 25th basehit against Neptunus, but his first homerun in 28 games played against his former club. The first baseman played for the Rotterdam-squad in 1996-2005. He then played for ADO (2006-2007) and Sparta-Feyenoord (2008-2010), before making his debut with Amsterdam Pirates this season. His homerun was his first basehit in a Pirates-uniform, as he went 0-for-8 in the first two games.

Neptunus also got a batter on base with two outs in its first at bat, when Raily Legito singled but he was left behind. In the second, Vince Rooi led off for Amsterdam with a double and advanced on a grounder, but then he was thrown out at the plate trying to score on a flyout by Seb Visser to complete an inning-ending double play. Neptunus got runners on first and third with two outs in the home of the second. With one out, Rien Vernooij singled and with two outs Mourik Huijser did the the same, but then a force out ended the at bat.

Amsterdam got its lead batter on base in the third when Rashid Gerard walked, but was caught stealing, then two outs followed. In the home of the third, Neptunus had a 2-out, 3-run rally off Amsterdam-starter Ben Grover, thanks to four consecutive hits. First, Raily Legito singled and stole second, then scored when Jeffrey Arends followed with a single. The latter then scored the tying run on a double by Dwayne Kemp, who himself crossed home plate when next hitter Rien Vernooij also singled to make it 3-2.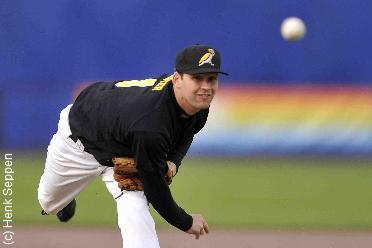 ...Ben Grover...
...Winning pitcher...
(© Photo: Henk Seppen)

The Neptunian lead was shortlived, as Amsterdam re-took the lead in the top of the fourth inning and it was the same duo that was responsible. First (this time with no outs), Sidney de Jong walked and advanced on a wild pitch. Next, this time with a full count and after hitting a foul ball, Percy Isenia again homered to make it 4-3. Was his first homerun his 25th basehit against Neptunus, this homerun he hit in his 100th at bat against his former team. Oh, another fact, Isenia hit his second homerun exactly one hour after his first! The last time Isenia hit two homeruns in one season was 2008, as he hit only one in 2009 and 2010.

By hitting two homeruns in one game during an Opening Series, Percy Isenia did something which was last done in 1999. And it brought back memories, as on Saturday, April 10, 1999 (so exactly 12 years ago!), Isenia was the last player to hit two homeruns in an Opening Series-game. Back then, he played in his third full season for Neptunus and in the same game, Robert Eenhoorn also hit two homeruns (including a grand slam). Neptunus won this game at Vitron Tilburg 22-2 in seven innings. 1999 was the last season in which aluminum bats were used in the Dutch big league.

After Isenia's second homerun, the next five hitters were retired by Kevin van Veen, who made his first big league-start after having made three relief appearances last season. With two outs in the fifth, the rookie walked Wesley Connor and was relieved by Tim Roodenburg, who ended the at bat.

Neptunus was silenced after scoring three runs. After eight batters were retired in order since then, the home team got on base again in the sixth. With one out, Rien Vernooij walked and stole second, but the former pro was then tagged out by the pitcher on a comeback-grounder by Eldrion Regina. After Neptunus turned a double play in the top of the seventh inning, they got two runners on base in the home of the seventh off new pitcher Al Morales Gomes, who just relieved starter Ben Grover. With one out, the Mexican gave up a comeback-infield-hit to Eugène Kingsale, then walked Benjamin Dille. But then Raily Legito popped out (infield-fly) and Kingsale was forced out.

In the eighth inning, Berry van Driel became the third pitcher for Neptunus and retired all six batters he faced. Morales gave up a 2-out single to Eldrion Regina in the eighth, but didn't encouter any problems. In the ninth, Jurrian Koks took over for Amsterdam and retired the side to earn a save after he was the winning pitcher in relief a day earlier.

Line Score, Box Score & Play-by-Play
Standings & Schedule

(April 10)