Kinheim, Pioniers close exhibition season with win
Nederlands


BUSSUM / HAARLEM (Neth.) - Vaessen Pioniers and Corendon Kinheim closed the exhibition season on Sunday with a victory. Pioniers won big vs. Mr. Cocker HCAW, 14-4, while Kinheim defeated UVV, 7-2. In total, 53 exhibition games were played by the eight big league-teams. Coming Thursday, the regular season in the Dutch big league goes into full swing. In the weekend, DOOR Neptunus and L&D Amsterdam Pirates already played a 3-game series, but on Thursday, all teams will get into action.

On Thursday, UVV, which ended up in first place of the exhibition season with a 9-2 record, opens at home vs. Pioniers. Kinheim also opens at home and meets ADO, which ended in last place of the exhibition season with a 1-7 record. Amsterdam, which won two of the three opening games vs. Neptunus, travels to HCAW. Neptunus will play at Sparta-Feyenoord on Thursday.
---

Mr. Cocker HCAW vs. Vaessen Pioniers
At Bussum, Pioniers, which lost big on Saturday (12-6), today recovered and won comfortably with a 14-4 score. As yesterday, both teams decided to play a 10-inning game and this time used the tie-break in the tenth at bat only.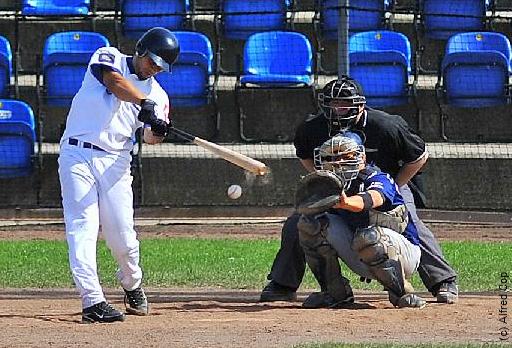 ...Juan Miguel Gonzalez connects...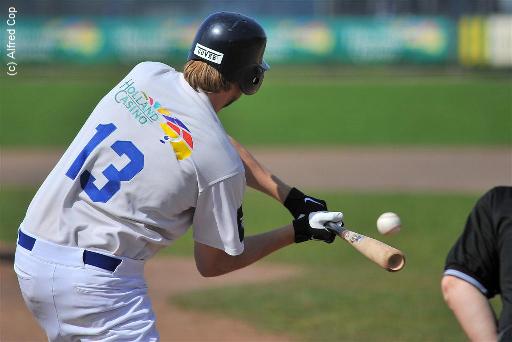 ...Bart Sabel is about to make contact...
(© Photos: Alfred Cop Fotografie)

Pioniers decided the game early, scoring eight runs in the first two innings off HCAW-starter Joey Eijpe. In the first at bat, the lefthander walked the first two batters he faced, Michael Duursma and Jason Orman, then gave up an RBI-single to Mark Duursma. After a sac-bunt, the bases got loaded when Norbert Lokhorst also walked. Eijpe then struckout the next hitter, but Kevin Dirksen followed with a 2-run single to make it 3-0, while Lokhorst was eliminated in a rundown.

In the second inning, four runs were added. Eijpe again started with a walk, this time for rookie-catcher Skip Visser, then the bases got loaded on an error on a grounder by Zerzinho Croes and a single by Jefferson Muzo. A single by Michael Duursma and hit batter for Jason Orman then brought in two runs. After HCAW turned a double play, Pioniers increased the lead to 8-0 when newcomer Nik Gumeson homered.

In the next four innings, Pioniers was silenced by Eijpe and his successor Dennis BurgersdijK, who retired 13 of the next 15 batters combined after Gumeson's homerun. In the home of the fourth, HCAW scored its first run when Juan Miguel Gonzalez doubled with two outs, then scored on a single by Lennart Koster.

Pioniers got the run back in the seventh. Michael Duursma then singled and scored on a single by Jason Orman. Trailing 9-1, HCAW scored twice in the home of the seventh. With two outs, Shane Gnade (who took over for starter Eddie Aucoin in the sixth) gave up a single to Lennart Koster, who advanced on a double by Adrian Anthony. The two then scored when Randy Daal followed with a single.

Pioniers enlarged its lead by adding five runs in the next two at bats. In the eighth, three runs were scored. Norbert Lokhorst led off with a single and the bases got loaded when Linoy Croes walked and Kevin Dirksen was hit by a pitch. A grounder by Skip Visser and sac-fly by Zerzinho Croes then accounted for two runs and also brought in new pitcher Kyle Ward, who was greeted with an RBI-single by Jefferson Muzo, who was 4-for-4. In the ninth, Lokhorst added an RBI-single, while an error gave Pioniers another run.

After nine innings, the two teams played a tie-break inning, which was played as if the score was tied. Pioniers got the bases loaded with one out, but didn't score. With Kevin Dirksen and Skip Visser on base, Zerzinho Croes moved the runners with a sac-bunt, then next hitter Jefferson Muzo was walked intentionally to set up a force play. That worked, as next hitter Michael Duursma grounded into a 5-2-3 double play to end the inning. In the home of the tenth, HCAW had Wesley Bernardus and Dirimo Enrique Chavez were on base, as Head Coach Bill Froberg opted to start the inning with Juan Miguel Gonzalez at bat. The Venezuelan singled to load the bases, then Lennart Koster (who was 3-for-5) hit a 'walk-off single' that scored Bernardus and ended the inning, as well as the game.

All players in the 10-man batting order of Pioniers scored at least once, while nine of them had at least one RBI. And HCAW started today's game with a 9-man batting order, but yes, that already changed in the second inning, as an additional batter was inserted. In the fifth, two additional batters were inserted into the batting order.

Line Score & Box Score
Exhibition Standings & Schedule
Regular Season Standings & Schedule
---

Corendon Kinheim vs. UVV
At Haarlem, Kinheim won 7-2 vs. UVV, which on Saturday had won the first game between the two teams, 2-1. But today's game was decided late, as the score was tied 2-2 after six innings.

Kinheim, which left three runners in scoring position in the first two at bats, opened the score in the fourth inning. UVV-starter Jurjen van Zijl then gave up a lead-off double to Bryan Engelhardt and a single to Jason Halman. Hereafter, RafaŰl Jozefa also singled to bring in the first run. After a strikeout and a force out, Bj÷rn Henrichs also singled to make it 2-0.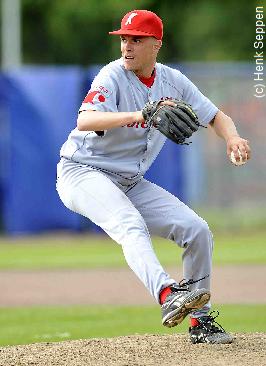 ...Nick Veltkamp...
...four perfect innings...
(© Photo: Henk Seppen)

UVV tied the score in the sixth inning off Kinheim-reliever David Bergman, who had just taken over from starter Nick Veltkamp. The lefthander had started the game strong and retired the first 13 batters he faced, but his Perfect Game ended in the fifth inning when he gave up an one-out single to Giovanni Samboe and walked Glenn Romney, but then two outs followed. In the sixth, Jirka Bliek led off with a walk and Jeff Delfina doubled. The first then scored on a grounder by Rutger Veugelers, while Delfina scored on a single by Danny Rombley to tie the score.

Kinheim re-took the lead in the seventh inning off new pitcher Sedley Karel. With one out, RenÚ Cremer reached on an error, as did Bryan Engelhardt with two outs. This last play resulted in the go-ahead run, then Engelhardt scored moments later on a triple by Jason Halman.

Three runs were added in the eighth at bat off Glenn Romney, who had moved from first base to the mound. With one out, Niels van Weert and Bj÷rn Henrichs singled. Runs were then scored on a single by Remco Draijer and a sac-fly by RenÚ Cremer. Later in the at bat, Engelhardt singled in Kinheim's seventh run.

In the ninth inning, UVV reached base twice when Danny Rombley and Fausto ┴lvarez Rizo both walked, but it was unable to add more runs. And so UVV's 8-game winning streak ended.

Line Score & Box Score
Exhibition Standings & Schedule
Regular Season Standings & Schedule

(April 10)