Cordemans strikes out 1500th batter
Nederlands




AMSTERDAM / HOOFDDORP / HAARLEM / ROTTERDAM (Neth.) - Veteran righthander Rob Cordemans struckout 14 batters on Saturday to reach the 1500-mark in his big league-career. With two outs and a runner on first base in the eighth inning, Cordemans struckout Irving Redan to end the inning and register the 1500th strikeout in his impressive career. Cordemans was the winning pitcher for L&D Amsterdam Pirates in a 6-0 shutout-win vs. ADO.

In other action on Saturday, Corendon Kinheim trailed 5-3, but won 6-5 vs. DOOR Neptunus, while Vaessen Pioniers shutout Mr. Cocker HCAW 5-0 and Sparta-Feyenoord won 3-1 vs. UVV.
---

L&D Amsterdam Pirates vs. ADO
At Amsterdam, L&D Amsterdam Pirates scored twice in the first inning to set the tone and decide the game vs. ADO early. ADO-starter Jurandy Girigori walked the first two batters he faced, Wesley Connor and Roelie Henrique. Initially, the lefthander picked off Connor, but his stay on the bases was extended when Girigori himself made an error in a rundown. Moments later, the bases got loaded when Sidney de Jong singled, then runs were scored on a grounder by Percy Isenia and a sac-fly by Bas de Jong.

After leaving the bases loaded in the third inning, Amsterdam added two runs in the fourth. Lead-off hitter Bas Nooij was hit by a pitch and next batter Rashid Gerard walked and both went on to score later after they had advanced on a wild pitch. Nooij scored on a sac-fly by Tim Vermij and Gerard on an error. Vermij filled in at short for Vince Rooi, who sits down this series with a 3-game suspension.

In the seventh inning, off new pitcher Patrick Wabbijn, Amsterdam added its last two runs. With one out, Wabbijn gave up a double to Sidney de Jong. Next, Percy Isenia hit a line drive 2-run homerun into leftfield to make it 6-0. For Isenia, this was his league-leading eighth homerun of the season.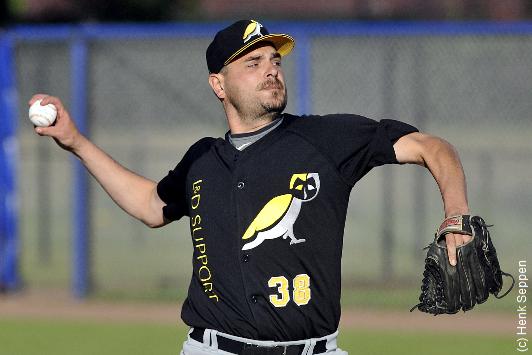 ...Rob Cordemans - 1500 career StrikeOuts...
(© Photo: Henk Seppen)

But the story of this game was Rob Cordemans. In his ninth start of the season, the righthander needed 14 strikeouts to reach to 1500-mark in his career. And he did just that, striking out at least one batter in each of the eight innings he threw. Cordemans started the game by striking out lead-off hitter Gyenuar Lopez and also finished his stint on the mound today with a strikeout, with was his 14th in this game and 1500th in his career.

In the second inning, Cordemans gave up a lead-off single to Jarreau Martina, but he was caught stealing while Enrique Tromp struckout. Cordemans then ended the at bat with another strikeout. He then struckout two more in the third, fourth and fifth inning to lift the total to nine. Cordemans returned to the mound in the sixth and then registered his tenth strikeout of the game, which increased the possibility of reaching the milestone today in front of a home crowd.

In previous games this season, Head Coach Charles Urbanus frequently changes his starting pitcher after six innings, but Cordemans returned for the seventh inning and added another strikeout. As his pitch-count hadn't reach 100 yet, Cordemans also returned to the mound in the eighth, needing three strikeouts to reach the 1500. Cordemans started by striking out Calvin Martinus, then struckout pinch-hitter Kevin Nieveld. Next, he gave up a single to Gyenuar Lopez. But with a runner on first base and two outs, Cordemans then struckout Irving Redan (his third in this game). With this Redan became the 1500th strikeout-victim of the righthander and also the answer to a future trivia-question. When Cordemans left the mound to return to the dug-out, he was awaited by his teammates, who congratulated him with the milestone. Cordemans also got a standing ovation from the spectators.

Looking back to Cordemans' career, strikeout-milestones combined all teams he played for. On May 22, 1994, he made his debut in the Dutch big league pitching for Neptunus. His first opponent was Amsterdam Pirates, the team he now plays for. In that game, Marvin Geestman became the first player Cordemans struckout (and he struck him out twice in that game). By the way, Marvin Geestman is the nephew of Rik Geestman, a current teammate of Cordemans at Pirates. On June 17, 2006, while pitching for his second team ADO, Cordemans registered his 1000th career strikeout and he did that against Sparta-Feyenoord, which later became the third team he played for. And today, almost five years later, Cordemans registered his 1500th career strikeout against ADO, which is the club of all-time strikeout leader Bart Volkerijk, who struckout 1942 batters in a 21-year career.

Cordemans became the fourth pitcher in history to reach the 1500-strikeout mark. He now trails RHP Bart Volkerijk (1942), RHP Peter Callenbach (1636) and LHP Craig McGinnis (1571).

Oh, something else, today, Cordemans earned his 140th career victory, which moved him passed Herman Beidschat into second place, trailing only Bart Volkerijk, who has 150 career wins.

Line Score, Box Score & Play-by-Play
Standings & Schedule
---

Corendon Kinheim vs. DOOR Neptunus
At Haarlem, Corendon Kinheim (which last weekend was swept in three games by Vaessen Pioniers) failed to hold onto an early 3-0 lead, but in the end won 6-5 on a 3-run rally in the eighth inning.

In the second inning, Kinheim scored three runs off starter Diegomar Markwell. The lefthander walked Jason Halman and Bryan Engelhardt (back in action after a calf-injury), then gave up a single to Rodney Michel that loaded the bases. Next, Rafaël Jozefa cleared the bases with a 3-run double.

After a scoreless third inning, Neptunus rallied for four runs in the fourth inning off starter David Bergman. The righthander gave up three consecutive singles to Jeffrey Arends, Tom Brice and Dwayne Kemp (bunt) that loaded the bases. Bergman then hit Rien Vernooij with a pitch to bring in a run, but struckout Eldrion Regina. A force out was then made on a grounder by Mourik Huijser, but that enabled Brice to score. The bases were then re-loaded when Eugčne Kingsale walked. Benjamin Dille then followed with a single, that gave Neptunus two more runs and a 4-3 lead.

In the seventh inning, Neptunus added another run. Bergman then hit lead-off hitter Raily Legito with a pitch, who then advanced on a passed ball. Jeffrey Arends then lined out to 1B Jozefa, who then made a throwing error towards second base, enabling Legito to reach third base. Patrick Beljaards then relieved Bergman and gave up an RBI-single to Tom Brice that made it 5-3. After a flyout, the veteran lefthander gave up a single to Rien Vernooij. Brice (who had stolen second base) was waved home, but was thrown out at the plate by rightfielder Dirk van 't Klooster to end the inning.

In the eighth inning, Beljaards retired the side and he then became the winning pitcher, as Kinheim turned the game around with a 3-run rally in the home of the eighth. Neptunus-reliever Berry van Driel had come on in the previous at bat with the bases loaded and two outs and closed the inning with a strikeout. But in his next inning, with Neptunus leading 5-3, the righthander ran into problems. He gave up a single to Rafaël Jozefa, then walked Niels van Weert. Next, a throwing error was made on a sac-bunt by Onno Jansen (who also played again after recovering from an injury), which led to two runs, a 5-5 score and a runner on second base. Jansen moved to third base on a sac-bunt by Remco Draijer, then scored the go-ahead run on a 2-out wild pitch. Hereafter, Dirk van 't Klooster doubled, his lone basehit in this game, meaning he now needs 12 to reach the 1000-mark.

Nick Stuifbergen took over the pitching for Kinheim in the ninth, retired the side and earned a save.

Line Score, Box Score & Play-by-Play
Standings & Schedule
---
Sparta-Feyenoord vs. UVV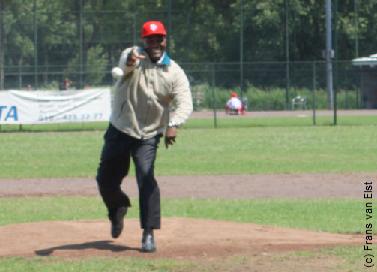 ...Alfio Troeman throws first pitch...
(© Photo: Frans van Elst)

At Rotterdam, Sparta-Feyenoord trailed 1-0 after three innings, but then came alongside and won 3-1 to register its sixth consecutive victory.

Before the game, a ceremonial first pitch was thrown by former catcher Alfio Troeman, who played for Sparta-Feyenoord in the past. Troeman was in Rotterdam briefly for his work and was invited to throw out the first pitch. In 1977, Troeman was the Best Hitter in the Dutch big league with a .483 batting average.

In the second inning, UVV opened the score off Ruderly Manuel when Fausto Álvarez Rizo led off with a single, advanced on a wild pitch and a grounder by Shurty Tremus, then scored on a single by Giovanni Samboe. But that was to be UVV's lone run in this game.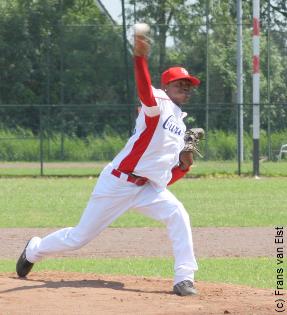 ...Winning pitcher Ruderly Manuel...
(© Photo: Frans van Elst)

Sparta-Feyenoord came alongside in the fourth inning. With one out, UVV-starter Orlando Yntema gave up singles to Jourick Blanco and Rudney Balentien. The lead runner was then forced out on a bunt by Rensver Jansen, but then Balentien stole third base and scored on a following error.

Sparta-Feyenoord left the bases loaded the fifth at bat, but then took a 2-1 lead in the sixth. Rudney Balentien then led off with a single and went on to score on a single by Brian Biezen.

Sparta-Feyenoord added an insurance run in the eighth off new pitcher Sedley Karel. With two outs, Jesus Castillo walked and later scored on a single by Anthony Vrolijk to make it 3-1.

After giving up an 2-out single in the fourth inning, Ruderly Manuel retired the next eleven batters in a row, before being relieved with one out in the eighth inning by José Ventura. The lefthander started with a walk, but that runner stranded. In the ninth, UVV left two baserunners off Ventura, who earned a save.

Line Score, Box Score & Play-by-Play
Standings & Schedule
---

Vaessen Pioniers vs. Mr. Cocker HCAW
At Hoofddorp, Vaessen Pioniers shutout Mr. Cocker HCAW 5-0, while being outhit 7-6.

Pioniers struck early off starter Dennis Burgersdijk, who gave up four runs in the first two innings. In the first at bat, Pioniers rallied for three runs. Walks for Michael Duursma and Mark Duursma and a single by Nik Gumeson quickly loaded the bases. A single by Mark-Jan Moorman then led to the first run, followed by a runscoring walk for Dč Flanegin. Next, a wild pitch accounted for the third run, while there were still no outs. But then two grounders and a strikeout followed.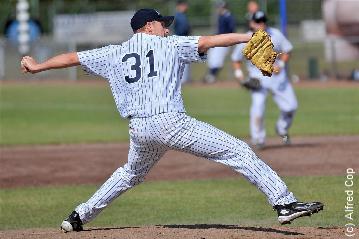 ...Jan Řeháček...
(© Photo: Alfred Cop Fotografie)

In the second at bat, Jefferson Muzo led off with a walk, which marked the end for Burgersdijk. New pitcher Joran Klarenbeek then issued an one-out walk and gave up an RBI-single to Gumeson that made it 4-0, but Pioniers also left the bases loaded.

The fifth run was added in the sixth inning when Muzo led off with a single and later scored on an error.

HCAW got its biggest scoring opportunity in the third inning when it got two runners on base, the lone time this game, the Bussum-squad had two runners in one at bat. With one out, Peter van Doesburg walked and Michael Pluijmers singled, but then a strikeout and flyout followed.

With two outs and no runners in the eighth inning, Pionier-starter Eddie Aucoin was relieved by Czech lefthander Jan Řeháček, who recently joined the club after being let go by Telemarket Rimini in the Italian Baseball League.

Line Score, Box Score & Play-by-Play
Standings & Schedule

(June 11)