Mike Bolsenbroek pitches (again) in Germany
Nederlands

REGENSBURG (Germany) - Dutch pitcher Mike Bolsenbroek made his comeback in the German competition recently after the righthander was released by the Philadelphia Phillies. On April 2, Bolsenbroek (who turned 24 in March) threw one inning in relief for German champion Buchbinder Legionäre, where he already had played before.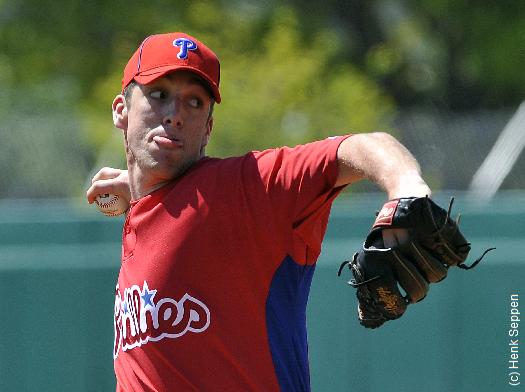 ...Mike Bolsenbroek pitching vs. the Netherlands...
...on March 13 during St. Petersburg Baseball International...
(© Photo: Henk Seppen)

Initially, Bolsenbroek was to play in his fourth professional season in the Phillies-organization, but things changed during Spring Training. On March 13, the pitcher from Apeldoorn (where he played for Robur '58) was the starter for a minor league-combination team of the Philadelphia Phillies against the Dutch National Team during St. Petersburg Baseball International. In the first inning, Bolsenbroek then gave up a homerun to Danny Rombley. In the following weeks, Bolsenbroek was re-assigned and then released. On Thursday, March 31, he returned home and played his first game two days later for Regensburg.

On April 2, the Legionäre opened the new 1.Bundesliga season with a double-header against Haar Discplines. The German champion opened with a 8-6 win, then won the next game comfortably with a 12-1 score. In Game 2, Bolsenbroek threw the last inning after American starter Justin Kuehn had pitched four innings, then Jonathan Eisenhuth threw the next two at bats and was credited with the win.
On Friday, April 8, the Legionäre opened their season at home in Regensburg and lost 9-4 to the Mannheim Tornados, but then won the next day 12-4. Bolsenbroek didn't pitch in these games. Regensburg and Mannheim share first place after two weeks of playing.
Besides Bolsenbroek, the Legionäre have six more foreign players on their roster: RHP Boris Bokaj, C-DH Petr Cech (both Czech Republic), IF Richard Klijn (Great Britain), RHP Justin Kuehn, OF-IF Evan LeBlanc and IF Matt Vance (all USA).
After studying and playing at Santa Ana College, Bolsenbroek started his professional career in the USA in 2008 and played for the GCL Phillies in the Rookie League. There, the righthander appeared in only five games, threw 6 1/3 inning and was 0-1. After ending his first professional season, Bolsenbroek completed the season with Regensburg and celebrated the German championship with the team. In 2009, Bolsenbroek again played for the Rookie League-team, but also for the Williamsport Crosscutters (Short-season Single-A). In that year, he threw in 18 games, was 2-2 and pitched 35 2/3 inning, striking out 36 batters. In 2010, Bolsenbroek promoted to Single-A and pitched in 18 games for the Lakewood Blue Claws, finishing with an 0-1 record, 3.38 ERA and 23 strikeouts in 32 innings. Later in the year, he again threw for Regensburg, which captured its second title in three years.
In total, Bolsenbroek pitched in 41 professional games, including two as a starter, and was 2-4 with a 2.55 ERA.
Bolsenbroek was first drafted by the Chicago White Sox in the 41st round of the 2006 MLB June Amateur Draft. A year later, the White Sox drafted the pitcher again in the 26th round, then the Phillies drafted him in the 42nd round in 2008.
Mike Bolsenbroek made his debut in the Dutch big league in 2005 when he pitched in six games for Mr. Cocker HCAW, where he was 2-2 and threw 22 innings.
(April 12)