Sparta-Feyenoord and Coach Bernadina separate!
Nederlands

ROTTERDAM (Neth.) - Sparta-Feyenoord and its Head Coach Luty Bernadina have separated. The team will be led in the remainder of the season by Dino Anasagasti, who was Bernadina's Assistant Coach.

Last weekend, Sparta-Feyenoord lost twice to Vaessen Pioniers after having won the opener of the 3-games series on Thursday. The team is currently in sixth place with a 12-18 record.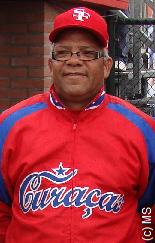 ...Dino Anasagasti...
(© Photo: Marco Stoovelaar)

Bernadina was in his third season with Sparta-Feyenoord after having succeeded Steve Janssen after completion of the 2008 season. In his first year at the helm, he led Sparta-Feyenoord to the fifth place in 2009, then finished in sixth place last season. Anasagasti has assisted Bernadina since the 2009 season. Leo Voogd remains the Pitching Coach. Under Bernadina's guidance, Sparta-Feyenoord was 49-63 with two ties.

,,This is nothing personal'', Team Manager Papito Zielinski stated. ,,Luty is a great guy. It is always difficult to let a coach go. This year, we have a new team with good material. But sometimes, you have to take decisions like this, we hope this will have a shock-effect to the team, so that we can qualify for the Play-Offs. We have enough quality in the team to accomplish that in the upcoming series. I just hope Kinheim will do its sportive job'', Zielinski said, regarding Kinheim's upcoming games against Vaessen Pioniers and UVV, who are Sparta-Feyenoord's contenders for fourth place. ,,The results were disappointing. We have a good sponsor. And with the coaching change, we hope to win some games and reach the Play-Offs to give something back to our sponsor. But again, there were no arguments with Luty. Dino will take over and after the season, we will look how to continue from there.''

Sparta-Feyenoord was off to a bad start this season, as the team lost its first six games and nine of the first 12 games they played. Including therein were six losses against DOOR Neptunus, including a big 20-4 loss. From the first 18 games Sparta-Feyenoord played, it won only four, including a 3-game sweep vs. Vaessen Pioniers and one win vs. L&D Amsterdam Pirates. Since May 26, Sparta-Feyenoord played 12 games and won eight of them.

Bernadina is the second coach to loose his job this season. On May 31, Mr. Cocker HCAW separated with Bill Froberg.

(July 13)