Big wins Pirates, Pioniers; 900th win Neptunus
Nederlands




HAARLEM / BUSSUM / UTRECHT / ROTTERDAM (Neth.) - League-leader L&D Amsterdam Pirates registered a big 10-1 victory at Mr. Cocker HCAW on Thursday-evening, while Vaessen Pioniers handed UVV a 10-4 loss to mark the comeback to the big league for the Utrecht-team. DOOR Neptunus scored only once vs. Sparta-Feyenoord and did it on a wild pitch, but won its 900th game and Corendon Kinheim defeated ADO 7-1 on a chilly evening, which saw all eight teams into action for the first day on Opening Day II.

Despite the cold, it was a good evening for several pitchers. In the four games, 22 pitchers combined struckout 63 batters, three of them had great outings. Kinheim-starter David Bergman struckout 13, Amsterdam-starter Rob Cordemans had 11 and Sparta-Feyenoord pitcher Bobby Carrington struckout 10 batters. The latter however ended up as the losing pitcher as he uncorked a wild pitch, which led to the lone run in his outing.
---

Corendon Kinheim vs. ADO
At Haarlem, for a very brief moment, ADO appeared to be off to a good start, as Jay Lopez opened the game with a lead-off single in his first big league at bat and then stole second base. But that was to be it, as Kinheim-starter David Bergman struckout the next eight (!) batters in a row and eleven in total, before walking a batter with two outs in the fourth inning. After the righthander gave up an infield-hit to Jarreau Martina, he ended the inning with his 10th strikeout of the evening.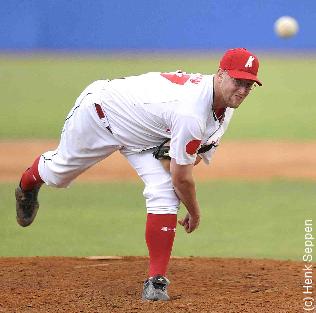 ...David Bergman...
...13 StrikeOuts...
(© Photo: Henk Seppen)

But Bergman's impressive outing wasn't over yet. In the fifth inning, he gave up a single to Gernald Nicolaas with one out. After Nicolaas advanced on a throwing error by catcher Jason Halman, Bergman struckout the next two batters. In the sixth, with Kinheim leading 3-0, Bergman hit lead-off hitter Gino Hersilia, then walked pinch-hitter Kevin Nieveld. Bergman then struckout his 13th batter, followed by a flyout. A pick-off move by Bergman then ended in an error by second baseman Roy Seltenrijch, which led to ADO's lone run. In the seventh inning, Patrick Beljaards took over and added three more strikeouts, then Nick Stuifbergen pitched the ninth, striking out one batter to give the Kinheim-pitching 17 strikeouts on the evening.

The 13 strikeouts by David Bergman are the most in a Opening Series-game since he himself struckout eleven on April 14, 2007 (exactly four years ago) vs. Almere Magpies. On the same day, Richard Orman (Pioniers) also struckout eleven vs. Mr. Cocker HCAW. An update whether this is an Opening Series-game record will follow later.

But despite Bergman's good outing, it took a while for Kinheim to take a comfortable lead, as the team left too much runners, including the bases loaded in the third and sixth inning. Kinheim left three runners in the first two innings (including two in scoring position in the second), but then scored twice in the third inning off ADO-starter Jurandy Girigori. With two outs and Dirk van 't Klooster (walk) and Bryan Engelhardt (fielder's choice) on base, a wild pitch moved the runners to second and third base. Next, Jason Halman singled to make it 2-0.

The third run was added in the fifth inning when Van 't Klooster walked, moved on a grounder, stole third base and scored on a passed ball.

After ADO got one run back in the top of the sixth, Kinheim took more distance by scoring two runs in the home of the sixth off new pitcher Carlos Tabares Castro. Roy Seltenrijch and Björn Henrichs then led off with walks and the bases got loaded when Remco Draijer singled. Next, René Cremer singled down the leftfield-line, enabling two runners to score and make it 5-1. In the seventh, Kinheim scored its next run when Seltenrijch scored on an error, then Bryan Engelhardt hit his first homerun of the season in the eighth to make it 7-1.

Line Score, Box Score & Play-by-Play
Standings & Schedule
---

Mr. Cocker HCAW vs. L&D Amsterdam Pirates
At Bussum, veteran righthander Rob Cordemans struckout eleven batters in seven innings and gave up only two hits, while his teammates collected 13 basehits in that span to take a 9-0 lead.

Amsterdam opened the score in the second inning when Percy Isenia led off with a walk, moved to third on a double by Bas de Jong and scored on a sac-fly by Vince Rooi. Three runs were added in the fourth at bat. With one out, HCAW-starter Kevin Miner gave up four consecutive singles to Percy Isenia, Bas de Jong, Bas Nooij and Seb Visser that gave Amsterdam a 4-0 lead. In the sixth, the Amsterdam-squad scored its next run when Bas de Jong singled and scored when Vince Rooi got into a rundown after having hit a single.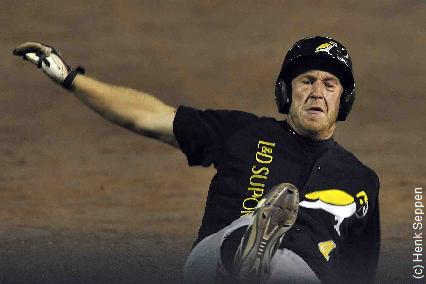 ...Bas Nooij slides into third base...
...after leading off the 8th inning with a triple...
(© Photo: Henk Seppen)

Amsterdam made it a 9-0 score in the seventh inning. With one out, Wesley Connor and Roelie Henrique singled, then the first scored when Sidney de Jong also singled. That marked the end for Kevin Miner, who was replaced by Robin Schel, who made his big league-debut. The rookie was welcomed into the big league by giving up a 3-run homerun by Percy Isenia, his third fourbagger in the young season.

Amsterdam reached the 10-run difference in the eighth inning when Bas Nooij led off with a triple and scored on a grounder by Seb Visser, but then failed to end the game prematurely, as HCAW scored once in its eighth at bat.

Amsterdam-starter Rob Cordemans almost matched the performance of David Bergman at the same moment the latter was pitching for Corendon Kinheim vs. ADO. After giving up a 2-out double to Lennart Koster in the first inning, Cordemans struckout seven batters in a row, while Bergman was striking out eight in a row. In the second inning, Cordemans did something special, when he not only struckout three batters, but the three were all called out on strikes by Home Plate Umpire Henny Jansen.

In the fourth, Cordemans was supported with a double play, then struckout two more batters in the fifth and added another one in the sixth and seventh inning to bring his total to 11. A week ago, Cordemans struckout 10 batters in his Opening Day-assignment vs. DOOR Neptunus.

In the eighth inning, lefthander Rik Geestman took over for Cordemans. Adrian Anthony, the first batter he faced, reached on an error, then Randy Daal followed with an infield-hit. Next, Mitchel Koot grounded into a double play. By the way, the fathers of Rik Geestman (Tom) and Mitchel Koot (Frank) played together for Amsterdam Pirates in the seventies. With Anthony now on third base, Geestman gave up a run when next batter Bart Sabel doubled, but then followed with a strikeout.

In the ninth, Jurrian Koks pitched for Amsterdam and helped himself with a double play on a comeback line drive by Dirimo Enrique Chavez, then ended the game with a strikeout.

Line Score, Box Score & Play-by-Play
Standings & Schedule
---

UVV vs. Vaessen Pioniers
At Utrecht, UVV played its first game on the highest level since 1988 and while they tied the score at 1-1 in the third, the team ended up empty-handed, losing 10-4.

Pioniers opened the score in the second inning when Dè Flanegin led off with a single and moved on a single-plus-error by Norbert Lokhorst, then scored in a fielder's choice situation. In the third inning, UVV came alongside. Jeff Delfina led off with a walk and stole second base, then scored when Rutger Veugelers doubled, but then latter then was eliminated in a double play when next batter Danny Rombley flied out.

Pioniers re-took the lead in the fourth inning. With one out, Norbert Lokhorst (who was 3-for-5) singled and went on to score on an error. The Hoofddorp-team then broke open the game in the fifth by scoring four runs. Jason Orman led off with a single and scored on an one-out single by Nik Gumeson. The bases then got loaded when Dè Flanegin walked and Lokhorst singled. A hit batter for Linoy Croes, error on a force play-grounder by Kevin Dirksen and single by Zerzinho Croes then lifted the lead to 6-1.

UVV narrowed the deficit by scoring twice in the sixth. With two outs, Giovanni Samboe singled and Glenn Romney (who played for Pioneirs in the past) walked, which led to a pitching change. Starter Conrad Orman was replaced by Shane Gnade, who then gave up an RBI-single to Shurty Tremus, then saw another run being scored on a wild pitch.

In the seventh, Pioniers took more distance, scoring three runs off Hylke van Viersen, who had just relieved starter Orlando Yntema. With two outs and two runners on base, a single by Jefferson Muzo gave Pioniers a run, then the bases got loaded when Jason Orman was hit by a pitch. This brough in new pitcher Sedley Karel, who then gave up a 2-run single to Mark Duursma that made it 9-3. The tenth run was then scored in the eighth inning when Nik Gumeson doubled and scored on a wild pitch. UVV managed to add one more run in the ninth on a sacrifice fly by Norbert Jongerius.

In the first inning, there was an unique moment when Fausto Álvarez Rizo entered the batter's box as the designated hitter for UVV. At that moment, he became the first 50-year old player to play in the highest Dutch league, breaking his own record as the oldest player on the highest level, which he set during the 2009 season while playing for L&D Amsterdam Pirates. In his first at bat, Álvarez singled, making him also the oldest player to have hit a basehit in the Dutch big league. Álvarez went 1-for-4 in his comeback-game in the big league.

Line Score, Box Score & Play-by-Play
Standings & Schedule
---

Sparta-Feyenoord vs. DOOR Neptunus
At Rotterdam, only one run was scored in the game between the two teams from this city, but it led to the 900th big league-victory in history for Neptunus.

The lone run was scored in the sixth inning by Neptunus, which hit only two basehits in the previous five at bats. Sparta-Feyenoord starter Bobby Carrington threw stronly and retired the first 11 batters he faced, including six with a strikeout. In the fourth, Raily Legito singled with one out and Jeffrey Arends walked, but then Carrington followed with his seventh strikeout. In the fifth, Rien Vernooij led off for Neptunus with a single, but later was eliminated on an one-out grounder, followed by another strikeout.

In the sixth, Carrington gave up a lead-off double to Eugène Kingsale, who then advanced on a sac-bunt by Benjamin Dille. Kingsale then was unable to score when Raily Legito flied out to rightfield. Next, Carrington walked Jeffrey Arends, but the fourth ball ended up in a wild pitch, enabling Kingsale to score what would be the lone run.

In the seventh and eighth inning, Neptunus got two more runners, but both were caught stealing. In the eight inning he pitched, Carrington struckout 10 batters, becoming the third pitcher tonight with 10 or more strikeouts.

Sparta-Feyenoord didn't got much opportunities to do something back off Diegomar Markwell. The lefthander gave up 2-out singles in the first and second inning and retired seven batters between the second and fourth at bat. In the fifth, he gave up a lead-off single to former pro Rudney Balentien, but he was caught stealing. Next, Emeron Lourens reached on an error and would move to second base on a 2-out single by Jesus Castillo, the inning then ended when the latter was picked off first base. Lourens became the lone Sparta-Feyenoord player to reach second base in this game. In the seventh, Markwell walked lead-off hitter Jourick Blanco, but then three outs followed. In the eighth, he walked lead-off hitter (and pinch-hitter) Arthur Bonevacia, but he was forced out, then a double play followed.

In the ninth inning, Arshwin Asjes retired the side and earned his second save of the season.

Line Score, Box Score & Play-by-Play
Standings & Schedule

(April 14)