Ruzic wins first game in Italy
Nederlands




RIMINI / PARMA / NOVARA (Italy) / SERRAVALLE (San Marino) - Dushan Ruzic, who played a major role in the pitching staff of DOOR Neptunus the last three seasons, on Friday-evening made his debut in the Italian Baseball League. The Australian righthander was the starting pitcher for Telemarket Rimini in the season-opener at home vs. North East Kings from Godo and became the winning pitcher.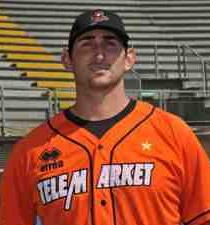 ...Dushan Ruzic...
(© Photo: Rimini Pirates)

In 2008, Ruzic played in his first Dutch season with Neptunus and then threw in 20 games as a reliever, earning seven saves and finishing with an 1-0 record and an 1.05 ERA. He struckout 31 batters in 32 1/3 inning and walked only seven. In 2009, Ruzic again pitched in 20 games, including five as a starter. This time, he struckout 55 and walked only nine batters in 60 innings, while earning six saves and finishing the season with a 7-2 record and 1.05 ERA. Last year, Ruzic remained unbeaten and was 9-0 with two saves, throwing in 18 games, including nine as a starter. In 81 innings, the righthander struckout 78 batters and walked 26. In 2010, Ruzic became a valuable member of the pitching staff and threw some crucial innings en route to the Dutch championship.

On Friday-evening, at Stadio dei Pirati in Rimini, Ruzic pitched the first six innings for Rimini and struckout eight batters, walked none and gave up only two basehits. Christopher Di Roma then threw the next two innings and American (with a Greek background) Panagiotis 'Pete' Sikaras pitched the ninth. The latter struckout the side. After giving up an one-out single in the second inning, Ruzic retired the next 14 batters in a row.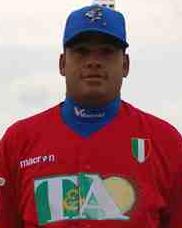 ...Wuillians Vasquez...
(© Photo: T&A San Marino)

Czech lefthanded pitcher Jan Řeháček, who last season pitched for Ostrava and initially was scheduled to play for Vaessen Pioniers this season, also pitches for Rimini this season.

At Serravalle (San Marino), Venezuelan Wuillians Martin Vasquez was 1-for-4, scored once, struckout once and played at first base in his first game for T&A San Marino, which won 3-0 vs. Danesi Nettuno. Last season, Vasquez was the best hitter of Mr. Cocker HCAW in the Dutch big league, hitting .376, scoring 23 runs and collecting 28 RBI's.

Also on Friday-evening, Unipol Bologna won its second game vs. Cariparma Parma, 3-1, while Novara United won 7-2 vs. Montepaschi Grosseto.

(April 15)