More rainouts; Van 't Klooster adds basehit
Nederlands




THE HAGUE / HOOFDDORP / ROTTERDAM / BUSSUM (Neth.) - On Saturday, two more games rained out (after already having started), while a third one was stopped after five completed innings, meaning it became a valid game. The fourth game was able to complete all nine innings. No make-up dates have been announced yet for the two cancelled games. More rain is expected for Sunday, meaning more cancellations might follow. Last Thursday, all four games rained out and were re-scheduled for coming Tuesday. However, current weather predictions are unfavorable for the entire upcoming week.
---

At The Hague, Sparta-Feyenoord scored runs in the second, third and fourth inning and led 3-0 with two outs in the bottom of the fourth inning vs. ADO when the game was interrupted by rain. After a delay, the game was stopped. Rudney Balentien scored twice for Sparta-Feyenoord. In the second inning, he singled, stole second and third base, then scored on a passed ball. In the fourth, he reached second base on an error, was awarded third base on a balk and scored on a single by Rensver Jansen. The run in the third was scored by Anthony Vrolijk, who doubled, then scored on an error.
---

At Hoofddorp, Vaessen Pioniers took an 1-0 lead vs. Corendon Kinheim in the third inning. Zerzinho Croes led off with a single, then moved to third base when an error was made on a sacrifice bunt by Jefferson Muzo and scored when Michael Duursma grounded out. In the fifth inning, Pioniers added four more runs to make it 5-0. Randy Reiph led off with a homerun off Kinheim-starter David Bergman. After giving up the homerun, Bergman was ejected by Home Plate Umpire Efran Silvania after the righthander had said something. Steven van Groningen took over, but walked Zerzinho Croes. After a sac-bunt by Jefferson Muzo and a flyout by Michael Duursma, Croes scored when Mark Duursma doubled. Pioniers then made it 5-0 when Nik Gumeson hit a 2-run homerun. After next batter Norbert Lokhorst doubled, Patrick Beljaards was brought in as new pitcher and struckout Mark-Jan Moorman, which also was the last out of the game. Hereafter, the umpires halted the game, because it started to rain heavier. 32 minutes later, the game, which already was played in some drizzling rain, was stopped, but as five innings were played (and the home team led after 4 1/2), it was a valid game.

Kinheim-rightfielder Dirk van 't Klooster reached on an error in the second inning, then singled in the third at bat to raise his career total to 998, meaning he now needs only two hits to reach the 1000-hit milestone. He was to lead off the sixth inning, but then the game was interrupted by rain.
---

At Bussum, Mr. Cocker HCAW trailed 7-1 in the bottom of the ninth inning, then brought the tension back into the game (which was played under rainy conditions) by rallying four runs, but nevertheless ended up empty-handed, losing 7-5 to UVV.

UVV took an 1-0 lead in the second inning when Danny Rombley reached on an error and scored on a 2-out single by Jeroen Hermans. HCAW came alongside in the third. Rookie Jorin van Amstel (who made his big league-debut last week) singled with one out and scored on a 2-out throwing error.

In the fourth inning, UVV rallied for five runs off starter Kevin Roovers. Glenn Romney led off with a single and scored when Danny Rombley doubled. Rutger Veugelers and Giovanni Samboe then both singled to bring in another run, then both scored when an error was made on a sac-bunt by Jeroen Hermans. An out followed, but UVV then added another on a sac-fly by Brennan Nijhof. Next, Roovers got the bases loaded on a single and two walks, but was left in, then ended the inning with a flyout on the eleventh batter he faced in this at bat. UVV added a run in the seventh on a single by Veugelers to lift the lead to 7-1.

In the bottom of the ninth, HCAW scored four runs to narrow the deficit to 7-5. With Adrian Anthony on base (walk) and one out, veteran Ronald Bouwman walked. Bouwman, who has played in the big league-team several years ago, made his comeback in the squad last week. Today, he entered the game in the seventh inning as catcher and led off the bottom of the at bat with a double, but stranded at third base. Anthony and Bouwman then scored when Jorin van Amstel hit his first big league-triple. With two outs, reliever Sedley Karel also walked Michael Pluijmers and was relieved by Derek Tarapacki. But the American closer ran into problems. He gave up an RBI-single to Lennart Koster (which was followed by an outfield-error), then loaded the bases by hitting Dirimo Enrique Chavez with a pitch. Next, Tarapacki gave up a runscoring single to Juan Miguel Gonzalez that made it 7-5 and left the bases loaded. But then the inning (and the game) ended when Adrian Anthony grounded into a force out, meaning Tarapacki was credited with a save.
---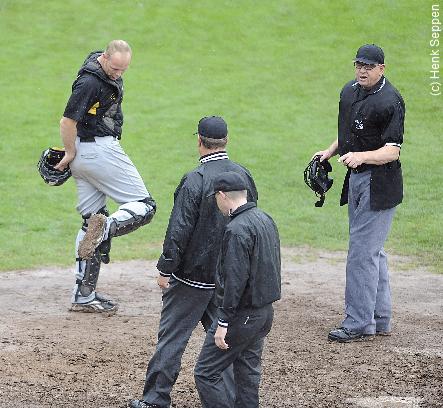 ...Amsterdam-catcher Sidney de Jong discusses...
...the field with the umpire crew...
(© Photo: Henk Seppen)

At Rotterdam, L&D Amsterdam Pirates held a 2-0 lead vs. DOOR Neptunus when Raily Legito hit a 3-run homerun in the bottom of the third inning. But then, with two outs, this game also was stopped because of rain and later cancelled. Amsterdam opened the score in the first inning when Wesley Connor led off with a single and scored on a 2-out single by Percy Isenia. In the third inning, Bas Nooij reached on an error, advanced on a wild pitch and scored on a single by Roelie Henrique to make it 2-0. In the home of the third, Neptunus got two runners on base with one out, then Legito homered. But after the next batter struckout, the game was halted.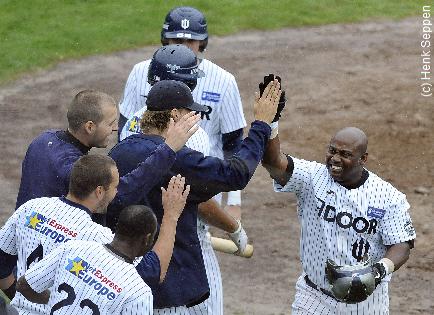 ...Raily Legito is welcomed after his 3-run homerun...
...But it was erased by rain...
(© Photo: Henk Seppen)