First victory UVV
Nederlands




HAARLEM / BUSSUM / UTRECHT / ROTTERDAM (Neth.) - On Sunday, UVV came from behind to win its first game of the season and its first since 1988, defeating Vaessen Pioniers 7-4 and avoiding a 3-game sweep. League-leader L&D Amsterdam Pirates had its this 10-plus basehit game in a row, collecting 12 to win 10-4 vs. Mr. Cocker HCAW. Corendon Kinheim shutout ADO 9-0 and DOOR Neptunus won 11-2 vs. Sparta-Feyenoord. By winning today, Amsterdam, Kinheim and Neptunus completed a 3-game sweep.
---

Corendon Kinheim vs. ADO
At Haarlem, Kinheim registered 12 basehits, including three by Bryan Engelhardt, who hit his third homerun and now has homered in each of the three games played by Kinheim since it opened its season on Thursday-evening. Three Kinheim-pitchers gave up only four basehits.

Kinheim scored its first two runs in the first inning. ADO-starter Raynard Doran walked lead-off hitter Remco Draijer, who then scored on a 2-out double by Bryan Engelhardt. Hereafter, Jason Halman singled to make it 2-0.

Two more runs were added in the third at bat, again with two outs. Engelhardt then walked and Halman singled. An error in a caught stealing-situation then enabled Engelhardt to score, while Halman scored on a passed ball.

In the fourth, Roy Seltenrijch singled and scored on a grounder by Remco Draijer, then four runs were added in the fifth. The inning opened with the third homerun of the season by Engelhardt, while later in the inning Seltenrijch contributed with a 2-run double, then scored himself on a 2-out single by René Cremer, that increased the lead to 9-0.

ADO reached base only twice in the first six innings off starter Nick Veltkamp, who struckout nine batters. The lefthander gave up singles to Jaïr Roseburg and rookie Joshua Zara, who was added to the team on Friday and made his debut on Saturday. The two stranded, as Veltkamp retired the next 14 batters in a row. In the seventh, two more batters reached base, but one was forced out, while the second was left behind. Patrick Beljaards and Nick Stuifbergen threw the last two innings for Kinheim.

Line Score, Box Score & Play-by-Play
Standings & Schedule
---

Mr. Cocker HCAW vs. L&D Amsterdam Pirates
At Bussum, Amsterdam today had 12 basehits, including three by Wesley Connor. Besides giving up 12 basehits, three HCAW-pitchers also walked 11 batters. Starter Joey Eijpe walked six and gave up six hits and six runs in 3 2/3 inning. Next, Joran Klarenbeek walked two in 3 1/3 inning. The remaining three walks were issued by Jeroen Hubert, who threw the last two innings for HCAW. The lefthander, who turned 35 in January, was a regular in the pitching staff of HCAW in the late nineties, then pitched for Amsterdam in the early 2000s. In the last years, Hubert made one to three appearances annually on the HCAW-mound, the last being a 5 inning appearance in 2009, preceeded by an one-inning appearance in 2008. This series, HCAW had to do without Venezuelan lefthander Roger Luque, who was scheduled to arrive last Thursday, but that had to be postponed due to visa-problems.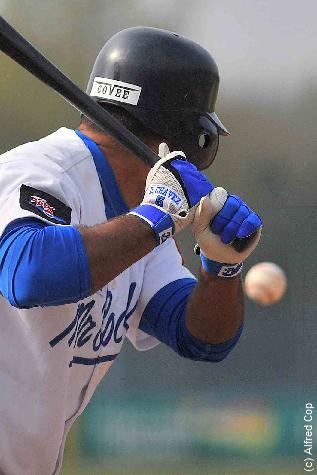 ...Dirimo Enrique Chavez...
...2-run double in 8th inning...
(© Photo: Alfred Cop Fotografie)

On the other hand, Amsterdam-starter Ben Grover was pitching a No-Hitter for six innings. The righthander struckout three and allowed only two batters to reach base. In the second at bat, Julio Miguel Gonzalez reached on an error, then next batter Adrian Anthony was hit by a pitch. But then Randy Daal grounded into a double play and Grover retired 14 batters in a row. Despite pitching a No-Hitter, Grover was relieved after six innings by Frank van Heijst, who gave up an one-out single to Lennart Koster in the seventh inning.

Amsterdam opened the score with three runs in the first inning on a sac-fly by Percy Isenia and a 2-run throwing error. The next run was added in the second inning on a sac-fly by Vince Rooi. After leaving the bases loaded in the third, Amsterdam scored its next two runs in the fourth at bat. Roelie Henrique led off with a double and scored on a grounder by Isenia, then Bas de Jong doubled with two outs and scored on a single by Bas Nooij.

In the fifth inning, Amsterdam again had two doubles. Wesley Connor led off with a single, then scored on an one-out double by Vince Rooi, who in his turn scored on a 2-out double by Bas de Jong to make it 8-0.

In the home of the eighth inning, HCAW rallied for three runs. With one out, Michael Pluijmers singled and Mitchel Koot walked, then pinch-hitter Rodney Daal doubled in the first runs for the Bussum-team. After a flyout, Dirimo Enrique Chavez also doubled to bring in two more runs. Amsterdam answered with two runs in the ninth inning on a single by Rooi and grounder by Isenia to make it 10-3. HCAW then scored one more run in the ninth off new pitcher Jurrian Koks when Gonzalez doubled and scored on a 2-out single by Pluijmers.

Line Score, Box Score & Play-by-Play
Standings & Schedule
---

UVV vs. Vaessen Pioniers
At Utrecht, UVV took an early lead, then trailed 4-3 in the eighth, but then rallied for four runs to register its first win of the season and first on the highest level since last playing in the league in 1988. By winning 7-4 vs. Pioniers, the Utrecht-team avoided a 3-game sweep.

In the first inning, UVV scored twice off starter Lars Huijer when Rutger Veugelers singled with one out, as did Fausto Álvarez Rizo with two outs. Singles by Giovanni Samboe and Glenn Romney then accounted for the runs.

Pioniers got one run back in the third inning when Zerzinho Croes led off with a single and scored on a 2-out single by Mark Duursma. The Hoofddorp-squad then took over the lead in the fifth. With one out, Jason Orman reached on an error and Mark Duursma singled off starter Martijn Riphagen, who was then relieved by Hylke van Viersen. An error on a grounder by Nik Gumeson then tied the score. Pioniers then got the bases loaded when Dè Flanegin singled and took the lead when Norbert Lokhorst walked. This brought in new pitcher Juri van Leeuwen, who then ended the inning, leaving the bases loaded.

In the home of the fifth, UVV tied the score again. With one out, Giovanni Samboe tripled and scored on a single by Glenn Romney, but Pioniers re-took the lead in the sixth when Zerzinho Croes singled and scored on a single by Mark Duursma, but that would be the last run for Pioniers, as Van Leeuwen retired seven of the next eight batters. Hereafter, Derek Tarapacki took over, retired four of the five batters he faced and became the winning pitcher.

Trailing 4-3, UVV rallied for four runs in the home of the eighth. Reliever Shane Gnade, who had taken over in the fifth inning, walked lead-off hitter Glenn Romney, who was replaced by pinch-runner Quincy Cairo. After advancing on a sac-bunt, Cairo scored the tying run on a single by Jirka Bliek. A flyout then followed, then Jean-Paul Gulinck was brought in as new pitcher. He gave up a bunt-single to Jeff Delfina, then threw a wild pitch and loaded the bases by walking Rutger Veugelers (who was 3-for-4). Next, Danny Rombley singled to bring in two runs and as an outfield-error followed, another run was scored to make it 7-4 in UVV's favor.

Line Score, Box Score & Play-by-Play
Standings & Schedule
---

Sparta-Feyenoord vs. DOOR Neptunus
At Rotterdam, Neptunus won 11-2 vs. Sparta-Feyenoord, but led only 3-2 after five innings. The team scored seven runs in the last three at bats.

Neptunus had eleven basehits, the first of which was an RBI-double by Jeffrey Arends in the first inning that gave Neptunus an 1-0 lead. In the third, the lead was increased to 3-0. Benjamin Dille led off with a walk, then an error followed on a double play-grounder by Raiky Legito. Next, Dwayne Kemp and Rien Vernooij hit back-to-back doubles with two outs to make it 3-0.

Sparta-Feyenoord then narrowed the deficit to 3-2 in the third and fourth at bat. In the third, Neptunus-starter Tim Roodenburg gave up a lead-off double to Jesus Castillo, who then scored on a grounder by Rudney Balentien. In the next at bat, Roodenburg gave up another lead-off double, this time to Jourick Blanco, who went on to score on an error. With runners on second and third and two outs, Roodenburg was relieved by Kevin van Veen, who then ended the at bat with a groundout.

Neptunus added runs in the sixth and seventh inning to take some more distance. In the sixth, Sape Wagenaar walked and scored on a single by Eugène Kingsale and in the seventh, Jeffrey Arends doubled and scored on a sac-fly.

Leading 5-2, Neptunus added two runs in the eighth on a 2-out single by Raily Legito. The team then rallied for four runs in the ninth to take a commanding 11-2 lead. The first three runs were scored on two errors on two force play-grounders, then the fourth run was scored on a sac-fly by Legito.

Neptunus-reliever Kevin van Veen walked a batter in the fifth and was relieved by Jorian van Acker (who was credited with the win), who then gave up a lead-off single in the sixth, but then retired the next three batters. Australian Craig Anderson pitched the seventh and eighth inning for Neptunus, giving up two singles. Berry van Driel threw the final inning for Neptunus and retired the side.

Line Score, Box Score & Play-by-Play
Standings & Schedule

(April 17)