Four rainouts on Sunday; Van 't Klooster's quest continues on Monday
Nederlands




ROTTERDAM / HAARLEM / AMSTERDAM / BUSSUM (Neth.) - On Sunday, three of the four scheduled games in the Dutch big league started, but were stopped by rain before they became valid. The fourth game was already cancelled early in the morning.

The match-up between Corendon Kinheim and Vaessen Pioniers was re-scheduled for Monday-evening, while the other games will be made up on a later date.
---

At Bussum, the game between Mr. Cocker HCAW and UVV was in the fifth inning (3 outs away from becoming official), but also had to be called eventually. UVV was leading 5-2 when the home of the fifth inning was about to start, but then the game was halted due to rain and then stopped definitively.

UVV had scored three runs in the top of the third inning. Austin Weymouth singled and Jirka Bliek reached on an error, then both advanced on a sac-bunt by Glenn Romney and scored on a double by Danny Rombley. The latter scored himself when an error was made on a grounder by (former HCAW-player) JuriŽn Overman.

HCAW got two runs back in the home of the third. With two outs, Jasper Keijzer singled and Michael Pluijmers was hit by a pitch. The two then scored on a double by Lennart Koster.

UVV added two runs in the top of the fifth inning when pinch-runner Brennan Nijhof and Danny Rombley (who again had doubled) both scored on a double by Rutger Veugelers. But all results were erased as rain made the continuation of this game impossible.

The game will be made up on Tuesday, July 26.
---

At Rotterdam, the game between Sparta-Feyenoord and ADO didn't go beyond the first inning. In the top of the bat, ADO took an 1-0 lead when Jarreau Martina reached second base on an error and scored on a single by JaÔr Roseburg. But in the second half of the at bat, Sparta-Feyenoord scored twice. Kevin van Nederpelt led off with a walk and Anthony Vrolijk singled. The first then scored when Quintin De Cuba also singled, which moved Vrolijk to third base. After De Cuba was caught stealing, Vrolijk scored on a grounder by Ramiro Balentina. But after next batter Brian Biezen singled and Glimphor Rifaela walked a rain-delay followed, ending in the cancellation of the game.

No new date has announced yet, but this game probably will be made up on Tuesday, August 2.
---

At Amsterdam, the game between L&D Amsterdam Pirates and DOOR Neptunus already was cancelled early in the morning due to the condition of the playing field following rain during the previous night.

This meant that all three games in this series rained out (as was the case in the Sparta-Feyenoord vs. ADO series). As of now, these teams will made up last Thursday's game on Tuesday-evening. They then will play last Saturday's game on Tuesday, July 26 with today's games probably being scheduled for Tuesday, August 2.
---

At Haarlem, the game between Corendon Kinheim and Vaessen Pioniers lasted only six minutes. After Pioniers was retired in order in the first inning, the umpire crew halted the game when is started to rain heavily. Some 10 minutes later, it was announced that the game was cancelled, as the playing field had become unplayable after the heavy rain showers, which had turned it into a swimming pool.

The game will be made up on Monday-evening in Haarlem, starting at 7:45 PM. And so, Dirk van 't Klooster's quest for his 1000th career basehit (he still needs two) also will continue on Monday-evening. Weather permitting...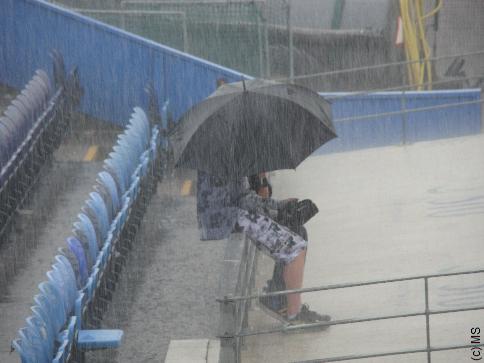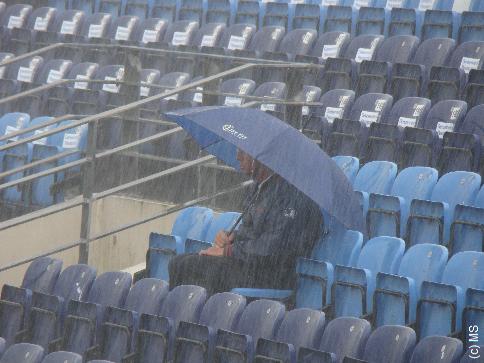 ...Hoping that the game will continue...
(© Photos: Marco Stoovelaar)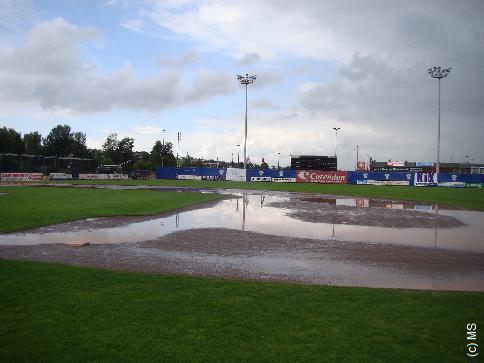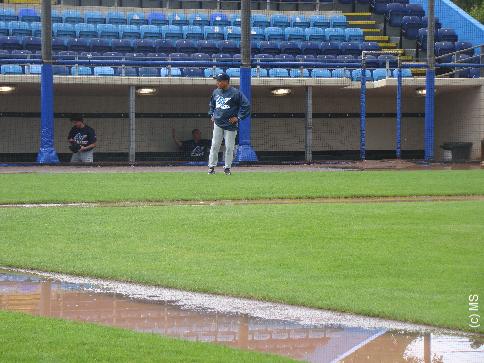 ...The unplayable field at left - At right Pioniers-Coach Theo Geerman looks around...
(© Photos: Marco Stoovelaar)
(July 17)