First full exhibition day; Wins for Top-4 2010
Nederlands






HOOFDDORP / AMSTERDAM / BUSSUM / HAARLEM / ROTTERDAM (Neth.) / MERKSEM (Belgium) - On Saturday, the first full day of exhibition games was played with all eight Dutch big league-teams getting into action. The top-4 teams of last season all registered victories. Dutch champion DOOR Neptunus trailed 1-0 vs. Belgian champion Hoboken Pioneers in the second inning, but won 5-1. Vice-champion L&D Amsterdam Pirates won 7-1 vs. its Rookie Team. Corendon Kinheim and Hoofddorp Pioniers, who also reached the Play-Offs last season, respectively won vs. ADO (11-0) and RCH-Pingu´ns (11-8). Also today, UVV defeated Mr. Cocker HCAW (13-5) and Sparta-Feyenoord won in Belgium vs. Royal Greys (13-6).
---
Hoofddorp Pioniers vs. RCH-Pingu´ns
At Hoofddorp, the home team trailed 8-5 in the seventh and last inning of this exhibition game vs. RCH-Pingu´ns, but eventually won. Due to control problems for the RCH-pitching, Pioniers was able to score six runs in its seventh at bat to win 11-5. Robert Klaver, the Head Coach of Pioniers used three pitchers in this game, Lars Huijer, Jean-Paul Gulinck and Mica de Lincel. Catcher Mark Duursma walked four times in this game.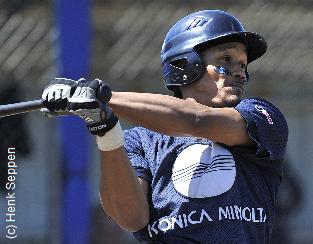 ...Linoy Croes...
...2 Hits, 2 Runs...
(© Photo: Henk Seppen)

Pioniers initially held a 4-0 lead after two innings. In the first at bat, Mervin Gario (single) and Mark Duursma (walk) scored on an error and a force play-grounder. In the next inning, two runs were added when Tino van Erk and Linoy Croes (who both singled) scored on an error and a single by Gario.

RCH-Pingu´ns answered with two runs with two outs in the third inning off starter Lars Huijer. Zamir Leijde and Lex Leijenaar then both singled and scored when Byron Cornelissen followed with a double.

In the fourth inning, RCH took over the lead by scoring four runs off new pitcher Jean-Paul Gulinck, who is the nephew of rookie and new teammate Tino van Erk. Gulinck walked four batters in this inning, but also gave up RBI-singles to Mick van Vliet and Byron Cornelissen. Another run was scored on an error.

Pioniers got one run back in the fifth on an error, but RCH increased the lead to 8-5 by scoring twice in the seventh inning when Zamir Leijde doubled and scored on a grounder and Byron Cornelissen walked and scored on a double by Ferd van Stekelenburg.

But in the home of the seventh inning, Pioniers was able to come back and win the game, scoring six runs off new pitcher Jim Leijenaar, who walked five batters and gave up RBI-singles to Jefferson Muzo and Mark Duursma.

Line Score & Box Score
Exhibition Standings & Schedule
---
L&D Amsterdam Pirates vs. Amsterdam Pirates Rookies
At Amsterdam, the home team won vs. its Rookie League Team in a game which was used primarily to get accustomed again to playing outdoors. Also, some players switched teams during the game and some innings were stopped after two outs.

Ben Grover, Jos de Jong, Rik Geestman and Al Morales Gomes pitched for the main squad.

No furter details available of this game.

Exhibition Standings & Schedule
---
Mr. Cocker HCAW vs. UVV
At Bussum, HCAW, which opened the exhibition season last week with two victories, suffered a big loss vs. UVV, which will make its comeback in the Dutch big league this season.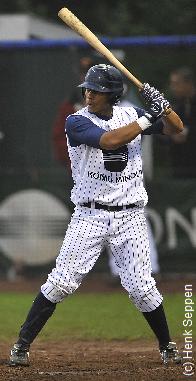 ...Shurty Tremus...
...3 Basehits...
(© Photo: Henk Seppen)

Initially, HCAW took a 2-0 lead in the first inning when Bart Sabel hit a 2-run homerun off starter Jurjen van Zijl, one of several players in the UVV line-up with a HCAW-background. UVV answered with a 5-run rally in the second inning off starter Robin Schel, who gave up two hits in the at bat, but saw his defense commit three errors. Schel hit lead-off hitter JuriŰn Overman with a pitch, then gave up an infield-hit to Shurty Tremus. After a force play-grounder, a single by Norbert Jongerius (one of the few leftover players of last years championship season of UVV) led to a run. Another force play-grounder followed, but then Schel walked Jeff Delfina and Rutger Veugelers to bring in the tying run. Next, three errors on two plays led to three unearned runs and gave UVV a 5-2 lead.

UVV added two runs in the fourth inning off new pitcher Kevin Miner on a single by Veugelers and a force play-grounder by Danny Rombley, then runs followed in the fifth and sixth at bat, which were the product of singles by Jongerius and Overman.

Trailing 9-2, HCAW scored twice in the seventh inning off Martijn Riphagen when Adrian Anthony reached on an error and scored on a single by Randy Daal and Mitchel Koot (single) scored on a wild pitch. HCAW added another run in the eighth when Koot singled in Sabel.

In the ninth inning, UVV rallied for four more runs off Maarten Mulder, who had just entered the game and gave up six basehits. All runs were unearned, at the inning started with an error.

UVV outhit HCAW 19-8, including three by Shurty Tremus and Norbert Jongerius.

During the game, HCAW's Wesley Bernardus (CF) missed his last three turns at bat due to an injury, while Joep van Els (C) and Arjan Elshof (2B) both didn't come to bat in the last inning, also because of an injury.

Line Score & Box Score
Exhibition Standings & Schedule
---
Corendon Kinheim vs. ADO
At Haarlem, Kinheim registered a big 11-0 shutout win vs. ADO on nine basehits, including a 3-run homerun by Bryan Engelhardt.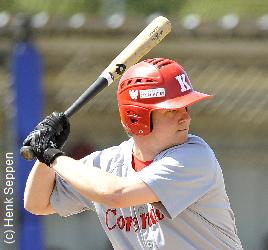 ...Bj÷rn Henrichs...
...3 Basehits...
(© Photo: Henk Seppen)

After two scoreless innings, Kinheim scored three runs in the third at bat. ADO-starter Raynard Doran gave up a lead-off double to RenÚ Cremer and then walked Jason Halman. A single by Bryan Engelhardt gave Kinheim its first run. A grounder by rookie Roy Seltenrijch and an error on a grounder by Niels van Weert increased the lead to 3-0.

Another run was added in the fourth inning on a single by Halman, then another run appeared to be scored when Cremer was awarded home plate on a balk, but that was reversed. Next, a 2-out, 5-run rally followed in the sixth at bat. Dave Veerman, who had taken over the pitching for ADO in the fourth inning, hit lead-off hitter Niels van Weert with a pitch, then got two quick outs. But then, he also hit Remco Draijer with a pitch. Next, two errors resulted in two runs and then Bryan Engelhardt followed with his 3-run homerun to make it 9-0. The final two runs were scored in the seventh inning on a sacrifice fly and an error.

ADO collected only four basehits off three pitchers. ADO reached second base only twice in the game, both off starter Duko Jansen in the first and second inning. In the fourth, Patrick Beljaards took over. Last week, in the exhibition opener vs. RCH-Pingu´ns, the lefthander gave up six hits, but today, he encountered no problems, gave up two hits and struckout three batters. Pim Walsma threw the last two innings for Kinheim.

Bj÷rn Henrichs hit three of Kinheim's nine basehits, while Bryan Engelhardt had four RBI's.

Line Score & Box Score
Exhibition Standings & Schedule
---
DOOR Neptunus vs. Hoboken Pioneers
At Rotterdam, the champions of the Netherlands and Belgium faced each other today. Last year, both teams also played against each other during the European Cup Tournament in Rotterdam and that game ended in a surprise 1-0 win for the Belgians. Today, the score was tied at 1-1 when Neptunus came to bat in the sixth inning, but then the home team took charge of the game.

Hoboken Pioneers is the oldest baseball club of Belgium and was being founded in 1930 as part of the sports possibilities for employees at Bell Telephone in Antwerp. The team became known simply as Bell and played its games in Hoboken where it played through 1947. From 1948-1979, the club played on another location, including Deurne, but in May 1980, it opened its current site back in Hoboken, which was expanded after completion of the 2004 season. In the meantime, the official clubname became Pioneers Baseball and Softball Club.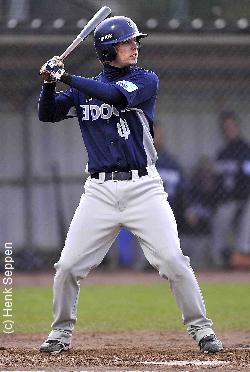 ...Benjamin Dille...
...3 Basehits...
...2 doubles, Run, 2 RBI's...
(© Photo: Henk Seppen)

The Belgian champion took an 1-0 lead in the first inning off starter Kevin Heijstek. The lead was accomplished after only three batters and six pitches. Dennis Ribbens led off with a single, then Randy Giorgiadis followed with a double. Next, Ribbens scored on a sacrifice fly by Dennis De Quint.

But that would be the lone run for the Belgians, which reached only six more times in the remainder of the 9-inning game. Starting with the sac-fly, 13 batters were retired in order. In the seventh and eighth inning, two Belgians would reach second base, but both stranded.

Hoboken registered only four basehits off four pitchers with the first three having a remarkable connection, as the first name of all three was Kevin (Heijstek, Van Veen and Noordzij).

After leaving two runners in the first inning, Neptunus came alongside in the second at bat. Rien Vernooij reached on an error, stole second base, advanced on 2-out infield-hit by Shaldimar Daantji and scored on an infield-hit by Sape Wagenaar.

Hoboken-starter Terence Antonacci (who also started last years game) then retired seven batters in a row, then faced three batters in the fifth, who all reached base, but also were retired. Mourik Huijser led off with a single, then was forced out on a grounder by Shaldimar Daantji, who in his turn was forced out on a grounder by Sape Wagenaar. The inning ended when Antonacci picked Wagenaar off first base.

In the sixth inning, now facing new pitcher Ben Van Den Branden, Neptunus scored twice to take the lead. With one out, Benjamin Dille doubled and scored on a single by Raily Legito, who later scored on a single by Jeffrey Arends. In the next at bat, Neptunus again scored two runs. With one out, Mourik Huijser was hit by a pitch and with two outs, Sape Wagenaar walked. Both scored on a basesloaded double (his second) by Dille to make it 5-1.

Line Score & Box Score
Exhibition Standings & Schedule
---
Royal Greys vs. Sparta-Feyenoord
At Merksem (Belgium), Sparta-Feyenoord won 13-6 vs. Royal Greys on 19 basehits, including three by Quintin de Cuba and a homerun by Rensver Jansen.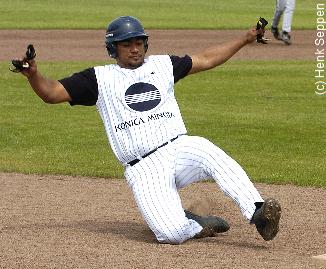 ...Jourick Blanco...
...2 Hits, 2 Runs...
(© Photo: Henk Seppen)

After leaving two runners in the first inning, Sparta-Feyenoord scored three runs in the second at bat. The bases got loaded when Churandy la Cruz and Max Bijster walked and Kevin van Nederpelt reached on a bunt-single. All three scored when next hitter Rubinet Koko tripled.

In the third (one) and fourth (two) inning, Sparta-Feyenoord added three runs, all on errors. Two more runs were scored in the fifth inning on a basesloaded 2-run single by Rensver Jansen.

Royal Greys scored a run in the second and sixth inning. In the second, Sparta-Feyenoord starter Gregory Gustina gave up a run, then reliever Quin Tramm gave up the second run four innings later.

Leading 8-2, Sparta-Feyenoord scored four more runs in the eighth inning. The Rotterdam-squad got the bases loaded when Rubinet Koko (hit by pitch), Emeron Lourens (single) and Jesus Castillo (walk) reached base. Next, Quintin de Cuba singled in two runs. Moments later, Jourick Blanco and pinch-hitter Churandy la Cruz (who re-entered the game in another spot in the batting order) also had RBI-singles to increase the lead to 12-2. The thirteenth run was scored in the ninth inning when Rensver Jansen led off with a homerun.

In the home of the ninth, the Greys rallied for four runs off Marc Hennep, who had entered the game the inning before. Hennep got the bases loaded, then walked in a run and gave up an RBI-single to Sem van Extergem and a 2-run double to Robin Roevens, that narrowed the deficit to 13-6.

Line Score & Box Score
Exhibition Standings & Schedule

(March 19-21)