Big wins for Amsterdam and HCAW
Nederlands




BUSSUM / HAARLEM / AMSTERDAM / ROTTERDAM (Neth.) - On Thursday-evening, the four home teams all won their game, which was a first this season. League-leader L&D Amsterdam Pirates won big vs. UVV, 11-1, while Mr. Cocker HCAW registered a big 12-2 victory against ADO. Corendon Kinheim and DOOR Neptunus each were outhit by their opponent, but both won. Kinheim initially trailed 3-0, but went on to win 5-3 vs. Sparta-Feyenoord and Neptunus opened its 3-game series vs. Vaessen Pioniers with a 6-0 shutout to win its eleventh game in a row.
---

Mr. Cocker HCAW vs. ADO
At Bussum, Mr. Cocker HCAW collected 11 basehits off three pitchers, who added 11 walks, to win 12-2 vs. ADO in an 8-inning game. ADO led twice, but in the end lost its seventh consecutive game.

Quensley Bazoer, who started the season with HCAW, tonight made his comeback in the team of ADO, where he played earlier in 2004-2008. In his first game against his former team, Bazoer was the lead-off hitter for ADO and played in centerfield. In the first inning, facing former teammate Kevin Miner, Bazoer struckout. Before coming to ADO, Bazoer (who was 0-for-3 tonight) played in six games for HCAW and went 0-for-10.

In the second inning, HCAW-pitcher Kevin Miner gave up a lead-off double to Sidney Ensermo, who then gave ADO an 1-0 lead when he score on a sacrifice fly by Enrique Tromp. ADO-starter Jurandy Girigori had no problems in the first two at bats, but then gave up a run in the third. With one out, the lefthander walked Mitchel Koot, who then stole second base and later scored on a sac-fly by Michael Pluijmers.

ADO re-took the lead in the fourth at bat when Gyenuar Lopez led off with a triple and scored on a passed ball. In the remainder of the game, ADO added only two more basehits and didn't add more runs off Miner, who went the distance for HCAW.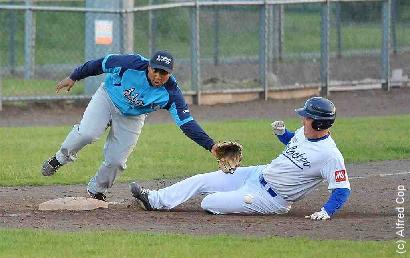 ...Lennart Koster steals 3rd base in 4th inning...
(© Photo: Alfred Cop Fotografie)

HCAW tied the score for the second time in the fourth when Lennart Koster walked and scored on a throwing error after he stole third base. In the fifth, HCAW took the lead. Wesley Bernardus singled and advanced on a bunt-single by Michael Pluijmers. The two moved on a sac-bunt by Dirimo Enrique Chavez, then the bases got loaded when Lennart Koster walked. A single by Juan Miguel Gonzalez then gave HCAW a 3-2 lead, but three runners stranded.

In the sixth, HCAW added three runs on a force play-grounder by Chavez and a 2-run single by Gonzalez. In the seventh, Quincy Lambertina, the scheduled starter for Game 2 on Saturday, took over the pitching for ADO and gave up two more runs, thanks to RBI-singles by Adrian Anthony and Wesley Bernardus. Designated hitter Sidney Ensermo, an infielder, pitched the eighth inning for ADO and saw HCAW reach the 10-run difference. He gave up a lead-off double to Koster and a single to Gonzalez, then loaded the bases by walking Randy Daal with one out. A hit by pitch for pinch-hitter Jasper Keijzer led to a run, then Mitchel Koot followed with a 3-run triple to make it 12-2 and end the game.

Line Score, Box Score & Play-by-Play
Standings & Schedule
---

Corendon Kinheim vs. Sparta-Feyenoord
At Haarlem, Corendon Kinheim faced an early 3-0 deficit after two innings, but then rallied for four runs in the second and went on to win 5-3, despite being outhit 9-5.

In the first inning, Kinheim-starter David Bergman gave up an one-out single to Arthur Bonevacia, which was followed by an RBI-triple by Quintin De Cuba and an RBI-single by Ramiro Balentina, that made it 2-0. In the second at bat, Rensver Jansen led off with a single, moved on a sac-bunt by Max Bijster and a single by Jesus Castillo, then scored on a grounder by Rubinet Koko to make it 3-0. Hereafter, Bergman retired 10 of the next 11 batters, before giving up a single in the sixth, but Sparta-Feyenoord didn't add more runs. Bergman struckout nine batters.

Trailing 3-0, Kinheim rallied for four runs in the second inning off Ruderly Manuel, who threw his first complete game for Sparta-Feyenoord. The righthander gave up a lead-off single to Dirk van 't Klooster, then walked Bryan Engelhardt and loaded the bases by giving up a single to Rodney Michel. Next, RafaŰl Jozefa doubled to bring in two runs. Manuel then followed with a strikeout, but then the score got tied when Bj÷rn Henrichs singled. An error on a force play-grounder by Remco Draijer then gave Kinheim a 4-3 lead.

In the next three innings, Ruderly Manuel retired nine of the ten batters, but then gave up an one-out homerun to Bryan Engelhardt (his seventh of the season) in the sixth inning that gave Kinheim an insurance run and made it 5-3. In the top of the sixth, Sparta-Feyenoord got two runners on base with one out, but then Bergman struckout the next two batters. In the seventh, Bergman struckout three batters, but also saw a runner reach third base, where he was left behind. In the eighth, Patrick Beljaards took over for Bergman when he gave up a single with one out to Ramiro Balentina, who then was caught stealing. Beljaards ended the at bat with a strikeout and was relieved by Nick Stuifbergen in the ninth. He gave up a lead-off single, but then three outs followed.

Kinheim left the bases loaded in the seventh inning, but the 2-run difference was enough to win the game.

Line Score, Box Score & Play-by-Play
Standings & Schedule
---
L&D Amsterdam Pirates vs. UVV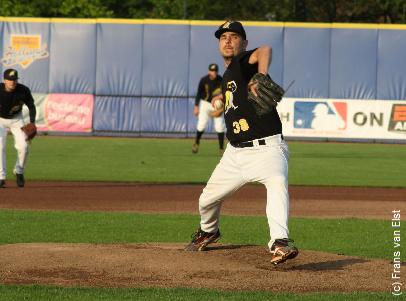 ...Winning pitcher Rob Cordemans...
(© Photo: Frans van Elst)

At Amsterdam, league-leader L&D Amsterdam Pirates won big vs. UVV, 11-1 on 13 basehits, but also left 12 baserunners. Four UVV-pitchers walked eleven batters to give Amsterdam additional baserunners. Sidney de Jong went 3-for-3 and reached base five times for Amsterdam, scored once and had four RBI's. Bas de Jong went 4-for-5, including a double, and had three RBI's. With his four hits, De Jong's batting average raised to .451 to become the leading hitter in the league. Vince Rooi reached base four times and scored three runs. The three first batters of Amsterdam reached base 13 times, including eight on a walk. Lead-off hitter Roelie Henrique walked three times and went on to score three runs. At the bottom of the batting order, Rashid Gerard walked twice and doubled and also scored three runs against UVV, which had now lost eight games in a row.

In the second inning, there was a special moment when Fausto ┴lvarez Rizo stepped up to the batter's box for his first at bat. The 50-year old Cuban played for Amsterdam in 2006-2009, appearing in 149 games in which he hit 175 basehits, including 24 homeruns, and had 127 runs batted in. After being introduced, ┴lvarez got a nice round of applause from the Amsterdam-fans, as he still holds a special place with them.

Amsterdam opened the score in the first inning when Vince Rooi walked with one out and went on to score on a 2-out double by Bas de Jong. The second run was added in the third when Rooi scored again, this time on a single by De Jong. Next, the home team scored three runs in the fourth. UVV-starter Timo van Ancum then walked Rashid Gerard and Roelie Henrique with two outs and was replaced by Derek Tarapacki. But the American was greeted with a 2-run double by Vince Rooi, who then scored his third run when Sidney de Jong followed with a single.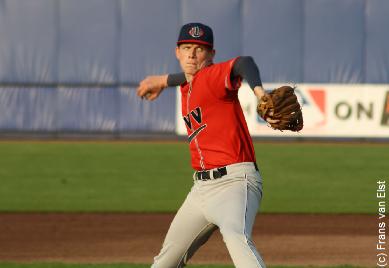 ...UVV-starter Timo van Ancum...
(© Photo: Frans van Elst)

Amsterdam added three more runs in the sixth off new pitcher Juri van Leeuwen. Gerard led off with a double, then the bases got loaded when Henrique and Rooi walked. A single by Sidney de Jong then accounted for two runs and he later scored himself on a basesloaded error on a force play-grounder by Bas Nooij. Hereafter, Martijn Riphagen took over the pitching for UVV with the bases loaded. The lefthander struckout Seb Visser and Koen Nooij to end the inning, but Amsterdam had increased the lead to 8-0.

Amsterdam-starter Rob Cordemans again had a fine outing. The righthander threw six innings, struckout six and gave up only one basehit, a comeback-single by Rutger Veugelers in the fifth inning, which he barely missed fielding. In the seventh inning, Al Morales Gomes took over and walked lead-off hitter Glenn Romney, who then advanced when an error was made on a force play-grounder by pinch-hitter Norbert Jongerius. Next, Fausto ┴lvarez Rizo singled to bring in Romney and gave UVV it's lone run. Jongerius overran third base, then tried to score on a bad throw by short stop Tim Vermij (who had just entered the game), but was eliminated at the plate when Morales (who covered the play) threw hit out. UVV's Head Coach Royce Holder came out to argue with 3B Umpire Johan Brandsma, as it appeared that 3B Rashid Gerard may have obstructed Jongerius, but that wasn't the case. As he continued arguing, Holder was ejected. It didn't trigger his team, as UVV failed to add more runs, while it gave up three more runs in the seventh that gave Amsterdam a 10-run difference.

Martijn Riphagen walked Gerard and Henrique, then gave up a single to Vermij that loaded the bases. He then walked Sidney de Jong and Percy Isenia (the latter after a dropped foul pop-fly) to bring in two more runs. The fourth basehit by Bas de Jong then made it 11-1 to end the game.

Line Score, Box Score & Play-by-Play
Standings & Schedule
---

DOOR Neptunus vs. Vaessen Pioniers
At Rotterdam, DOOR Neptunus was outhit 11-9, but ended a 6-game winning streak of Vaessen Pioniers with a 6-0 shutout that extended their winning streak to eleven games.

Pioniers appeared to take an early lead in the first inning. Michael Duursma led off with a single off starter Diegomar Markwell, then advanced to third on a single by his brother Mark Duursma. But he then was eliminated in a rundown on a grounder by Norbert Lokhorst. Pioniers then loaded the bases when Nik Gumeson singled, but an infield-fly and a flyout left the bases loaded.

Neptunus, which left a runner on third base in the second inning, opened the score in the third at bat off lefthander Conrad Orman. With one out, Shaldimar Daantji and EugŔne Kingsale singled and the bases got loaded when Benjamin Dille was hit by a pitch. The first run was then scored when Raily Legito walked. Next, Legito was forced out on a grounder by Jeffrey Arends, which enabled Kingsale to score. Dille also went on to score, thanks to a throwing error trying to complete a double play.

In the fifth, Neptunus added two runs. With one out, Legito and Arends hit back-to-back doubles to bring in a run, then a 2-out single by Rien Vernooij made it 5-0.

The sixth run was added in the eighth inning off new pitcher Kjeld de Lincel, who had relieved his brother Mika de Lincel, who threw the seventh inning for Pioniers. In the eighth, Dwayne Kemp singled with one out and scored on a single by Eldrion Regina.

In the sixth inning, Craig Anderson took over for Markwell and was supported with three double plays. Arshwin Asjes closed the game by throwing the ninth inning for Neptunus.

Line Score, Box Score & Play-by-Play
Standings & Schedule

(May 19)