Team North wins All Star Game
Nederlands

VLEUTEN (Neth.) - On a rainy Sunday-afternoon/evening, Team North beat Team South 8-5 to win the second All Star Game in Dutch Major League Baseball. Last year, Team South won 7-4 to win the inaugural edition in The Hague.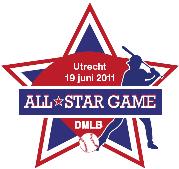 Despite the unfavorable weather conditions, hundreds of fans travelled to the site of UVV to first watch the final of the Dutch Little League-competition. In that game, Rotterdam defeated Midden-Nederland to qualify for the European Little League Championship next month in Kutno (Poland). Next on the schedule was the Homerun Contest, followed by the All Star Game.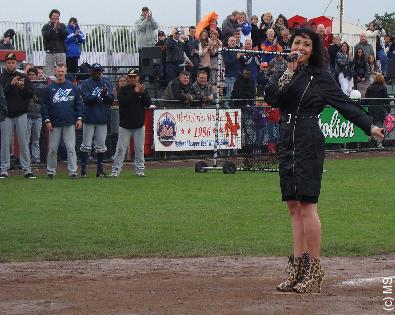 ...Hind performs the National Anthem...
(© Photo: Marco Stoovelaar)

In the Homerun Contest, the final went between Bryan Engelhardt (Corendon Kinheim, Team North) and Enrique Tromp (ADO, Team South). Engelhardt went on to hit the most homeruns and became the successor of Percy Isenia, who won last years Homerun Contest. In this years contest, Isenia was unable to hit a homerun. Engelhardt won the first round by hitting four homeruns and was joined in the second round by Enrique Tromp, Fausto Álvarez Rizo (UVV, Team South) and Jeffrey Arends (DOOR Neptunus, Team South), who all hit one. In the second round, Engelhardt hit five homeruns, while Tromp hit two and Álvarez one. In the final, Engelhardt added two homeruns and won the contest, as Tromp hit one. With his eleven homeruns, Engelhardt broke Isenia's record, who hit 10 in the first edition last year.

Before the game, Dutch singer and Edison-winner Hind sung the National Anthem, then the players were introduced. Next, former Dutch National Team-player Hamilton Richardson, who was named Best Outfielder during the World Championship of 1970 in Colombia, threw out the ceremonial first pitch.

In the All Star Game, Team North was the visiting team (as it was last year) and opened the score in the first inning off starter Diegomar Markwell (DOOR Neptunus). The lefthander gave up a lead-off single to short stop Michael Duursma (Vaessen Pioniers). Last year, Duursma also was the starting short stop, but the for Team South, as Pioniers then was part of that squad. But with the addition of UVV to this years league, Pioniers was moved to Team North, while UVV was added to Team South. After Duursma's single, Roelie Henrique (L&D Amsterdam Pirates) followed with a bunt-single. Henrique also played in his second All Star Game, but last year entered the game as pinch-hitter, while today he was the starting second baseman. Next, Dirk van 't Klooster (Corendon Kinheim) doubled to bring in both Duursma and Henrique and give Team North a quick 2-0 lead.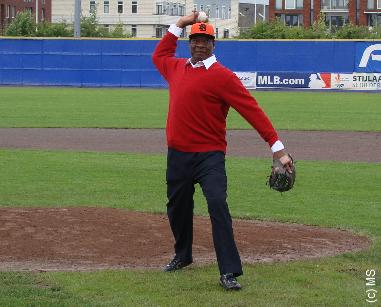 ...Hamilton Richardson throws the first ball...
(© Photo: Marco Stoovelaar)

North-starter Rob Cordemans (L&D Amsterdam Pirates) retired the side (including two strikeouts) in his first inning, but then gave up three runs in the second at bat. With one out, 50-year old Fausto Álvarez Rizo (UVV) singled in his first All Star-at bat. The bases then got loaded when Dwayne Kemp (DOOR Neptunus) and Giovanni Samboe (UVV) also singled. After a flyout, Team South scored its first run on a wild pitch. Hereafter, Jeff Delfina (UVV) followed with a 2-run single to make it 3-2. Delfina started in the outfield, taking the place of injured Shaldimar Daantji (who got the most votes as centerfielder). Delfina played in rightfield and therefore Danny Rombley (UVV) started in centerfield instead of rightfield.

In the second inning, with two outs, off new pitcher Derek Tarapacki (UVV), Michael Duursma hit another single in his second at bat, but then was forced out.

In the third inning, lefthander Craig Anderson (DOOR Neptunus) became the third pitcher for Team South and got two quick outs, but then gave up a homerun to Bryan Engelhardt that tied the score. Hereafter, Lennart Koster (Mr. Cocker HCAW) tripled, but a strikeout then ended the inning. Koster played in his second All Star Game, while not being chosen initially in both games. Last year, he was added to the roster to take the place of DH Dè Flanegin and this year, he was added as an extra outfielder, as both Wesley Connor and Bas de Jong (both L&D Amsterdam Pirates) were unable to play.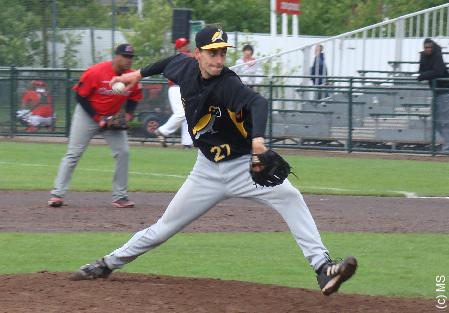 ...Winning pitcher Frank van Heijst...
(© Photo: Marco Stoovelaar)

Halfway the third inning, the game was briefly interrupted by rain, but then David Bergman (Corendon Kinheim)(last years starter for Team North) took the mound as reliever of Rob Cordemans. He gave up an one-out single to Raily Legito (DOOR Neptunus), but he was caught stealing in a double play when Jeffrey Arends (DOOR Neptunus) struckout.

In the top of the fourth inning, Orlando Yntema (UVV) gave up a lead-off single to first time All Star Rashid Gerard (L&D Amsterdam Pirates), but then Jefferson Muzo grounded into a double play and ended with a strikeout.

With the score still tied at 3-3, Frank van Heijst (L&D Amsterdam Pirates) took over the pitching for David Bergman in the bottom of the fourth inning. He gave up a lead-off double to Fausto Álvarez Rizo. The Cuban advanced to third base when Giovanni Samboe (UVV) flied out, but suffered a minor leg-injury and was replaced by pinch-runner Enrique Tromp (ADO), who was a late roster-addition. But Van Heijst then ended the inning with a strikeout.

The righthander then became the pitcher-of-record when Team North scored four runs in the top of the fifth inning off new pitcher José Ventura (Sparta-Feyenoord). The bases got loaded quickly when Roelie Henrique and Dirk van 't Klooster both singled and Sidney de Jong (L&D Amsterdam Pirates) walked. Next, Bryan Engelhardt underscored his power, as he belted the first grand slam homerun in Dutch All Star-history to give Team North a 7-3 lead.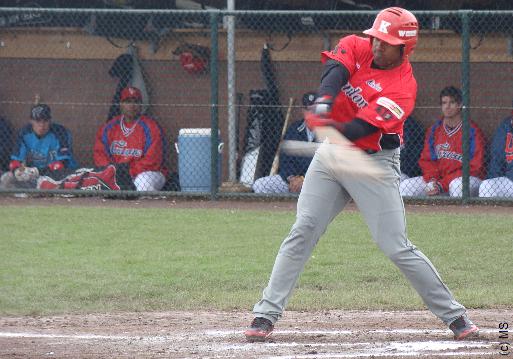 ...MVP Bryan Engelhardt hit two homeruns and had 5 RBI's...
(© Photo: Marco Stoovelaar)

In the sixth inning, Team South got one run back off new pitcher Kevin Miner (Mr. Cocker HCAW) when Enrique Tromp singled with two outs, advanced on a single by Dwayne Kemp and scored on a single by Ramiro Balentina (Sparta-Feyenoord).

Team South then narrowed the deficit to 7-5 in the seventh inning off lefthander Nick Veltkamp (Corendon Kinheim). Jeff Delfina led off with a walk and stole both second and third base, then scored on a sacrifice fly by Eugène Kingsale (DOOR Neptunus). With two outs, Gyenuar Lopez (ADO) doubled and Jourick Blanco (Sparta-Feyenoord) singled, but the two stranded when Veltkamp ended with a strikeout.

In the eighth inning, Team North lifted its lead to 8-5 off Bobby Carrington (Sparta-Feyenoord). The bases got loaded when Roelie Henrique walked, Dirk van 't Klooster doubled and Mark Duursma (Vaessen Pioniers) was hit by a pitch. Henrique then scored when Percy Isenia (L&D Amsterdam Pirates) grounded into a double play. Van 't Klooster stranded on third base, as a flyout ended the at bat.

In the home of the eighth, Jaïr Roseburg (ADO) singled with two outs off Maarten Mulder (Mr. Cocker HCAW), but was left behind.

Nick Stuifbergen (Corendon Kinheim), who got the most votes as relief pitcher, closed the game for Team North and retired the side to earn a save.

During the game, the result was announced of the action for Pink Ribbon on May 8, when players in the Dutch big league played with pink bats and wore pink sweatbands in the fight against breast cancer. A cheque of 3750 Euro was handed to a representative of Pink Ribbon.

A big compliment has to be handed to UVV, which was a great host of the second All Star Game. The club had organized several activities around the field, including a ball-game in which a helicopter dropped balls onto the field.

In the two All Star Games combined, a total of 71 players have now actively participated. Seventeen players participated in their second All Star Game, being Ramiro Balentina, David Bergman, Berry van Driel, Michael Duursma, Bryan Engelhardt, Roelie Henrique, Percy Isenia, Sidney de Jong, Dwayne Kemp, Eugène Kingsale, Dirk van 't Klooster, Lennart Koster, Raily Legito, Danny Rombley, Vince Rooi, Giovanni Samboe and Nick Veltkamp.

Umpires Johan Brandsma and Olav Steijger also participated in their second All Star Game.

More photos will be added on Monday

Line Score, Box Score & Play-by-Play

(June 19)

...Team North...
(© Photo: Marco Stoovelaar)

...Team South...
(© Photo: Marco Stoovelaar)

...Umpires Fred Groenewegen, Johan Brandsma,...
...Olav Steijger & Roy van de Wateringen...

...Official Scorers...
...Dieks Bannink & Francis Speters...
(© Photos: Marco Stoovelaar)