Van 't Klooster hits 1000th basehit
Nederlands




HAARLEM / AMSTERDAM / VLEUTEN / ROTTERDAM (Neth.) - Dirk van 't Klooster is the second player in Dutch baseball history to have hit 1000 career basehits in the big league. On Tuesday-evening, the rightfielder of Corendon Kinheim reached the milestone in the fourth inning of a 7-5 come-from-behind victory vs. Vaessen Pioniers.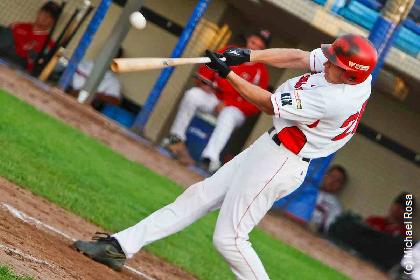 ...Dirk van 't Klooster connects for his 1000th basehit...
(© Photo: Michael Rosa)

Van 't Klooster needed two basehits to get into the recordbooks. After flying out in the first inning, Van 't Klooster singled in the third at bat to register his 999th basehit. Trailing 5-1, René Cremer led off the home of the third with a walk by starting pitcher Conrad Orman, who was then visited by his coach. Next, Van 't Klooster connected. Orman then followed with a strikeout, but then gave up a 3-run homerun to Bryan Engelhardt, that narrowed the deficit to 5-4. Hereafter, Orman was relieved by Jan Rehacek, who then gave up a single, walked a batter and committed a balk, but then ended with a flyout and strikeout.

As eight batters entered the batter's box in the third inning, Van 't Klooster came to bat again in the fourth at bat. With two outs, at 9:38 PM, Van 't Klooster connected on a pitch from Rehacek and delivered a single, which became his 1000th career basehit. The game was the interrupted, as Van 't Klooster was congratulated by his teammates, while the ball was removed from the game.

In the seventh inning, Van 't Klooster came to bat again, but this time grounded out. In the seventh, René Cremer led off with a single and moved on a balk, then advanced to third on Van 't Klooster's grounder. Rehacek was then relieved by Jean-Paul Gulinck, who got Jason Halman to groundout, but that enabled Cremer to score the tying run. Next, Bryan Engelhardt put Kinheim ahead by hitting his second homerun in the game. Rodney Michel followed with a single, also moved on a balk, then scored on a single by Rafael Jozefa, which lifted Kinheim's lead to 7-5.

The seventh also was to be the last inning in this game, which was very slow. The first four innings lasted almost two hours and because of that, the game had reached the 10:50 PM curfew when the seventh inning was in progress.

As mentioned earlier, Van 't Klooster became the second player in history to reach the 1000 basehit-mark. On May 15, 1999, at 2:12 PM, playing vs. Twins, Marcel Joost was the first player to reach the milestone and also was playing for Kinheim when he reached the mark. Like Van 't Klooster, Joost hit the basehit at home when Kinheim was playing on its former site at Badmintonpad. But there are more connections between Joost and Van 't Klooster. Joost started his career with Amsterdam Pirates, the same club where Van 't Klooster made his debut in the Dutch big league in 1993. In that year, on April 24, Van 't Klooster hit his first basehit in his career off Tony Rohan of Haarlem Nicols, the club where Joost was playing back then. Later, Joost coached Van 't Klooster when both were with Kinheim.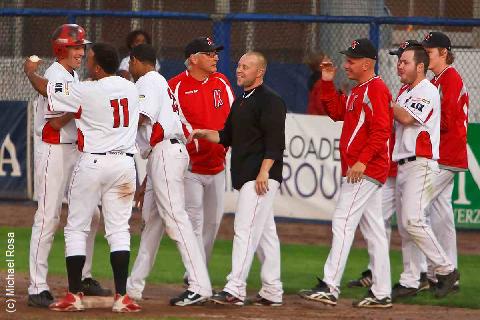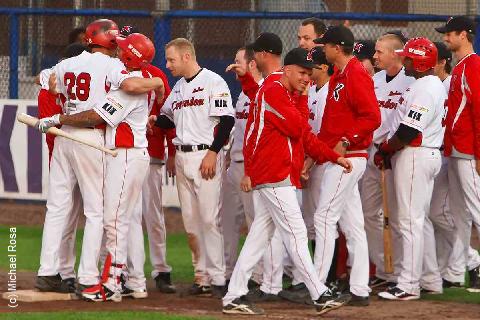 ...Dirk van 't Klooster is being congratulated by his teammates - Rodney Michel (11) has the historic ball...
(© Photos: Michael Rosa)
---

At Amsterdam, L&D Amsterdam Pirates won big vs. DOOR Neptunus, 9-3. Amsterdam trailed 2-0, but then scored three runs in the third on a 3-run homerun by Sidney de Jong. Neptunus tied the score in the fourth, but Amsterdam got back on top immediately when Vince Rooi homered. Hereafter, Amsterdam added five more runs in the next four innings, including the last two in the eighth inning on De Jong's second homerun in this game. For Neptunus, this was its first loss in an night game.

At Vleuten, Mr. Cocker HCAW won 6-4 vs. UVV in 10 innings. HCAW broke a 2-2 tie by scoring twice in the fourth inning. UVV then came alongside in the eighth inning. In the tenth at bat, HCAW scored two runs on singles by Dirimo Enrique Chavez and Randy Daal to win the game.

At Rotterdam, Sparta-Feyenoord won 8-2 vs. ADO. Sparta-Feyenoord collected 16 hits off four pitchers, including three by Jesus Castillo. Ruderly Manuel went the distance for the home team and gave up only five hits, while striking out eleven batters. Initially, Rudy Seebus was announced as starting pitcher, but new Head Coach Dino Anasagasti went with Manuel instead. For Anasagasti, this was his first game as Head Coach since taking over last week from Luty Bernadina. But since then, three games rained out.

(more later)

(July 19)

Standings, Schedule & Starting Pitchers