Third exhibition wins for Kinheim, HCAW, Sparta-Feyenoord
Nederlands





HEEMSTEDE / AMSTERDAM / UTRECHT / VOORSCHOTEN (Neth.) / MERKSEM (Belgium) - On Sunday, five more exhibition games were played, including seven of the eight Dutch big league-teams. Corendon Kinheim remained unbeaten in its third game after winning big again vs. ADO, 13-3. Mr. Cocker HCAW and Sparta-Feyenoord also registered their third exhibition win, beating UVV (9-8) and Royal Greys (21-0) respectively. Hoofddorp Pioniers was left empty-handed by RCH-Pingu´ns (7-3), while L&D Amsterdam Pirates won 3-1 vs. its Rookie-Team. DOOR Neptunus was to play vs. Euro Stars, but that game was dropped. Coming week, the first of the three traditional tournament is scheduled, as HCAW, Pioniers and Pirates all will participate in the annual Jan van de Vegte Memorial Tournament in Nijmegen.
---
RCH-Pingu´ns vs. Hoofdddorp Pioniers
At Heemstede, RCH-Pingu´ns defeated Hoofddorp Pioniers 7-3 in a 7-inning game. Yesterday, RCH led 8-5 in the seventh and last at bat of the first match-up against Pioniers, but then failed to hold onto the lead. Today, RCH did win the game, playing at their home site, to give Tjerk Smeets his first win as their new Head Coach.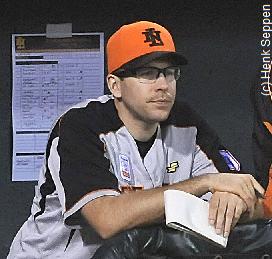 ...Tjerk Smeets...
...First victory...
(© Photo: Henk Seppen)

After two scoreless innings, Pioniers opened the score in the third inning by scoring two runs off RCH-starter Chris Mowday. Zerzinho Cruz (fielder's choice) then scored on a 2-out single by Michael Duursma. The latter advanced to third base on a single by Mervin Gario, then scored on a single by his brother Mark Duursma, but Gario was thrown out at the plate when he also tried to score.

RCH-Pingu´ns was held scoreless for three innings by Pionier-starter Dennis Buring, but left the bases loaded in the third inning, then scored four runs off new pitcher Shane Gnade. With Ricky Daal (walk) and Giovanni Valmont (double) on base, Dylan True hit an one-out, 2-run double to tie the score. With two outs, Zamir Leijde hit a 2-run homerun to make it 4-2.

RCH added a run in the sixth inning of new pitcher Mica de Lincel, thanks to an RBI-double by Lex Leijenaar. Pioniers then got a run back in the seventh inning. Linoy Croes led off with a double, then stole third base and scored on a throwing error.

Veteran pitcher Dave Draijer, who also is the Pitching Coach of Pioniers, took the mound in the home of the seventh inning and gave up two more runs to RCH. After striking out the first batter, next hitter Giovanni Valmont reached base on catcher's interference, then Mick van Vliet reached on an error. After another strikeout, Draijer gave up a 2-run double to Mark Smit that increased the lead to 7-3.

Pioniers collected six hits, including three by Linoy Croes, who had two doubles and one triple.

Line Score & Box Score
Exhibition Standings & Schedule
---
L&D Amsterdam Pirates vs. Amsterdam Pirates Rookies
At Amsterdam, the second game this weekend between the two Pirates-squads also ended in a win for the big league-team. But it was a lowscoring game, which ended in a 3-1 win for the main squad, as the Rookies today also played a good game.

Rob Cordemans (3 innings), Frank van Heijst (3), Jurrian Koks (2) and Al Morales Gomes (1) threw for Amsterdam in this game, which was used to create several different situations. For example, baserunners were put on base when the inning started.

More details are not available of this game.

Exhibition Standings & Schedule
---
UVV vs. Mr. Cocker HCAW
At Utrecht, HCAW trailed 3-0 after the first inning, but then rallied for five runs in the second at bat. After six innings, the scored was tied at 8-8, but HCAW re-took the lead in the seventh to win 9-8.

In this game, a total of 20 walks were issued by eight different pitchers, eleven of them being thrown by three HCAW-hurlers. Wesley Bernardus, Joep van Els and Arjan Elshof, who all left the game with an injury yesterday, today didn't play for the HCAW-squad. The team therefore batted with 'only' nine batters and so there was no 'headache' scorecard and box score. In its previous three games, HCAW used more batters in their batting order and inserted batters during the game.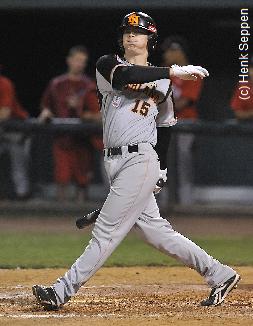 ...Michael Pluijmers...
...2 Doubles, 3 RBI's...
(© Photo: Henk Seppen)

Initially, UVV took a 3-0 lead in the first inning off starter Dennis Burgersdijk, who walked three batters in this at bat. A double by Jeroen Hermans led to the first two runs and a grounder by Shurty Tremus made it 3-0.

In the second inning, HCAW answered with five runs when UVV-starter Van Gerwen walked the first five batters, leading to two automatic runs. Next, a double play-grounder by Tom van der Veer tied the game. After Van Gerwen issued another walk, HCAW took a 5-3 lead on a 2-run double by Michael Pluijmers, who recently made his debut in the Dutch National Team.

In the home of the second inning, UVV got one run back on a wild pitch, but HCAW added one of its own in the third on a single by Randy Daal. UVV also scored again on a sac-fly by Danny Rombley, but HCAW then increased the lead to 8-5 by scoring twice in the fourth inning, thanks to back-to-back doubles by Michael Pluijmers (his second) and Bart Sabel.

UVV tied the score by scoring in the fifth and sixth inning. In the fifth, off reliever Kyle Ward, Lindell Finsy (walk) scored on a wild pitch and Rutger Veugelers (fielder's choice) scored on a single by Glenn Romney. In the sixth, off new pitcher Joran Klarenbeek, UVV tied the score when Norbert Jongerius walked and went on to score on a single by Lionel Koolman.

HCAW got back on top in the seventh inning off Sedly Karel, who had just taken over the pitching. With two outs, Adrian Anthony (fielder's choice) scored on a single by Mitchel Koot to make it 9-8.

Line Score & Box Score
Exhibition Standings & Schedule
---
ADO vs. Corendon Kinheim
At Voorschoten, Kinheim handed ADO another big loss, this time winning 13-3. The game was played at the site of Adegeest as part of the 25th anniversary of this club in Voorschoten.

Kinheim collected 16 basehits, including three homeruns and struck with six runs in the third inning. With one out, Remco Draijer singled and RenÚ Cremer was hit by a pitch. The first run was then scored when Dirk van 't Klooster followed with a single. Next, Cremer scored in a double-steal situation, before Jason Halman walked. Hereafter, Bryan Engelhardt homered (his second in two days) to make it 5-0. After a pitching change, Niels van Weert singled with two outs and went on to scorre on a single by Roy Seltenrijch, who was 2-for-3.


...Jason Halman, Remco Draijer...
...3 Hits, Homerun, 3 Runs...
(© Photos: Henk Seppen)

ADO reacted with two runs in the home of the third off Kinheim-starter David Bergman. The bases got loaded when Irving Redan walked and Gregory Hassell and Jan Baldee both singled. When Jay Lopez grounded into a double play, a run was scored, then another run followed when Gino Hersilia singled.

In the fourth inning, Kinheim added two runs on a homerun by Jason Halman, then four runs followed in the sixth at bat when five basehits were registered. Kinheim scored its last run in the seventh inning when Remco Draijer led off with a homerun to make it 13-2.

ADO scored its third and last run in the home of the seventh inning when Irving Redan led off with a double and scored on a pinch-hit single by Jarreau Martina.

Remco Draijer and Jason Halman each had three hits (including a homerun) and scored three runs.

Line Score & Box Score
Exhibition Standings & Schedule
---
Royal Greys vs. Sparta-Feyenoord
At Merksem (Belgium), Sparta-Feyenoord won big today vs. Royal Greys, 21-0. The Rotterdam-squad collected 25 basehits, including four by Rubinet Koko and three by Ramiro Balentina and Kevin van Nederpelt. Except for Quintin de Cuba (who had one), all players in the starting line-up hit at least two basehits. All starting players all scored at least once. Also except for De Cuba, all starting players had at least one run batted in.

Sparta-Feyenoord, which was the home team in this game, scored eight runs in the second inning. The first nine batters reached base safely, with the first eight of them hitting a basehit, including doubles by Churandy la Cruz and Jesus Castillo. In the inning, Kevin van Nederpelt hit a 2-run single. In total, 10 basehits were hit in this inning, including two by Ramiro Balentina and Imco Rudolph.

Seven runs were added in the third at bat. This time, the first seven batters reached base. In total, 11 of the 12 batters in this inning reached base, as two of them were eliminated while being a runner. In this at bat, six hits were registered, including a 2-run double by Rubinet Koko, who had four RBI's in this game.

Leading 15-0, Sparta-Feyenoord scored another run in the fourth inning when Koko led off with a double and scored on a sacrifice fly by Rensver Jansen. Three runs then followed in the fifth inning, including two on a single by Kevin van Nederpelt. Next, two runs followed in the sixth to make it 21-0.

The Belgian opponent hit only two basehits, both doubles. In the first inning, Kevin Claeys doubled with two outs of starter Rudy Seebus, then Kevin Roevens doubled with two outs in the seventh inning off reliever Quin Tramm. In between only two other players reached base, both on a walk.

Line Score & Box Score
Exhibition Standings & Schedule

(March 20-21)