Extra game Neptunus, Sparta-Feyenoord at Hawks-tournament
Nederlands

DORDRECHT (Neth.) - The game schedule for the upcoming tournament of Mampaey The Hawks this weekend in Dordrecht has been changed, due to the withdrawal of Hoboken Pioneers. The Belgian champion has to do without two of its pitchers, as their American hurler returned home because of family circumstances, while another pitcher is sidelined with a broken ankle. Because of this, Hoboken simply doesn't has enough pitching to participate in the tournament.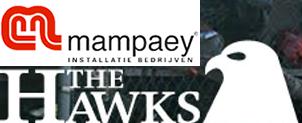 Therefore, the game schedule was changed. Dutch champion DOOR Neptunus and fellow-big leaguer Sparta-Feyenoord, as well as organizer Mampaey The Hawks all will now play an additional game and will face each other twice. This means that all teams will play two games on Saturday and on Sunday.
The Hawks, which is playing in the second-highest league and last season reached the top-6 in its first season on that level, recently played a tournament in Belgium. At Brasschaat, the team won 6-1 vs. Homburg Hornets (Germany), but then lost to Belgian teams Hoboken Pioneers (7-4), Namur Angels (9-4) and Royal Greys (11-5).
A week earlier, The Hawks played a 4-4 tie vs. Brasschaat Braves.
For this season, The Hawks added three players to its roster, who last season played for Sparta-Feyenoord, being pitchers Ronald de Bont and Berry van Donselaar and outfielder Shurendell Borgschot.
(March 22)
Schedule & exhibition standings