Amsterdam-UVV game suspended; ADO ends streak
Nederlands




BUSSUM / HAARLEM / AMSTERDAM / ROTTERDAM (Neth.) - DOOR Neptunus on Sunday won 10-1 vs. Vaessen Pioniers to move into a tie with L&D Amsterdam Pirates, whose game vs. UVV was stopped in the top of the ninth inning by the umpiring crew due to a bench-clearing brawl. At that moment, UVV was leading 14-7 after it had trailed 7-3 after six innings. It is now up to the commissions to decided the status of this game.

ADO ended an 8-game losing streak by winning 7-5 vs. Mr. Cocker HCAW and Corendon Kinheim trailed twice vs. Sparta-Feyenoord, but won 11-6.
---

Mr. Cocker HCAW vs. ADO
At Bussum, ADO had a productive afternoon vs. Mr. Cocker HCAW and won 7-5 to end an 8-game losing streak.

ADO struck early and held a 4-0 lead after four innings. In the first, Venezuelan Moises Levi Melendez Izaguiree walked lead-off hitter Gyenuar Lopez, who then stole second and scored on a following single by Jarreau Martina. The lefthander then saw ADO add another run on two consecutive groundouts, with the one hit by veteran Harvey Gumbs accounting for the run.

After ADO stranded runners in both the second and third at bat, it added two more runs in the fourth. With one out, former HCAW-player Quensley Bazoer singled and stole second. With two outs, he advanced to third base on a single by Jan Baldee, who then also scored second. The two runners scored when Gyenuar Lopez followed with a triple to make it 4-0.

HCAW got frequently on base off Quincy Lambertina, who initially was to be the starter in Game 2. But after he had been used in relief in Game 1 on Thursday-evening, today's starter Nick Martin moved to Game 2 instead, while Lambertina was assigned for today's game. HCAW got six runners on base in the first three innings, but only of them reached base with a basehit. Four others walked, the fifth was hit by a pitch. Some poor baserunning held HCAW from scoring, as runners were eliminated in the second and third inning to end the at bat.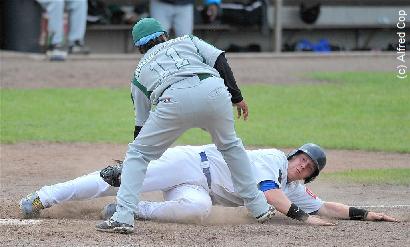 ...Mitchel Koot is tagged out by pitcher...
...Quincy Lambertina in 3rd inning...
(© Photo: Alfred Cop Fotografie)

In the fifth inning, ADO got two more runners on base off Melendez, who was relieved in this at bat by Joran Klarenbeek. After the latter struckout the first two batters in the sixth inning, he gave up three runs. Gyenuar Lopez and Jarreau Martina then walked and both scored on a following double by Jaïr Roseburg, which led to another pitching change. But new pitcher Kyle Ward was welcomed with an RBI-single by Harvey Gumbs that made it 7-0, before the inning ended with a groundout.

HCAW came on the board in the sixth when it scored three runs, as the ADO-pitching again encountered problems with finding the strike-zone. Lambertina walked Lennart Koster (who then stole second), then gave up an RBI-single to Juan Miguel Gonzalez, followed with a wild pitch, then walked Bart Sabel and Randy Daal (the latter after the runners had moved on a passed ball). Lambertina was relieved by Jurandy Girigori, who was Thursday's starter, who began with a strikeout, but then saw a run being scored on a sac-fly by Mitchel Koot that made it 7-3.

HCAW narrowed the deficit to 7-5 by scoring two more runs in the seventh inning. The bases got loaded when Girigori walked two batters then gave up a single to Juan Miguel Gonzalez. The lefthander then walked Bart Sabel to bring in a run, followed by a double play-grounder that made it 7-5.

In the eighth inning, HCAW got the bases loaded with two outs, but all were left, which was the last scoring opportunity for HCAW.

The game was the third of the series between the teams whose pitching staffs issued the most walks this season. In today's game, two ADO-pitchers walked 14 batters to bring the season's total to 147, while the four HCAW-hurles issued five which gave it staff 105 for the season.

Line Score, Box Score & Play-by-Play
Standings & Schedule
---

Corendon Kinheim vs. Sparta-Feyenoord
At Haarlem, Sparta-Feyenoord took the lead twice, but from the second inning on, Corendon Kinheim took more distance and went on to win 11-6.

In the first inning, Sparta-Feyenoord took a 2-0 lead. With one out, Arthur Bonevacia walked and Quintin De Cuba singled. A double by Jourick Blanco and grounder by Ramiro Balentina gave the Rotterdam-squad its lead.

Kinheim came alongside in its first at bat. Lefthander Gregory Gustina gave up lead-off singles to Remco Draijer and René Cremer, then an RBI-double to Jason Halman. With one out, and after walking Bryan Engelhardt, Kinheim tied the score when Rodney Michel singled. It also led to a change, as Engelhardt (who was recovered from a hamstring-injury) was replaced by a pinch-runner, but the bases were left loaded when two pop-outs followed.

Sparta-Feyenoord re-took the lead in the second when Jesus Castillo singled with one out and went on to score on a sac-fly by Emeron Lourens. But in the home of the second, Kinheim again scored twice and this time held onto the lead. With two outs, René Cremer doubled, then Jason Halman homered to make it 4-3.

Kinheim added two more runs in the third on a basesloaded, 2-run double by Remco Draijer. Onno Jansen led off with a single and Rodney Michel and Niels van Weert (the latter with one out) walked, then Draijer doubled with two outs.

Kinheim made it 8-3 in the fourth at bat. Jason Halman walked and Dirk van 't Klooster singled, then advanced on a sac-bunt by Onno Jansen. A single by Rodney Michel and double by Rafaël Jozefa then increased the lead to 8-3.

Sparta-Feyenoord came closer by scoring two runs in the eighth inning off Patrick Beljaards, who had come on in the previous at bat. With one out, the lefthander gave up a single to Ramiro Balentina, then a throwing error on a grounder by Brian Biezen led to a run. The latter then scored when Glimphor Rifaela followed with a single to make it 8-5.

Kinheim immediately expanded its lead in the home of the seventh by scoring three runs on a basesloaded single by Onno Jansen, sac-fly by Rodney Michel and force play-grounder by Rafaël Jozefa.

Sparta-Feyenoord was able to add one more run in the ninth. Reliever Pim Walsma walked three batters and was replaced by Nick Stuifbergen, who then gave up sac-fly to Ramiro Balentina that made it 11-6, but that was all for the Rotterdam-squad.

Line Score, Box Score & Play-by-Play
Standings & Schedule
---

L&D Amsterdam Pirates vs. UVV
At Amsterdam, UVV was off to a good start, taking a 3-0 lead, but then L&D Amsterdam Pirates turned the game around in the fourth and went on to take a 7-3 lead. But in the seventh, UVV rallied for seven runs and led 14-7 in the top of the ninth inning, when a second bench-clearing brawl led the umpiring crew to end the game.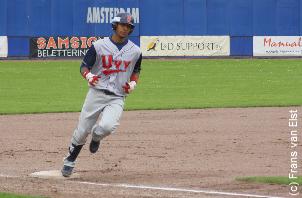 ...Shurty Tremus rounds 3rd base after...
...hitting his first homerun...
(© Photo: Frans van Elst)

UVV opened the score in the second inning when Shurty Tremus homered with one out off Ben Grover. The team then added a run in the third at bat. Jeff Delfina led off with a walk, advanced to third on a single by Jirka Bliek and scored on a force play-grounder by Glenn Romney. UVV made it 3-0 in the fourth inning. Rutger Veugelers began with a double, moved on a sac-bunt by Shurty Tremus and scored on a grounder by Giovanni Samboe.

After leaving runners in scoring position in the first and third inning, Amsterdam rallied for four runs in the home of the fourth on five hits, including three doubles. Bas de Jong led off with a double off Jurjen van Zijl, then Vince Rooi followed with a single. Next, Bas Nooij doubled to bring in the first Amsterdam-run. With one out, Rashid Gerard also doubled to make it 3-2. With runners on second and third and two outs, a single by Roelie Henrique also led to an outfield-error, enabling the runners to score and make it 4-3 in favor of the home team.

In the sixth inning, Amsterdam increased the lead to 7-3. Bas Nooij led off with a triple and scored on an one-out single by Rashid Gerard, then Wesley Connor followed with his second homerun in two days since coming back from an injury.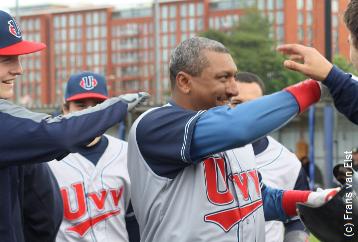 ...Fausto Álvarez is greeted after his homerun...
(© Photo: Frans van Elst)

In the seventh inning, UVV not only got back into the game, but it also re-took the lead. Giovanni Samboe led off with a single, then Lynell Koolman doubled and Jeff Delfina walked to load the bases. Amsterdam-starter Ben Grover was then relieved by Rik Geestman, but the lefthander ran into problems immediately. He gave up an RBI-single to Jirka Bliek, then walked Glenn Romney with the bases loaded. Next, a force play-grounder by Danny Rombley led to another run and narrowed UVV's deficit to only 7-6. Moments later, former Pirate Fausto Álvarez Rizo singled to bring in the tying run and make it a new ballgame. It also marked the end for Geestman, who was relieved by Jurrian Koks. But he was greeted with a 2-run double by Rutger Veugelers, that gave UVV a 9-7 lead. A groundout then accounted for the second out, but a following single by Giovanni Samboe (his second in this at bat) then made it 10-7. Koolman then added his second basehit in this inning and a groundout ended the inning, but the scoring for UVV wasn't over yet.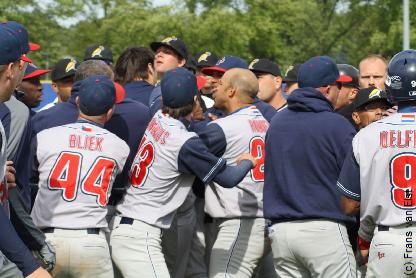 ...Some pushing and exhange of words...
...during the first bench-clearing...
(© Photo: Frans van Elst)

In the eighth inning, UVV added four more runs to make it 14-7. Koks gave up a lead-off single to Jirka Bliek, who was then forced out on a grounder by Glenn Romney. Danny Rombley followed with a single to bring Fausto Álvarez Rizo into the batter's box. And the powerhitting, lefthanded, 50-year old Cuba did what he does best: make contact. But this time, he made contact well, as the former Pirate hit a 3-run homerun. After Koks struckout the next batter, he gave up another homerun to Shurty Tremus, his second in the game, that made it 14-7. Tremus is not known for his homerun-power, as he had hit only one homerun (in 2009 while playing for ADO) before today in his big league-career which started in 2005. Next batter Giovanni Samboe was then hit by a pitch, which led to a confrontation between the batter and pitcher Koks. The benches emptied, but moments later, the game continued.

In the home of the eighth, Amsterdam left a runner on third base, then things heated up in the top of the ninth. New Amsterdam-pitcher Al Morales Gomes got two quick outs, then gave up a single to Glenn Romney. Shortly hereafter, Romney stole second base, which led to a conflict between the runner and short stop Vince Rooi. The benches again emptied and this time, the umpires ejected Head Coaches Royce Holder (UVV) and Charles Urbanus (Amsterdam) and players Glenn Romney (UVV) and Vince Rooi (Amsterdam), then ended the game after this bench-clearing. Last Thursday, Holder also was ejected in the first game of the series.

It is now up to several commissions to decide on eventual suspensions, but also to decide the status of the game. There are several possibilities, including declaring the game valid, therefore resulting in a win for UVV, awarding the win to Amsterdam or stating that the game has to be completed on a later date. To be continued.

Line Score, Box Score & Play-by-Play
Standings & Schedule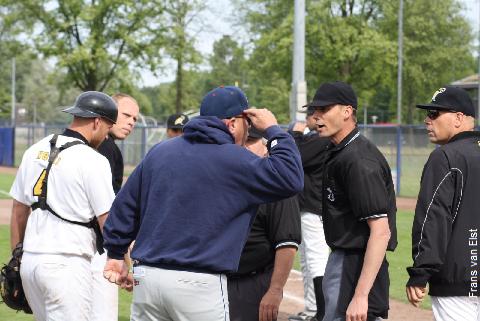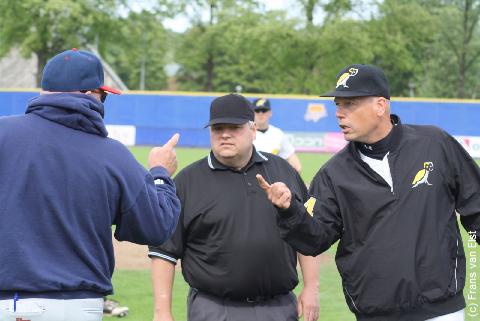 ...Left: After the first confrontation, UVV's Head Coach Royce Holder argues with HP Umpire Winfried Berkvens...
...Right: Head Coaches Royce Holder and Charles Urbanus exchange words with Umpire Peter Brink in the middle...
(© Photos: Frans van Elst)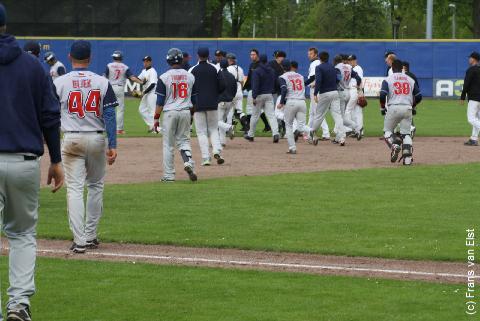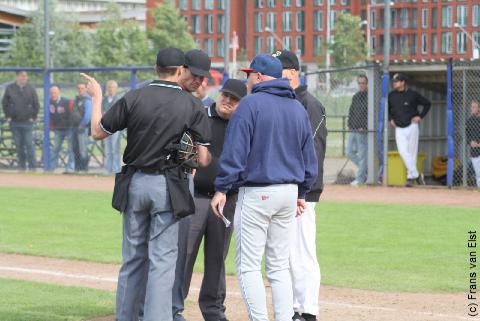 ...Left: The dug-outs empty again in the ninth inning...
...Right: The umpires tell the Head Coaches who are ejected and end the game...
(© Photos: Frans van Elst)
---

DOOR Neptunus vs. Vaessen Pioniers
At Rotterdam, DOOR Neptunus and Vaessen Pioniers both got several scoring opportunities, but both left several runners, resulting in a low-scoring game for six innings, but then the home team added seven runs in the seventh and eighth at bat combined to win 10-1.

In the first inning, Michael Duursma led off for Pioniers with a double off rookie Kevin van Veen, but later stranded at third base. In its first at bat, Neptunus opened the score off rookie Lars Huijer. With two outs, Raily Legito tripled and scored on a single by Jeffrey Arends, which was followed by a double off the bat of Dwayne Kemp, but two runners were left in scoring position.

In the second inning, after Pioniers left another runner on third base, Neptunus made it 2-0. Eldrion Regina led off with a single, moved on an error and a wild pitch and scored on an one-out single by Eugène Kingsale, but then Pioniers turned a double play to end the inning.

Pioniers got one run back in the third. The team got the bases loaded with no outs, but scored only once. Michael Duursma walked and moved to third on a single by Mark Duursma, who advanced on the throw. The bases were then loaded when Nik Gumeson walked. The lead runner was then forced out at home on a grounder by Dè Flanegin, which was followed by a throwing error, enabling the next runner to score. But then Neptunus avoided more runs by turning a double play.

Neptunus added a run in the sixth when Sape Wagenaar walked and scored on a 2-out single by Eugène Kingsale, then rallied for five runs in the seventh. Shane Gnade, who had relieved Huijer in the fifth, hit both Benjamin Dille and Raily Legito with a pitch, followed by a throwing error on a pick-off to second base by the catcher. A sac-fly by Jeffrey Arends and a 2-out single by Rien Vernooij then accounted for two runs. Hereafter, Jean-Paul Gulinck was brought in as new pitcher. Next, Vernooij stole second base and got into a confrontation with short stop Michael Duursma, leading to a partial bench-clearing, as only the players of Neptunus poured onto the field, while the Pionier-players just stepped up in front of their dug-out. When the game resumed, Gulinck gave up a grounder to Eldrion Regina for what should have been the third out. Instead, an error was made and another run scored. Sape Wagenaar followed with a single, then a single by Eugène Kingsale led to two more runs and an 8-1 lead.

In the eighth, Neptunus added two more unearned runs. With one out, Gulinck walked Jeffrey Arends, then gave up a 2-out double to pinch-hitter Jordan Korenhof, who made his debut and with this hit a basehit in his first big league at bat. Next, another inning-ending grounder followed off the bat by Regina, but again an error was made, leading to two more runs and a 10-1 lead.

Line Score, Box Score & Play-by-Play
Standings & Schedule

(May 22)