Sparta-Feyenoord's Carrington pitching in Spain
Nederlands


VALENCIA (Spain) - Righthanded pitcher Bobby Carrington, who is on the roster for Dutch big leaguer Sparta-Feyenoord for this season, is currently pitching in the Spanish competition. Last year, Carrington pitched for ADO in his first season in the Netherlands top division, but switched to Sparta-Feyenoord during the transferperiod. While pitching for ADO, Carrington appeared in 14 games (12 starts), was 3-3 with an 1.82 ERA and struckout 77 in 79 innings.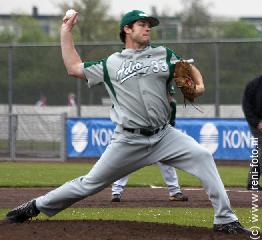 ...Bobby Carrington...
(© Photo: www.reni-foto.nl)

In Spain, Carrington is pitching for the Astros from Valencia, which is currently sharing first place in the Liga Nacional de Béisbol División de Honor, the highest division. The Astros share first place with FC Barcelona and Marlins Puerto Cruz. The new season in Spain opened in the weekend of February 26-27 and all teams have now played four weekends. Because of the distances, teams play double-headers on either Saturday or Sunday. The Astros are currently in first place with a 7-1 record, the same as Barcelona and the Marlins.

The only loss of the Astros came in the opening game of the season on February 27 when the team was shutout 6-0 by Barcelona. In that game, Carrington was the starter and became the losing pitcher, which is his lone decision so far. In the opener, at home, Carrington threw six innings, struckout six and gave up four hits.
A week later, on March 5, Carrington started vs. CD Pamplona, threw five innings, struckout five, walked six and gave up five hits and also five runs in a no-decision. The Astros trailed 5-0 after four innings, came back to 5-4 in the next innings, took a 6-5 lead in the eighth and added a run in the ninth. Pamplona then scored twice in the home of the ninth inning to tie the score and force extra innings. After two scoreless innings, the Astros rallied for nine runs in the 12th inning to win 16-7.
On March 13, Carrington started vs. Halcones de Vigo. In seven innings, he struckout 10 batters and gave up four hits. The Astros took an 1-0 lead in the second inning, but Halcones came alongside in the fifth. The Astros then won the game 2-1 in the ninth inning on a walk-off double by Kevin Malone.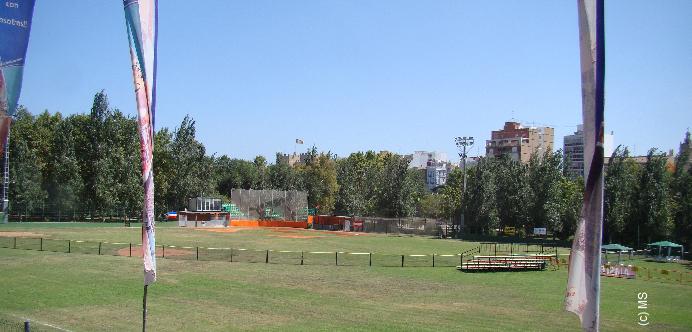 ...The site of the Astros in Valencia...
(© Photo: Marco Stoovelaar)

Last weekend, on March 20, Carrington threw the last two innings in relief of an 11-0 shutout-win vs. Sant Boi.

Also pitching for the Astros is American Trevor Caughey, who pitched professionally in the organization of the Baltimore Orioles 2004-2006. He the pitched in an Independent League and threw for Technika Brno in the Czech competition in 2010. Last winter, Caughey pitched for Perth Heat in the Australian Baseball League.

Coming weekend, the Astros play at home vs. the Marlins.

(March 24)