Top-3 expands lead
Nederlands




THE HAGUE / HOOFDDORP / UTRECHT / ROTTERDAM (Neth.) - The current top-3 in the Dutch big league, L&D Amsterdam Pirates, DOOR Neptunus and Corendon Kinheim expanded their lead over the rest of the teams by winning the opening games of the next series on a clouded and rainy Thursday-evening. Amsterdam won big vs. Vaessen Pioniers, 13-1, while Neptunus had a close call vs. ADO, but in the end won 9-3. Kinheim handed UVV a 6-2 loss. Mr. Cocker HCAW was the fourth winning team tonight, shutting out Sparta-Feyenoord, 8-0.

For the first time this season, all home teams lost their game. This comes one week after all home teams were the winning teams for the first time this season last Thursday.
---

ADO vs. DOOR Neptunus
At The Hague, DOOR Neptunus had a close call vs. ADO. The Rotterdam-squad led only 4-3 in the eighth inning when ADO got runners on second and third base with one out, then had the bases loaded with two outs. But after this scoring opportunity ended, Neptunus rallied for five runs in the ninth inning to win 9-3.

After a scoreless first inning, Neptunus scored twice in the second at bat. Dwayne Kemp led off with a walk, but then the game was intterupted briefly for the second time by rain. After the game resumed, Rien Vernooij flied out, then Australian Tom Brice hit a basehit in his first big league at bat, as he made his debut in tonight's game, playing in centerfield. Next, an error enabled Kemp to score and brough Brice to second base, who then scored when Eldrion Regina followed with a single.

In the home of the second, Neptunus-starter Diegomar Markwell gave up a lead-off homerun to Enrique Tromp, which was the first homerun hit this season by an ADO-player. Neptunus got the run back in the third. Benjamin Dille led off with a triple, then Raily Legito walked. A throwing error then followed on a force play-grounder by Jeffrey Arends, enabling Dille to score and bringing Legito to third base. ADO-starter Nick Martin then struckout Dwayne Kemp and saw Rien Vernooij groundout to short. Legito tried to score on this hit, but was thrown out himself at home, completing a double play.

After giving up the homerun in the second inning, Markwell gave up an one-out single, but then retired 11 batters in a row. With a 3-1 lead, he was then relieved by Tim Roodenburg, who started by walking the first batter he faced, Gyenuar Lopez. The latter advanced on a sac-bunt, then scored on a single by Jaïr Roseburg. But the inning then ended when Roseburg was caught stealing after a pick-off, followed by a groundout.

Neptunus, which left two runners in scoring position in the sixth inning, then added a run in the eighth off new pitcher Carlos Tabares Castro when Dwayne Kemp doubled with one out and scored on a following single by Rien Vernooij, who was then caught stealing moments later.

Trailing 4-2, ADO came close to not only tying the score, but taking the lead in the home of the eighth inning. With one out, Roodenburg gave up a double to Gyenuar Lopez, who then scored when an error was made on a grounder by Jarreau Martina. Next, Jaïr Roseburg doubled, which brought in closer Arshwin Asjes. With runners on second and third base and one out, he struckout Sidney Ensermo, then walked Enrique Tromp intentionally to load the bases. Asjes then also struckout Bas Mol to end the inning, leaving the bases loaded.

Neptunus then took more distance by scoring five runs in the ninth inning, four of which were unearned. Tabares walked Eldrion Regina, then made a throwing error himself on a sac-bunt by Mourik Huijser and followed with a wild pitch. An intentional walk for Eugène Kingsale then loaded the bases. After an infield-fly, a single by Raily Legito and walk for Jeffrey Arends led to two runs. Two runs were then added when Dwayne Kemp also singled. With two outs, Shaldimar Daantji (who had just entered the game as a defensive replacement for Tom Brice) also singled to make it 9-3.

Line Score, Box Score & Play-by-Play
Standings & Schedule
---
Vaessen Pioniers vs. L&D Amsterdam Pirates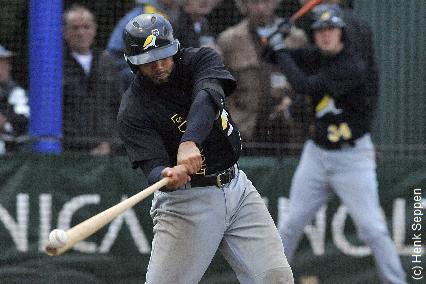 ...Vince Rooi: 3 runs, 3 hits, 2b, hr, 4 rbi's...
(© Photo: Henk Seppen)

At Hoofddorp, L&D Amsterdam Pirates won big vs. Vaessen Pioniers, 13-1, and ended the game (the lone one that wasn't interrupted by rain) in seven innings through the mercy-rule.

Amsterdam opened the score in the second inning with two runs. Pionier-starter Conrad Orman then gave up a lead-off single to Vince Rooi, followed by an one-out single by Seb Visser. With two outs, both runners scored when Wesley Connor doubled.

After leaving two runners in their second, Pioniers scored its lone run in the third. Rob Cordemans, who struckout nine batters in the six innings he threw, gave up consecutive singles to Jefferson Muzo, Michael Duursma and Mark Duursma, but then three outs followed, included two strikeouts.

Amsterdam then rallied for five runs in the fifth at bat to make it 7-1. Orman first walked Wesley Connor, who then advanced on a failed pick-off and scored on a wild pitch. Next, Roelie Henrique and Sidney de Jong also walked and the bases got loaded when Percy Isenia singled. Hereafter, Shane Gnade took over the pitching and gave up a sac-fly to Bas de Jong, followed by back-to-back doubles by Vince Rooi (2-run) and Bas Nooij (1-run).

Six more runs followed in the sixth inning off new pitcher Dennis Buring. With one out, Sidney de Jong singled and Percy Isenia doubled. The two scored when Bas de Jong singled. After hitting back-to-back doubles in the fifth, Vince Rooi and Bas Nooij now hit back-to-back homeruns to make it 12-1. Seb Visser then walked and went on to score on an error. With the homerun, Rooi lifted his RBI-total to 25 to move into first place in that category.

In the seventh inning, Rik Geestman took over for Cordemans, gave up a 2-out triple to Jefferson Muzo, but then the game ended with a groundout.

Line Score, Box Score & Play-by-Play
Standings & Schedule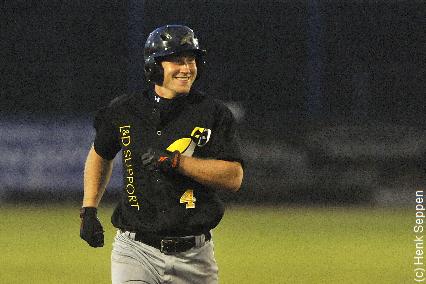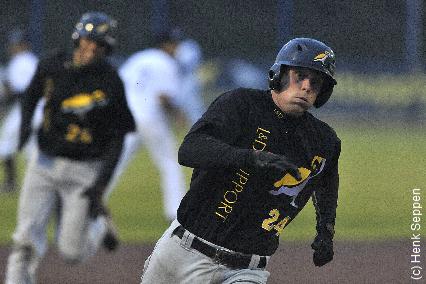 ...Left: Bas Nooij rounds the bases after hitting a homerun...
...Right: Sidney de Jong and Percy Isenia score in the fifth inning...
(© Photos: Henk Seppen)
---

UVV vs. Corendon Kinheim
At Utrecht, Corendon Kinheim rallied for five runs in the second inning, then added only one more to win 6-2 vs. UVV. Kinheim tonight played without Bryan Engelhardt, who sustained a calf-injury last Sunday.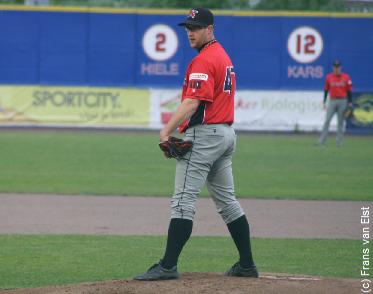 ...Winning pitcher David Bergman...
(© Photo: Frans van Elst)

With one out in a rainy second inning, Kinheim scored five runs off starter Timo van Ancum. After Rodney Michel flied out, Rafaël Jozefa, Niels van Weert and Onno Jansen all singled to load the bases. The three then scored when Björn Henrichs followed with a double. The inning was then interrupted briefly by rain, but when it resumed, Remco Draijer singled to put runners at the corners. An error then followed on a grounder by René Cremer, leading to a run. Another brief rain-delay then followed. After resuming the game, Kinheim added another run when Jason Halman hit a sac-fly to make it 5-0.

In the home of the second inning, Kinheim-starter David Bergman walked lead-off hitter Rutger Veugelers, then gave up a 2-run homerun to Shurty Tremus. But that was it for UVV, which then left eight runners in the remainder of the game, including the bases loaded in the third and fifth at bat. In the third, Glenn Romney and Danny Rombley singled with one out and Rutger Veugelers walked with two outs, but then a grounder followed, leaving three runners. In the fifth, UVV loaded the bases with one out. Romney then singled and Rombley reached on an error, then Fausto Álvarez Rizo walked. After an infield-fly, the inning ended when Rombley was hit by the batted ball by Shurty Tremus, stranding three more runners.

In the top of the fifth, Kinheim added a run on back-to-back doubles by Jason Halman and Dirk van 't Klooster, which brought in new pitcher Derek Tarapacki. The American struckout seven batters and gave up only one basehit in the 3 2/3 inning he pitched, but UVV was unable to come back. In the seventh inning, it got two runners on base with two outs when Rombley and Álvarez singled. Bergman was then relieved by Patrick Beljaards, who ended the at bat with a strikeout, then retired the side in the eighth and ninth to end the game.

Line Score, Box Score & Play-by-Play
Standings & Schedule
---

Sparta-Feyenoord vs. Mr. Cocker HCAW
At Rotterdam, Mr. Cocker HCAW collected 12 basehits and registered an 8-0 shutout vs. Sparta-Feyenoord, which had only three basehits.

In the third inning, HCAW scored four runs off Ruderly Manuel. Lead-off hitter Randy Daal then reached on an error and advanced on a passed ball, then scored when Mitchel Koot singled. After a sac-bunt by Wesley Bernardus and a walk for Michael Pluijmers, an RBI-single by Dirimo Enrique Chavez made it 2-0. The bases got loaded when Lennart Koster walked, then two runs were scored when Juan Miguel Gonzalez followed with a single, but the latter was eliminated himself trying to advance to second base.

HCAW added a run in the fifth. Wesley Bernardus then led off with a triple and scored on a sac-fly by Dirimo Enrique Chavez.

HCAW-starter Kevin Miner faced the minimum of 15 batters in five innings, but one of them reached base. In the second, Miner gave up a lead-off single to Ramiro Balentina, but he was then eliminated in a double play.

After Sparta-Feyenoord's starter Ruderly Manuel struckout the side in the sixth inning, the game was delayed by 40 minutes due to rain. When it resumed, Kyle Ward took over the pitching for Miner and struckout eight batters in the next three innings, while walking two and giving up two hits. Maarten Mulder pitched the ninth for HCAW and added two strikeouts.

In the top of the eighth, HCAW increased its lead to 7-0 off Rudy Seebus. HCAW got the bases loaded with no outs, then scored two runs. Juan Miguel Gonzalez reached on an error, Bart Sabel singled and Adrian Anthony walked to load the bases. A run was then scored when Randy Daal was hit by a pitch. With one out, Wesley Bernardus singled in the next run, but then the inning ended with a double play.

In the top of the ninth, HCAW made it 8-0 when Chavez led off with a double and scored on an one-out single by Gonzalez, but the Bussum-squad also left the bases loaded.

Line Score, Box Score & Play-by-Play
Standings & Schedule

(May 26)