Two more tie-breaks; First win Sparta-Feyenoord
Nederlands




UTRECHT / ROTTERDAM / BUSSUM / AMSTERDAM (Neth.) - Two more games were decided by a tie-break on Thursday-evening, including the second one in a row for Mr. Cocker HCAW, which was left empty-handed again through the new rule. League-leader L&D Amsterdam Pirates and Dutch champion DOOR Neptunus left the field as winners through the tie-break rule. The game between Amsterdam and Corendon Kinheim was scoreless after nine innings, then the latter scored twice in the tenth inning. Moments later, Amsterdam answered with three runs to wins, 3-2. The game between HCAW and Neptunus was tied at 2-2, then the tie-break inning resulted in five runs for Neptunus, that won 7-2.

Also on Thursday, Sparta-Feyenoord won its first game of the season, beating Vaessen Pioniers, 5-1, while UVV came from behind vs. ADO, won 5-2 and moved into the top-4 of the league.

In the four games, five more balks were called by the umpires (all against lefthanders). This brings the total this season already to 15, which is almost the half of the entire last season when 32 were called.
---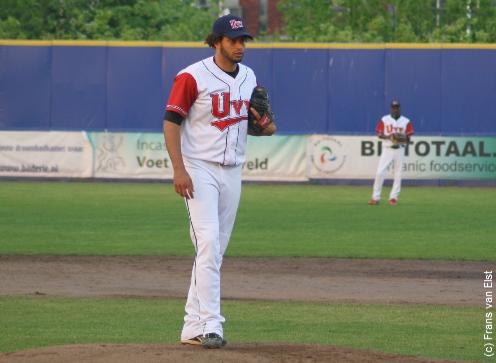 ...Orlando Yntema...
...Winning Pitcher...
(© Photo: Frans van Elst)

UVV vs. ADO
At Utrecht, winless ADO led 2-1 after six innings, but in the end, the team from The Hague was left empty-handed again, as Sparta-Feyenoord scored twice in the seventh and eighth inning to win 5-2. UVV has now won five games in a row and moved into a tie for third place.

UVV took an 1-0 lead win the third at bat. With one out, Jirka Bliek, who walked, advanced to third base on a single by Jeff Delfina, then scored on a passed ball. Delfina later moved to third on an error on a grounder by Rutger Veugelers, but was then eliminated in a steal-situation.

UVV-starter Orlando Yntema gave up four hits in the first three innings, then gave up two runs in the fourth inning, for which he was responsible himself. Jaïr Roseburg led off with a single, but was then forced out on a grounder by Remco Seitzinger. Next, Irving Redan doubled to put runners on second and third base. Seitzinger and Redan then both scored on a wild pitch to give ADO a 2-1 lead. In the remainder of the game, Yntema gave up three more basehits, but allowed only one more runner to reach third base and gave up no additional runs.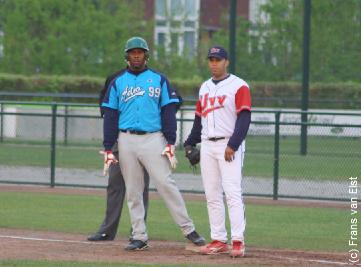 ...First base colleagues...
...ADO's 1B Enrique Tromp (99) after hitting...
...a single in the 2nd inning with...
...UVV's 1B Glenn Romney...
(© Photo: Frans van Elst)

Trailing 2-1, UVV was held scoreless by ADO-starter Quincy Lambertina in the fourth and fifth inning, then walked the first two batters in the sixth inning. Lambertina was then relieved by lefthander Jurandy Girigori, who was the scheduled starter for Saturday's game, who ended the at bat with three outs.

But in the seventh inning, UVV scored twice with two outs to take a 2-1 lead. Jeroen Hermans led off with a single and moved on a grounder. With two outs, Jeff Delfina struckout, but reached on a throwing error by the catcher, which brought Hermans to third base. Hereafter, Girigori was charged with two balks, resulting in the tying run and Delfina moving to third base. He then scored when Rutger Veugelers followed with a single. After the first balk was called by 3B Umpire Stenar van Groningen Schinkel, ADO's Head Coach Aldric Dunlop argued the call and was ejected.

UVV added two more runs in the eighth inning. Fausto Álvarez Rizo reached on an error, then his pinch-runner Brennan Nijhof advanced on a sac-bunt by Giovanni Samboe and scored on a single by Glenn Romney. The latter then scored when Jeroen Hermans followed with another single.

After scoring the two runs in the fourth, ADO got only one more runner on third base in the remainder of the game. In the ninth inning, closer Derek Tarapacki threw for UVV, struckout the side and earned his third save.

Line Score, Box Score & Play-by-Play
Standings & Schedule
---

Sparta-Feyenoord vs. Vaessen Pioniers
At Rotterdam, Sparta-Feyenoord struck early, scoring five runs in the first four innings vs. Vaessen Pioniers and held onto the lead to win its first game of the season, 5-1. Sparta-Feyenoord Head Coach Luty Bernadina had adjusted his starting line-up, which had former pros Arthur Bonevacia, Rudley Balentien and Quintin De Cuba all in the starting line-up for the first time.

In the second inning, Pionier-starter Conrad Orman gave up a lead-off double to Ramiro Balentina, then saw Rudley Balentien reach on a fielder's choice-sac bunt. A throwing error by Orman on a grounder by Emeron Lourens led to the first run and put runners on second and third base. Next, Balentien scored on a sac-fly by Quintin De Cuba. A squeeze by Jesus Castillo then failed, as Lourens was tagged out at the plate.

In the third inning, Sparta-Feyenoord added two runs. With one out, Brian Biezen reached on an error, was awarded second base on a balk, then scored on a single by Jourick Blanco. Hereafter, the bases got loaded when Balentina singled and Balentien walked, followed by a sac-fly by Lourens that made it 4-0.

Sparta-Feyenoord added a run in the fourth. Pitcher Orman was responsible for the reaching of three bases of Rubinet Koko. Orman walked Koko to give him first base, then uncorked a wild pitch that gave him second base. Next, Koko stole third, but then was awarded home on the second balk by Orman.

In the fifth inning, relievers Dennis Buring and Jean-Paul Gulinck took over and gave up no more basehits or runs, while being supported by two double plays.

Ruderly Manuel threw eight innings and did a fine job in his first start of the season for Sparta-Feyenoord. He never really ran into problems, was supported with a double play in the first inning and left runners on second and third base in the second. In the fifth, he gave up the lone run to Pioniers. With two outs, Mark Duursma walked and scored when Nik Gumeson followed with a double, but he later stranded at third base. From the fifth through the eighth, Manuel retired 10 of the last eleven batters he faced. Maikel Berghmans threw the ninth inning and retired the side.

Line Score, Box Score & Play-by-Play
Standings & Schedule
---

Mr. Cocker HCAW vs. DOOR Neptunus
At Bussum, Mr. Cocker HCAW had to play its second consecutive tie-break, but the result was the same, as the team was beaten 7-2 by DOOR Neptunus. In the game, seven double plays were made, including four by Neptunus.

If things had gone right for HCAW, it could have end the game with a 2-0 victory. Neptunus reached base frequently, but scored its first two runs on two errors, while HCAW scored its two runs on five basehits.

Dennis Burgersdijk, the starting pitcher of last Monday and then threw only 1 1/3 inning, came back to start tonight on only two days of rest. The righthander did a fine job and got some good defensive support, except on two occassions that led to two costly runs.

Neptunus opened the score in the second inning. Burgersdijk then walked Dwayne Kemp and Rien Vernooij, then followed with two strikeouts. The inning then could have been over, but a grounder by Shaldimar Daantji was then misplayed by Venezuelan 3B Juan Miguel Gonzalez that loaded the bases. Next, a walk for Eugène Kingsale gave Neptunus its first run, but the team also left the bases loaded.

Neptunus-starter Diegomar Markwell was hit hard in de first two innings retired the first nine batters he faced, then gave up a lead-off single to Dirimo Enrique Chavez, who was then picked off first base. Hereafter, Michael Pluijmers walked, was awarded second base on a balk and scored the tying run on a double by Juan Miguel Gonzalez. Singles by Lennart Koster and Adrian Anthony then gave HCAW a 2-1 lead. Bart Sabel also singled to load the bases, but then a double play ended the at bat.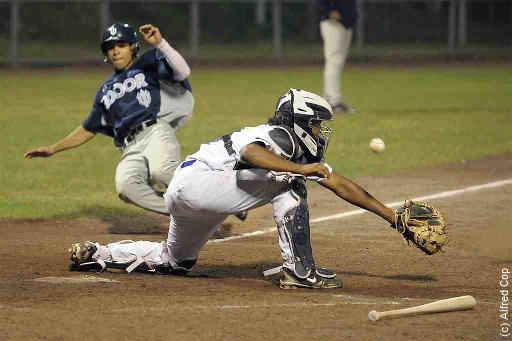 ...Urving Kemp scores the tying run in the seventh inning...
...while catcher Rodney Daal has no play...
(© Photo: Alfred Cop Fotografie)

In the fifth inning, HCAW turned its second double play when Kingsale lined out, but then Neptunus scored the tying run in the seventh inning. Burgersdijk walked lead-off hitter Rien Vernooij and the walk scored again. Vernooij was replaced by pinch-runner Urving Kemp, who stole second base. He then moved on an infield-hit by Shaldimar Daantji, overran third base and appeared to be thrown out at home, but the throw from Venezuelan short stop Chavez went into the ground and enabled Kemp to score the tying run. Next, Kingsale also walked, which led to a pitching change. Robin Schel took over and ended the at bat with a strikeout. The lefthander added two more strikeouts (one that started a double play) in the eighth inning.

After scoring its runs in the fourth, HCAW was kept off base again by Markwell, except for the seventh when the lefthander walked Adrian Anthony, but then a double play followed.

In the ninth inning, Maarten Mulder took over the pitching for HCAW, hit a batter and walked another with two outs, but finished with a strikeout. Moments later, Neptunus turned a double play in the home of the ninth behind the pitching of Arshwin Asjes and the game went into extra innings.

Last Monday, HCAW also had to play a tie-break vs. Pioniers and then gave up four runs in the tenth inning. This time, the Bussum-squad gave up five runs and it started in almost the same way as on Monday. Oh, by the way, Johan Brandsma, who was the Home Plate Umpire on Monday, again was behind the plate tonight.

Shaldimar Daantji and Eugène Kingsale were on base when Benjamin Dille bunted. Pitcher Maarten Mulder fielded the ball and opted to throw to third base, but threw the ball passed the base, resulting in two runs. Last Monday, Mulder also was the pitcher in the tie-break and then made the same error, which then led to one run. Hereafter, Raily Legito singled, then Dille scored on a wild pitch. Later, Legito scored when Jeffrey Arends doubled, who then scored on a sac-fly by Urving Kemp to make it 7-2.

In HCAW's tenth, Dirimo Enrique Chavez was on second base and Michael Pluijmers on first base. Berry van Driel (the fourth pitcher of Neptunus in this game) then struckout Juan Miguel Gonzalez. Hereafter, Lennart Koster hit the ball into short rightfield where Eldrion Regina caught, but then dropped the ball. As the two runners were halfway, Regina forced out Pluijmers, then Chavez was doubled up in a 9-6-5 double play to end the game.

Line Score, Box Score & Play-by-Play
Standings & Schedule
---
L&D Amsterdam Pirates vs. Corendon Kinheim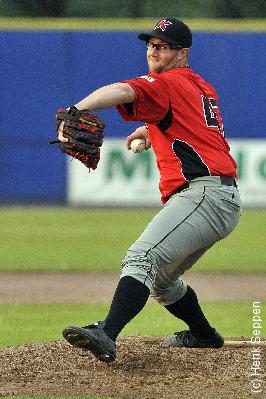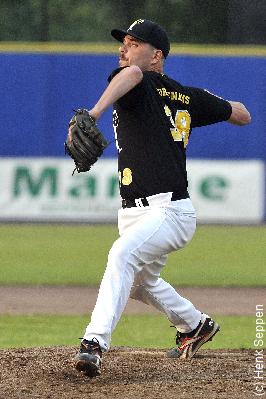 ...Starting pitchers David Bergman and Rob Cordemans...
(© Photos: Henk Seppen)

At Amsterdam, a pitching duel by aces Rob Cordemans (Amsterdam) and David Bergman (Kinheim) led to a scoreless game for nine innings between Corendon Kinheim and L&D Amsterdam Pirates, which eventually won 3-2 in 10 innings.

Rob Cordemans struckout eight batters in seven innings. The righthander retired the first eleven batters in a row, then gave up a triple to Dirk van 't Klooster, but he stranded at third base. In the fifth, Kinheim had Rodney Michel (fielder's choice) and Björn Henrichs (single) were on second and third base with two outs, but then Cordemans struckout Remco Draijer to end the inning. From that point on, Cordemans retired seven of the next eight hitters.

David Bergman gave up a lead-off single to Wesley Connor, but then was supported with a double play when Roelie Henrique line out. Bergman then gave up only two basehits, both hit by Percy Isenia, in the next six innings. Isenia led off with a single in the second, but then was forced out. He then singled with two outs in the fourth, but then Bergman retired eleven batters in a row, before giving up a double to Rashid Gerard with one out in the eighth inning. Hereafter, Bergman struckout next hitters Seb Visser and Tim Vermij to bring his strikeout-total to nine.

In the eighth, Kinheim got two baserunners off reliever Rik Geestman, but the lefthander struckout two and the runners both were left behind. In the ninth, new pitcher Jurrian Koks walked lead-off hitter Jason Halman, who then was caught stealing.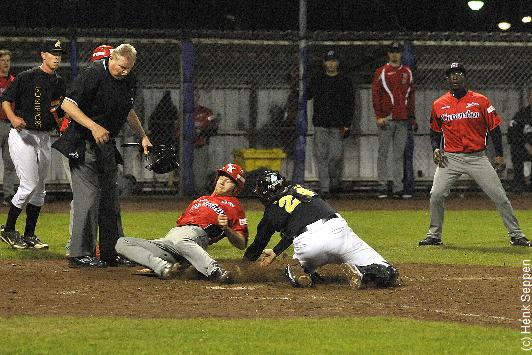 ...René Cremer is tagged out in the 10th inning...
...by catcher Sidney de Jong...
(© Photo: Henk Seppen)

In the home of the ninth, Amsterdam got the bases loaded. Bergman gave up a lead-off single to Wesley Connor, who then advanced on a sac-bunt by Roelie Henrique and was relieved by Patrick Beljaards. Oddly enough, the lefthander started by throwing an intentional walk to Sidney de Jong to set up a force play. Normally, a previous pitcher issues an intentional pass before being relieved. Connor and De Jong then advanced on a grounder by Percy Isenia. Next, Bas de Jong also was walked intentionally for a new force play-situation. The inning ended when Bas Nooij flied out, meaning three runners were left behind and the game went into extra innings.

In the Kinheim-tenth, Björn Henrichs and Remco Draijer were the runners, then the bases got loaded when René Cremer reached on a bunt-single. Next, Jurrian Koks struckout Dirk van 't Klooster, but then a run was scored on a sac-fly by Bryan Engelhardt. Hereafter Jason Halman walked to load the bases and Rafaël Jozefa singled to bring in Draijer, but Cremer was eliminated at the plate on a throw by rightfielder Bas de Jong that ended the inning.

Trailing 2-0, Tim Vermij and Wesley Connor were the runners for Amsterdam in the home of the tenth off new pitcher Nick Stuifbergen. The two advanced on a sac-bunt by Roelie Henrique. As opposed to the inning before when two intentional passes were issued to set up a force play, this time, with first base open, it was decided to pitch to Sidney de Jong. The veteran catcher came through with a single that enabled Vermij to score. With runners on first and third, Stuifbergen threw a wild pitch that led to the tying run. With De Jong's pinch-runner Koen Nooij on second base, Percy Isenia was then walked intentionally. The two runners then moved on a grounder by Bas de Jong. Again, with first base open, no force play was created and this time Bas Nooij singled to bring in his brother with the winning run.

Last Monday, Stuifbergen also was credited with a Blown Save and the Loss in a 5-2 loss vs. DOOR Neptunus.

Line Score, Box Score & Play-by-Play
Standings & Schedule

(April 28)