Rick van den Hurk put on waivers by Baltimore
Nederlands
SARASOTA, Florida (USA) - Dutch pitcher Rick van den Hurk has been placed on waivers by the Baltimore Orioles, the club announced on Tuesday-afternoon. The Orioles also optioned pitcher Zach Britton and catcher Craig Tatum to its Triple-A team Norfolk Tides, while infielder Brendan Harris was sent to its minor league-camp and starting pitcher Justin Duchscherer was placed on the 15-day disabled list. Van den Hurk was already informed that he will not be making the team, but is now officially been placed on waivers.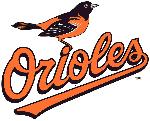 When a player is waived, any team may claim him. If more than one team claims the player, the team with the weakest record in the player's league gets preference. In the first month of the season, preference is determined using the previous year's standings.

When a team claims a player off waivers, his current team (the team that puts him on waivers) may choose one of the following options:
- arrange a trade with the claiming team for that player within two business days
- rescind the request and keep the player on its own Major League-roster, effectively canceling the waiver
- do nothing and allow the claiming team to assume the player's existing contract, pay the waiving team a waiver fee and place the player on its own active roster.

If no team claims a player off waivers after three business days, the player has cleared waivers and may be assigned to a minor league team, traded or released. As Rick van den Hurk, who turns 26 in May, is put on waivers, this means that he might leave the Baltimore Orioles-organization. On the other hand, as mentioned, there is also a possibility in a waiver-construction that the Orioles will keep him, but sent him to the minors.

The righthander appeared in only four games during Spring Training. He pitched six innings, struckout four batters, walked eight and gave up 10 basehits and 12 runs. He was 0-0 and had a 13.50 ERA.

He made his first appearance on March 1 when the Orioles won 12-6 vs. the Tampa Bay Rays. Van den Hurk relieved starter Jeremy Guthrie in the third inning and also threw the fourth. He walked one batter and gave up two hits and one run.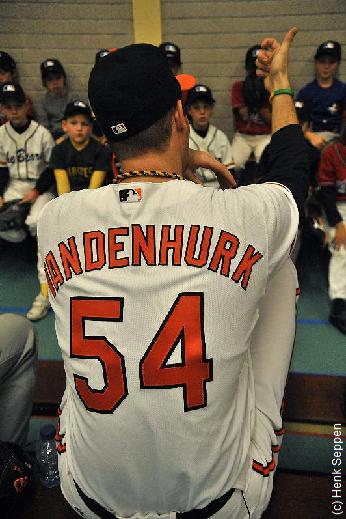 ...Rick van den Hurk...
...during the European Big League Tour...
...last year in Haarlem...
(© Photo: Henk Seppen)

His next appearance was on March 6 in a 3-0 loss vs. the Minnesota Twins. Van den Hurk again relieved Guthrie and this time threw the fourth, fifth and sixth inning. He struckout two, but walked four and gave up two hits and one run.

On March 11, the Orioles were beaten 13-6 by the Philadelphia Phillies. In that game, which also was started by Guthrie, Van den Hurk was the fifth and last pitcher. He struckout two and gave up three hits, including a 2-run homerun, while also giving up five runs.

On March 16, Rick van den Hurk threw his last game during Spring Training and wasn't succesfull. In the seventh inning, he became the sixth pitcher for Orioles in a game vs. the New York Yankees, who at that moment were leading 4-0. Van den Hurk gave up lead-off singles to Curtis Granderson and Russell Martin, then threw a wild pitch that led to a run. Next, he walked Brett Gardner and Derek Jeter, before giving up a 2-run single to Nick Swisher. After he also walked Mark Teixeira, Van den Hurk was replaced by Armando Gabino. A force play-grounder by Alex Rodriguez and single by Robinson Cano brought in two more runs, which also were credited to Van den Hurk. The Yankees went on to win 10-0.

Rick van den Hurk made his Major League-debut in 2007, when he pitched in 18 games (17 starts) for the Florida Marlins and was 4-6. In 2008, he threw in four big league-games and was 1-1, then had a 3-2 record in 2009, when he was the starting pitcher in eleven games. Last year, Van den Hurk started the season in the organization of the Marlins, threw in two Major League-games (0-0, 1 1/3 inning) and then was traded to the Orioles on July 31. For Baltimore, Van den Hurk threw in seven games (one start) and struckout 17 batters in 16 1/3 inning, while finishing with an 0-1 record. In total, he is 8-10, having thrown in 42 Major League-games (33 starts). He struckout 169 in 172 innings, but also gave up 187 basehits (29 homeruns) and 118 runs.

As Rick van den Hurk is now on waivers, this might mean that he will start the season on Thursday on the Major League-roster for a new club, but also can end up in a trade, or be sent back to the minors.

(March 29)