Kinheim ends Amsterdam's winning streak
Nederlands




THE HAGUE / HOOFDDORP / ROTTERDAM / HAARLEM (Neth.) - Corendon Kinheim on Saturday came back from an early 4-0 deficit to won 7-6 in eleven innings to end the 9-game winning streak of league-leader L&D Amsterdam Pirates in their second consecutive tie-break game. Last Thursday, the teams played an 10-inning contest which was won by Amsterdam, 3-2. A single by Roy Seltenrijch and a throwing error gave Kinheim the win this afternoon.

Former Pionier Jourick Blanco belted two 2-run homeruns against his former team, as Sparta-Feyenoord won 5-4 vs. Vaessen Pioniers. Norbert Lokhorst and Dè Flanegin homered for Pioniers off Gregory Gustina, who went the distance.

After playing a 10-inning game on Thursday, DOOR Neptunus today shutout Mr. Cocker HCAW, 9-0. Starting for HCAW was the announced starter for Sunday's game, Joran Klarenbeek. This means that HCAW on Sunday might go with the announced starter for Saturday, RHP Kevin Miner or newly acquired Venezuelan lefthander Moises Melendez.

UVV won 10-7 vs. ADO to register its sixth win in a row. The team led 6-0 in the sixth inning, then ADO came back to 6-3, but ended up empty-handed for the eighth game in a row.
---
ADO vs. UVV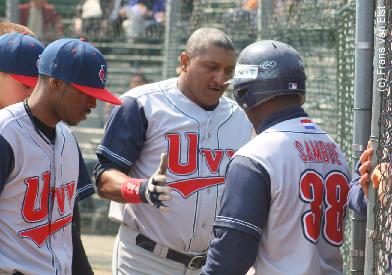 ...Fausto Álvarez is greeted after scoring...
...The Cuban scored once and had 3 RBI's...
(© Photo: Frans van Elst)

At The Hague, UVV scored three runs in the first and fourth inning to take a comfortable 6-0 lead vs. ADO, which narrowed that back to 6-3 by scoring three runs of their own in the sixth at bat. UVV then added a 4-run eighth inning, before ADO also scored four. The ADO-rally came too late, as it was produced in the ninth and last at bat of the game, which ended in the eighth loss in a row for the team from The Hague.

In the first inning, UVV scored three runs off starter Nick Martin, who was moved up a day, as he originally was announced as starter for Sunday's Game 3. Today's announced starter Jurandy Girigori was used in relief of Game 1 on Thursday-evening and therefore became unavailable for today.

Martin gave up a lead-off single to Jeff Delfina, then loaded the bases by walking Rutger Veugelers and Danny Rombley. Delfina was then forced out at home on a grounder by Fausto Álvarez Rizo, but then a wild pitch accounted for the first run. Jeroen Hermans followed with an RBI-single, which also led to an error, that made it 3-0.

UVV added three more runs in the fourth inning. With one out, Jirka Bliek and Jeff Delfina (who was 3-for-4) both singled and advanced on a wild pitch. Hereafter, a run was scored on a grounder by Rutger Veugelers, who then scored on a triple by Danny Rombley, followed by an RBI-double by Fausto Álvarez Rizo to increase the lead to 6-0.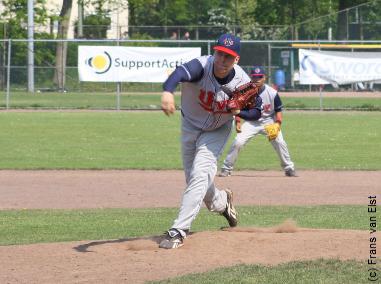 ...Winning pitcher Jurjen van Zijl...
(© Photo: Frans van Elst)

After Martin hit lead-off hitter Glenn Romney with a pitch in the fifth inning, he was relieved by Carlos Tabares Castro, who was supported with two double plays and didn't ran into problems for three innings, but then gave up four runs in the eighth.

UVV-starter Jurjen van Zijl gave up only two basehits in the first five innings, both hit by Harvey Gumbs (second and fourth inning). In the fourth inning, he allowed two batters to reach base with two outs, but then a force play followed. But in the sixth inning, with UVV leading 6-0, ADO answered with three runs. With one out, Irving Redan tripled, then next hitter Gyenuar Lopez was hit by a pitch. Next, a run was scored on a grounder by Harvey Gumbs and errors on hits by Gino Hersilia and Calvin Martinus.

In the eighth inning, UVV took more distance by scoring four runs. First, a basesloaded grounder led to a force out at home, but then a sac-fly by Rutger Veugelers, 2-run single by Fausto Álvarez Rizo and an error gave UVV a 10-3 lead. In the ninth inning, UVV got the bases loaded when Tabares walked the first three batters, but then a strikeout and double play ended the at bat. In the home of the ninth, ADO rallied for four runs off Juri van Leeuwen, who had relieved Van Zijl in the seventh inning. Van Leeuwen walked lead-off hitter Gino Hersilia, then gave up a single with one out to pinch-hitter Bas Mol and walked Gregory Hassell to load the bases. Van Leeuwen then also walked Jaïr Roseburg to bring in a run and was relieved by Sedley Karel, who started with a runscoring wild pitch, then gave up a 2-out, 2-run single to Irving Redan. But then a flyout ended the game.

The two ADO-pitchers today walked 11 batters (including eight by Tabares) to raise their league-leading total to 58.

Line Score, Box Score & Play-by-Play
Standings & Schedule
---

Vaessen Pioniers vs. Sparta-Feyenoord
At Hoofddorp, former Pionier Jourick Blanco hit two 2-run homeruns against his former team to lead Sparta-Feyenoord to a 5-4 victory vs. Vaessen Pioniers.

Blanco was a regular player for Pioniers in 2007 and 2008, then didn't play in the Dutch league in 2009, but made a brief comeback last season, playing in only one game. Pionier-starter Eddie Aucoin faced only nine batters in the first three innings, but two of them reached base. After having retired the side in the first and second inning, Aucoin gave up a lead-off single to Emeron Lourens in the third, but he then was caught stealing after a pick-off by Aucoin. With two outs, Jesus Castillo reached on an error, but he also was picked off. In the fourth inning, Rubinet Koko led off for Sparta-Feyenoord with a double, then advanced on a sac-bunt by Arthur Bonevacia and scored on a single by Brian Biezen. Next, Jourick Blanco connected for a 2-run homerun to make it 3-0.

In the sixth inning, Bonevacia led off with a single, then scored when Blanco hit another one-out, 2-run homerun, lifting the lead to 5-0.

Gregory Gustina, the lefthanded starter for Sparta-Feyenoord, dominated for six innings. In the first five at bats, he gave up only one basehit and faced only one batter over the minimum. After having retired the first nine batters in a row, Gustina gave up a lead-off single to Michael Duursma, but then six more outs followed. In the sixth inning, Zerzinho Croes led off for Pioniers with a bunt-single, then advanced to third base when an error was made on a sac-bunt by Jefferson Muzo and scored on a sac-fly by Michael Duursma.

In the seventh inning, Gustina gave up two runs. Dè Flanegin led off with a single and scored when Norbert Lokhorst (who is the leading hitter in the league) followed with a homerun. Gustina retired the next three hitters.

After giving up Blanco's second homerun, Aucoin retired six batters in a row, then hit Arthur Bonevacia with a pitch, but struckout next hitter Brian Biezen. Aucoin was relieved by Kjeld de Lincel, who ended the inning by picking off Bonevacia, but started the ninth at bat by giving up a single to Blanco. De Lincel was replaced by Jean-Paul Gulinck, who started with a strikeout and completed the inning without any problems.

Leading only 5-3, Gustina was kept in the game by Sparta-Feyenoord and saw Pioniers almost come alongside in the ninth inning. He first gave up a lead-off homerun to Dè Flanegin, then a double to Norbert Lokhorst, who advanced on a sac-bunt by Kevin Dirksen. With the tying run on third base, Gustina struckout pinch-hitter Randy Reiph (a newcomer on the Pionier-roster) and completed the game when next batter Zerzinho Croes grounded out.

Line Score, Box Score & Play-by-Play
Standings & Schedule
---

DOOR Neptunus vs. Mr. Cocker HCAW
At Rotterdam, DOOR Neptunus shutout Mr. Cocker HCAW 9-0 after needing a tie-break on Thursday-evening in Game 1. Today, Neptunus rallied early and held a 5-0 lead after two innings, but couldn't produce a tenth run to end the game through the mercy-rule.

In the first inning, the home team scored three runs off starter Joran Klarenbeek, who initially was named as starter for Game 3 on Sunday. Klarenbeek walked lead-off hitter Eugène Kingsale, then gave up an RBI-double to Benjamin Dille. With one out, he also walked Jeffrey Arends and with two outs, Rien Vernooij and Eldrion Regina hit RBI-singles to make it 3-0. The third walk in the bat, this time for Sape Wagenaar then loaded the bases, but a flyout left them loaded.

In the second inning, Klarenbeek again started with a walk for Kingsale, who then advanced on a single by Dille. With one out, both scored on a double by Arends to give Neptunus an early 5-0 lead. Klarenbeek then recovered and retired the next eight batters in a row, before getting the bases loaded again (with two outs) in the fifth inning. But this time, a force play-grounder ended the at bat.

Neptunus added a run in the sixth inning. Kingsale led off with a single and stole second base, then Raily Legito singled with one out and Arends again followed with an RBI-single. Arends was 3-for-3, scored once and had three RBI's.

After giving up the single to Arends, Klarenbeek was relieved by Joey Eijpe, who gave up three more runs in the seventh. First, Vernooij and Regina then led off with singles. Next, three runs were scored on a double by Sape wagenaar and grounders by Shaldimar Daantji and Eugène Kingsale to make it 9-0.

Neptunus-starter Kevin Heijstek threw seven strong innings. The righthander struckout eight batters and gave up only four basehits. The closest he came to giving a run was in the second inning when he gave up singles to Randy Daal and Adrian Anthony with one out. But then Daal was forced out on third base on a throw from centerfielder Shaldimar Daantji on a hit by Mitchel Koot and Heijstek then struckout the next batter to end the inning. In the eighth inning, Jorian van Acker took over the pitching and only gave up a lead-off walk in the ninth inning.

Line Score, Box Score & Play-by-Play
Standings & Schedule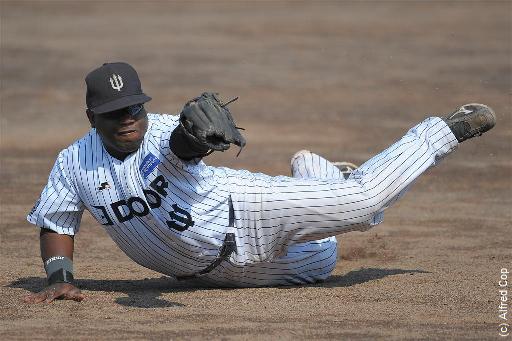 ...A nice stop by 3B Raily Legito...
(© Photo: Alfred Cop Fotografie)
---

Corendon Kinheim vs. L&D Amsterdam Pirates
At Haarlem, Corendon Kinheim and L&D Amsterdam Pirates became the first two teams to play two tie-breaks in a row. After Thursday's game ended in a 3-2 win for Amsterdam in 10 innings, today eleven innings were played, resulting in a 7-6 come-from-behind win for Kinheim. In the ninth inning, Amsterdam was one out away from registering its tenth win in a row, but then Kinheim came alongside to force a tie-break.

In the third inning, Amsterdam held d 4-0 lead, but in the end failed to hold onto it. In the second at bat, Amsterdam scored twice off Kinheim-starter Duko Jansen, who gave up a lead-off single to Percy Isenia, then a 2-run homerun to Bas de Jong.

In the third inning, Roelie Henrique reached on an error with one out and scored when Sidney de Jong followed with a double. The latter went on to score the fourth run on a single by Isenia. Later in the at bat, Vince Rooi added a single, but two runners were left behind.

Amsterdam-starter Jos de Jong gave up an one-out double to Jason Halman in the second inning, but then two outs followed. In the third inning, Kinheim struck with two outs and scored three runs. Roy Seltenrijch and Björn Henrichs led off with singles, then advanced on a sac-bunt by Remco Draijer. After a flyout, Dirk van 't Klooster (2-run) and Bryan Engelhardt hit back-to-back doubles to make it s 4-3 score.

In the fourth inning, Amsterdam left a runner on second base and Kinheim had runners on second and third with one out, but neither team scored. Amsterdam left two more runners in the fifth and got the bases loaded in the seventh inning. Since scoring its second run in the third inning, Amsterdam left 10 runners behind in six innings. In the seventh, Sidney de Jong led off with a walk, which led to a pitching change. Steven van Groningen took over from Duko Jansen and started by walking Percy Isenia. With two outs, he loaded the bases when he also walked Bas Nooij, but then a pop-fly by Rashid Gerard ended the at bat.

In the eighth inning, Pim Walsma became the new pitcher for Kinheim and faced his former team for the first time. With two outs, he gave up a bunt-single to Roelie Henrique in the eighth and a single to Bas de Jong in the ninth, before getting the bases loaded and giving up a run in the tenth.

Kinheim left runners on second and third base in the fourth inning and from that point on Jos de Jong retired 11 of the last 12 batters he faced. In the eighth, Al Morales Gomes took over, gave up a lead-off single, was supported with a double play, but then loaded the bases. With two outs, he gave up a double to Jason Halman, then walked Rafaël Jozefa and hit Rodney Michel with a pitch, before ending the inning with a flyout.

In the ninth inning, Jurrian Koks, who was 3-0 in relief so far, was the new pitcher for Amsterdam and could have earned his second save of the season, but instead was credited with a Blown Save. With one out, he gave up singles to Remco Draijer and René Cremer, who then advanced on a grounder by Dirk van 't Klooster. But then Bryan Engelhardt singled to bring in Draijer with the tying run, while the inning ended when Cremer also tried to score, but was thrown out at the plate, leading to extra innings.

In the tenth inning, Amsterdam re-took the lead. With Koen Nooij and Wesley Connor as tie-break runners, Roelie Henrique moved the runners on a sac-bunt, then the bases were loaded when Sidney de Jong got an intentional walk. But then Walsma walked Percy Isenia to bring in a run. Walsma was relieved by Patrick Beljaards, who then ended the inning with a flyout and strikout, meaning Amsterdam left the bases loaded.

In the home of the tenth, Kinheim tied the score again. Tie-break runners Björn Henrichs and Remco Draijer first advanced when Koks made an error on a sac-bunt by René Cremer, then the tying run was scored on a sac-fly by Dirk van 't Klooster, before a double play ended the inning.

In the eleventh, Amsterdam took the lead for the third time. First, tie-break runners Bas de Jong and Vince Rooi moved on a sac-bunt by Bas Nooij, then a force play was created by walking Rashid Gerard intentionally. The strategy worked as De Jong was forced out at home on a grounder by Seb Visser, but then a walk for Wesley Connor made it 6-5 in Amsterdam's favor. When a flyout followed, Amsterdam left the bases loaded for the third time in this game.

In the home of the eleventh, Amsterdam again was one out away from the victory. With Dirk van 't Klooster and pinch-runner Niels van Weert on base, a bunt by Jason Halman failed and resulted in an out. The bases were then loaded when Rafaël Jozefa followed with a single, but Jurrian Koks then struckout Rodney Michel. Rookie Roy Seltenrijch then singled to bring in Van 't Klooster with the tying run and when a throwing error by centerfielder Wesley Connor followed, this enabled Van Weert to score the winning run and end the winning streak of Amsterdam Pirates.

Line Score, Box Score & Play-by-Play
Standings & Schedule

(April 30)