Former international Arnoud Blom passed away
Nederlands
IN MEMORIAM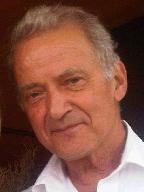 ...Arnoud Blom...
(1945 - 2010)

AMSTERDAM (Neth.) - Former National Team-catcher Arnoud Blom passed away on Tuesday, September 14 at the age of 65. The memorial service for Arnoud Blom was held on Monday, September 20 at Amsterdam-Zuidoost, followed by the funeral service at Cemetary Zorgvlied at Amsterdam. Arnoud Blom was ill for quite awhile, but fight his disease, showed spirit and was admired for always keeping a positive attitude.

Arnoud Diederik Blom, who was born on January 2, 1945 at Amsterdam, worked as a physical education teacher at the Open Schoolgemeenschap Bijlmer in Amsterdam. In 1968, he finalized his exam as student at the Academy for Physical Education.

In this period, Blom also played volleyball and basketball, but stopped doing that because of his study.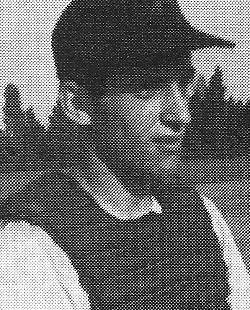 When Arnoud was 14 years old, he started playing baseball for ABC in Amsterdam, where became a second baseman in the junior-squad. Shortly thereafter, he became interested in catching and started to specialize in this position and was joined by Martin Gaus, who back then was the catcher for VVGA. Two years later, Blom became the catcher of the second team of ABC and was the back-up catcher for the main squad.
After completion of the 1961 season, the ambitious Blom went to play for WV-HEDW, which had promoted to the big league under guidance of coach Wim Geestman, Sr.. However, the team relegated after having played on season in the highest division, but Blom stayed with the team. In 1964, WV-HEDW promoted to the Dutch Major League and was renamed HVA after merging with the club VVA. Arnoud Blom played for HVA in the big league in 1965 en 1966 when it relegated and merged with RAP (which is nowadays known as Amsterdam Pirates). After completion of the 1966 season, Blom went back to ABC, where, in 1968, he was named captain of the team that was coached by Nol Houtkamp. 1969 was Blom's successful season, as he led the league with 14 stolen bases and had career highs with 21 basehits. While playing for ABC in the late sixties, Blom was ambitious and stated that a competition of only 21 games was far too less and that more games at night needed to be played. After conclusion of the 1970 season, Blom went on to play four seasons for Haarlem Nicols, where he scored a career high 19 runs in 1971, his first season in Haarlem. In 1974, Blom and Nicols captured the European Cup. After this season, having played eleven years in the Dutch big league, Blom retired.
When he returned to ABC in 1967, Blom developed himself more and more as a leading catcher. A few years before, in 1962, Blom was selected for the Dutch National Youth Team, but in the same year became a candidate for the Dutch National Baseball Team, as he was a member of the preliminary roster for the European Championship in Amsterdam. After not making the final roster in 1962, Blom was one of the catchers during the Championship of 1964 in Milan (Italy) and 1965 in Madrid (Spain), which both were won by the Dutch. In 1966, Blom participated with the Dutch squad in the Haarlem Baseball Week, but also traveled to Rome (Italy) with the National Youth Team.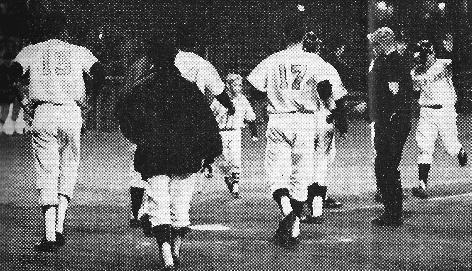 ...Arnoud Blom (right) is welcomed by teammates...
...after hitting a homerun vs. Berlin Bears in 1968...

In 1967, the Dutch Team played a series of four games against Italy. Blom caught the first one in Rome, then also played in the next game at Haarlem, where he was the battery-mate of pitcher Rob Hoffmann, who passed away last Friday. Due to a inflamated tendon, Blom was unable to play in the next two games, but later in the year, he traveled with the National Team to the Netherlands Antilles. Arnoud Blom continued his international career and also participated in the Haarlem Baseball Week of 1968 and 1969. Blom played in nine official international games for the national squad.

In the sixties, Blom started a long relationship with DVH in Amstelveen. In September of 1964, he was asked to lead the practices of the baseball youth team, which he did for three seasons and also included specialized practices for pitchers and catchers.

After concluding his playing career with Haarlem Nicols, he coached the second team of that club for one year. In 1977, he became the Head Coach of DVH, whom he led for three seasons in the Second Division. While being the coach, Blom showed his commitment to the team, as he remained active as a player himself, sharing time between catching and playing in centerfield. Blom wanted to get DVH to a higher level and proposed to practice twice a week, instead of once. After these three years, Blom went on to coach the women softball-team of DVH for four seasons, but during that period he started to miss playing himself. In the years, he was with the softball-team, the baseball-team relegated three times, so he was asked to return as both player and coach of the baseball-team. After coaching the team for two more seasons, Blom retired as coach and player.

(the headshot of Arnoud Blom was published on the website of Open Schoolgemeenschap Bijlmer)

(September 23)