Fallen athletes WWII remembered
Nederlands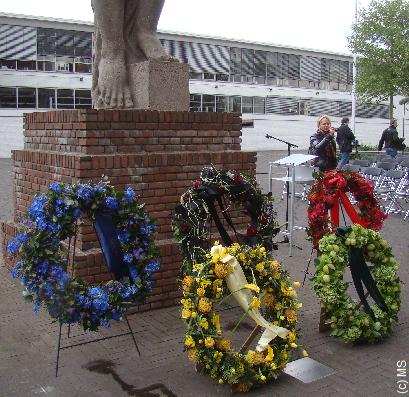 ...The five wreaths in front of Prometheus...
(© Photo: Marco Stoovelaar)

AMSTERDAM (Neth.) - For the seventh time, athletes who fell victim during World War II due to their background, race, religion or other reasons, were remembered on National Memorial Day in the Netherlands. In front of the historic Olympic Stadium in Amsterdam, there were three speeches, then five wreaths in the Olympic colors were placed near the statue of Prometheus, the symbol of freedom, knowledge and independency. The Memorial, which attracts more and more visitors every year, also was attended by several prominent people from the Dutch sports world, including Frits Barend, Barbara Barend, Humberto Tan, Minke Booij and Maarten Stekelenburg.

The theme for this years Memorial was 'hockey in the war years'. Before the ceremony, sports journalist and talkshow host Frits Barend talked with hockey players, who were active during the war years.

André Bolhuis, who last year succeeded Erica Terpstra as President of the Netherlands Olympic Committee (NOC*NSF), gave one of the three speeches, the other being held by Eric van der Burg (Alderman of Sports for the Municipality of Amsterdam) and Paul Slettenhaar (Chairman of city-borough Amsterdam-Zuid).

,,Remembering is very important'', André Bolhuis stated in his speech. ,,Remembering is the best way not to forget.''

After two minutes of silence and the playing of the Dutch National Anthem, the ceremony ended. Hereafter, in the stadium, a youth hockey game was then played, followed by a soccer game with the participation of celebrities from sports, media, politics and culture joined youth players from Amsterdam.

Exactly 65 year ago, at the same location, the very first National Memorial was held with Princess Juliana and Prince Bernhard amongst the 55.000 visitors, who attended the ceremony.
...Left: The item of the Memorial made by NOS Studio Sport...
...Center/Right: TV-sports journalists Frits Barend and Humberto Tan were amongst the attendees...
(© Photos: Marco Stoovelaar)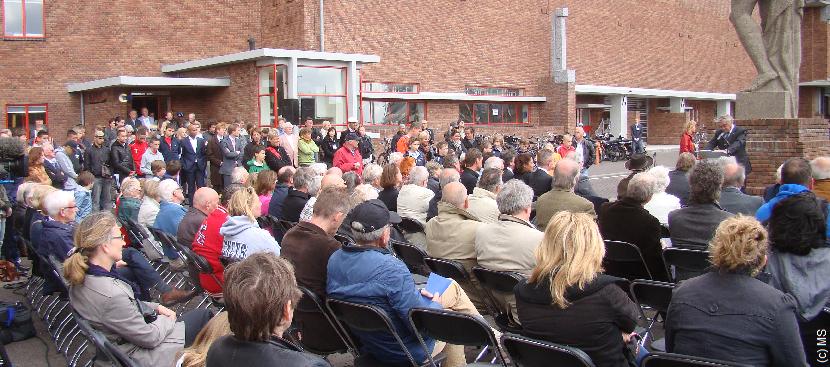 ...The Sports Memorial was well-visited this year...
(© Photo: Marco Stoovelaar)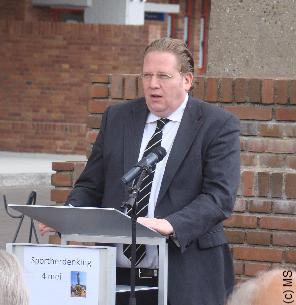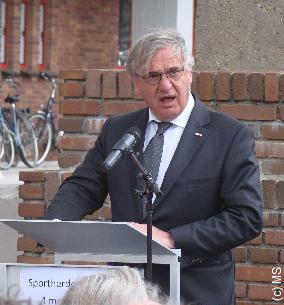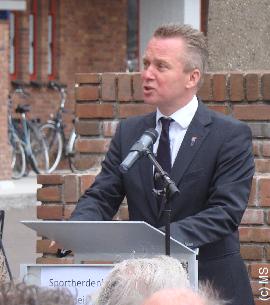 ...Paul Slettenhaar, André Bolhuis and Eric van der Burg held speeches...
(© Photos: Marco Stoovelaar)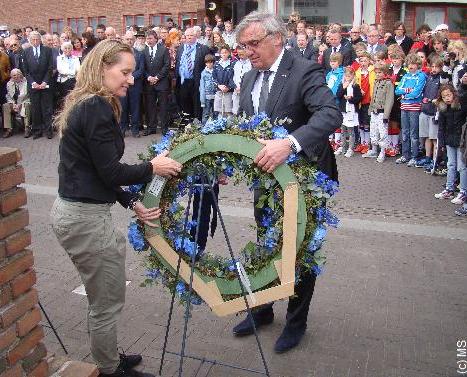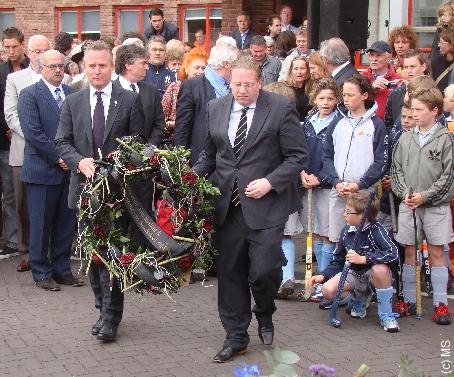 ...Left: André Bolhuis and Minke Booij (former hockey international) place a wreath on behalf of the NOC*NSF...
...Right: Eric van der Burg and Paul Slettenhaar do the same on behalf of the City of Amsterdam...
(© Photos: Marco Stoovelaar)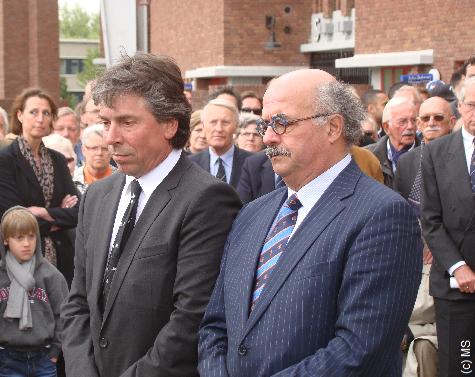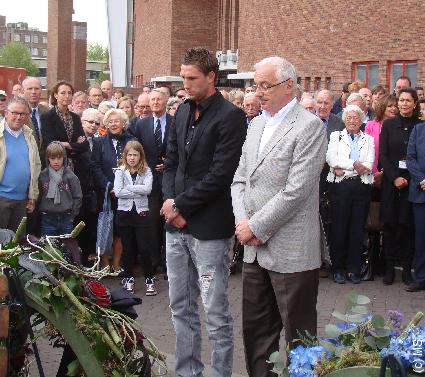 ...Left: Stadium director Henk Lubberding and Johan Wakkie (Director Hockey Federation) on behalf of the Olympic Stadium...
...Right: Maarten Stekelenburg and Uri Coronel on behalf of Ajax...
(© Photos: Marco Stoovelaar)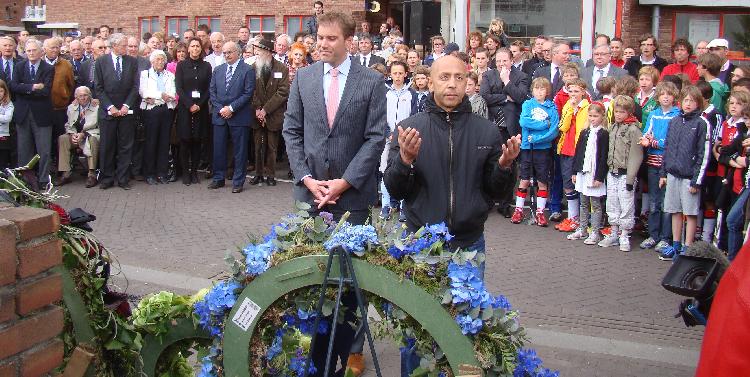 ...The fifth wreath was placed on behalf of the tenants of the Olympic Stadium...
(© Photo: Marco Stoovelaar)
(May 4)