Baseball & Softball wins in Haarlem Awards
Nederlands

HAARLEM (Neth.) - The softball-team of Sparks Haarlem, volunteer Dick Hoff and the Haarlem Baseball Week all were awarded on Wednesday, December 8 during the annual JAN© Topsport Gala Kennemerland.

At the Philharmonie Theater in Haarlem, the best athletes of 2010 were honored with seven awards being handed out. For six of these categories, three nominees were named in November. First, athletes or teams were nominated by their respective clubs and others involved in the different sports. A jury then made a shortlist of five nominees per category. Next, the (Haarlem) public was able to cast its vote, reducing the list to three nominees. Hereafter, the jury made the final choice for the winner, based on the accomplishment(s) in the respective sport, as well as the voting results.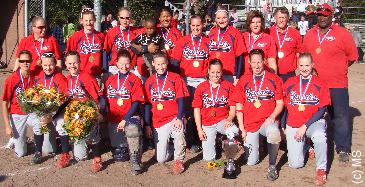 ...Sparks Haarlem...
...Haarlem Sports Team of the Year...
(© Photo: Marco Stoovelaar)

The women softball-team of Sparks Haarlem was voted Sports Team of the Year 2010 for winning both the European Cup Winners Cup as well as the Dutch championship-title. In the final of the Cup Winners Cup in Haarlem, Sparks Haarlem came from behind in the last inning, scored six runs and won 7-6 vs. Fiorini Forlė from Italy. In the best-of-five Play-Offs, Sparks Haarlem played a tense and exciting series vs. Centrals, but won 3-2, then dethroned champion Tex Town Tigers in the Holland Series. Also nominated were Kenamju (judo men and women teams) and SV PAX Haarlemmermeer 1A (gymnastics).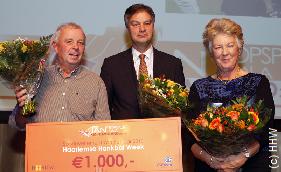 ...Haarlem Mayor Bernt Schneiders...
...with Gerrit Ligtenberg (left)...
...and Rita Schrijber (members of the...
...HBW Organizing Committee) after...
...handing them the cheque...
...for Event of the Year...
(© Photo: Haarlem Baseball Week)

The 25th jubilee-edition of the Haarlem Baseball Week again won the award for Sports Event of the Year, as it also did after its previous edition in 2008. Also nominated were the European Cup Softball Tournaments and the Zandvoort Circuitrun (beachrunning).

Haarlem Baseball Week President Frits Mulder stated: ,,We were already very honored that the Week was nominated again, but that we won the award this year was a complete surprise. As we did in 2008, we gave the cheque of 1000 Euro to a charity. This time, we donated it to G-baseball in Kennemerland.''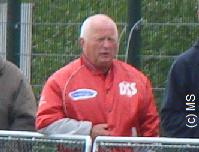 ...Dick Hoff...
...Volunteer of the Year...
(© Photo: Marco Stoovelaar)

Dick Hoff was named Sports Volunteer of the Year for his longtime work for the baseball-, softball- and soccer-departments of DSS. Hoff is active in sports for more than 40 years, including being the chairman of DSS-baseball in 1991-2000 and the interim-chairman of DSS-soccer in 2005-2006. He also has been active as a coach for baseball- and softball-teams of the Haarlem-based club, as well as the men softball-team of Kennemerland and the handball-teams of Onze Gezellen and de Blinkert.

The other winners were:

Male Athlete of the Year: Speedskater Simon Kuipers. Also nominated were Dex Elmont (judo) and Henk Grol (judo).

Female Athlete of the Year: Track&Field-athlete Femke van der Meij (100m track). Also nominated were Kitty Bravik (judo) and Femke Roos (canoing).

Talent of the Year: Kim Polling (judo). Also nominated were Roos de Jong (rowing) and Tim Haldermans (baseball).

Sportspecial of the Year: Marije Smits (track&field, jumping). Also nominated were Marc Evers (G-swimming) and Jan Eichhorn (swimming master).

Sports TV-host Humberto Tan was the Master of Ceremonies, while Haarlem Mayor Bernt Schneiders handed out a cheque of 1000 Euro to the representatives of the Haarlem Baseball Week, which was named Event of the Year. Haarlem's Alderman for Sports Jack van der Hoek handed out the golden Pim Mulier Statue to Dick Hoff, the Volunteer of the Year.

(December 8)