Grand Slam
Baseball Recaps
European Baseball Series
July 8, 2006
Compiled and Copyright © 1997-2006 by Marco Stoovelaar


Italy evens Series
Nederlands | Box Score | Play-by-Play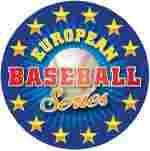 ROTTERDAM (Neth.) - Italy collected 20 basehits on Saturday, including three homeruns, off four pitchers, to win 11-6 vs. the Netherlands in Game Two of the European Baseball Series, to even the series, 1-1.
Game Three will be played on Sunday in Rotterdam, starting at 1:00 PM. In the evening, the two teams will travel for Italy for the next series of three games.
At first, it appeared that the Dutch team was en route to its second victory, as it took an early 2-0 lead in the second inning. Lead-off hitter Raily Legito reached base on an error, then Percy Isenia followed with an infield-hit, which jumped off the leg of pitcher Junior Oberto into foul territory. After Oberto was checked and threw some pitches, he continued throwing, but then walked Dirk van 't Klooster to load the bases. Kalian Sams, who played in his first-ever game for the Dutch squad, then had a dream at bat, at he hit a 2-run double down the leftfield-line to give the Dutch a 2-0 lead. But then Oberto recovered, struckout Danny Rombley and ended the inning with two outfield-flyouts.
Italy answered with one run in the home second off Dutch starter David Bergman, who was supported with a double play in the first inning. In the second, with one out, Dean Rovinelli singled, then scored on a 2-out double by Giuseppe Mazzanti, but then Bergman struckout the next batter to end the inning.
But in the third inning, Italy scored three runs and took the lead to keep. With one out, James Buccheri doubled and scored the tying run on a single by Davide Dallospedale, who today played his 100th official game for the Italian team. Next, Max De Biase followed with a 2-run homerun to give Italy a 4-2 lead. David Bergman then would see Italy load the bases on two singles and a hit by pitch and was replaced by Kenny Berkenbosch, who also played in his first international game for the Dutch team. He was a member of the team that participated in the World Baseball Classic in March in Puerto Rico, but then didn't play. Berkenbosch ended the inning with a groundout. But in the fourth inning, Berkenbosch would give up an additional. With two outs, he gave up a single to Dallospedale, who moments later scored on a double by De Biase.
In the fifth inning, Italy added three runs and lifted their lead to 8-2. Dean Rovinelli led off with a single, stole second base and advanced on a wild pitch, then scored on a 2-out double by rookie Simone Albanese. After Igor Schiavetti also singled, Berkenbosch was lifted for Duko Jansen. But the scoring wasn't over yet, as Jansen gave up RBI-singles to James Buccheri and Davide Dallospedale.
Two more runs were added in the sixth inning and with its 10-2 lead, Italy was en route to a possible 10-run difference, 7-inning victory. Italy again scored with two outs. They scored seven of their first ten runs with two outs. This time, Duko Jansen hit Mario Chiarini with a pitch, then Giuseppe Mazzanti followed with a 2-run homerun.
The Dutch team barely reached base in the middle innings. After leaving two runners behind in the third inning, the team reached base only three times from the fourth through seventh inning. In the fourth, Michael Duursma singled with two outs, but was caught stealing. In the sixth, Raily Legito led off with a double, but three flyouts followed. In the seventh, pinch-hitter Roel Koolen walked with one out. Tjerk Smeets, also a pinch-hitter, then flied out on a long fly to leftfield and Sidney de Jong struckout.
But in the eighth inning, trailing 10-2, the Dutch team started to come back, but that proved to be too late. Facing William Lucena, Italy's third pitcher in the game, Ivanon Coffie led off the eighth with a long homerun to rightfield to make it 10-3, but hereafter, three runners stranded. Raily Legito first reached on an infield-hit (he was 3-for-5), as did Percy Isenia (with one out). The bases were loaded when Kalian Sams was hit by a pitch. But then Danny Rombley struckout for the third time in the game and Roel Koolen grounded out. For Koolen, this also was his first game in a big event, but he played his first official game for the national team already in 2000 during an exhibition series vs. Chinese Taipei. In that same series, second baseman Michael Duursma and catcher Tjerk Smeets also made their debut, before being selected for their first big event some years later.
Italy got the run back immediately in their eighth at bat. Jurjen van Zijl, who had relieved Duko Jansen in the sixth inning and also made his national team-debut, gave up a lead-off homerun to Mario Chiarini that made it 11-3.
In the ninth inning, the Dutch team scored three runs, making it a more bareable score of 11-6. With two outs, Ivanon Coffie walked and Sidney de Jong singled, then the two scored on a deep double by Percy Isenia, who later scored himself on a single by Dirk van 't Klooster. But then William Lucena struckout Kalian Sams to end the game.
(July 8)
---
Thank you for visiting this site. See you soon!
Mail suggestions and questions to stoov@wxs.nl

Last Update: July 8, 2006
Copyright © 1997-2006 Marco Stoovelaar.