Grand Slam
Baseball Recaps
European Baseball Series
July 9, 2006
Compiled and Copyright © 1997-2006 by Marco Stoovelaar


Dutch close first part with shutout
Nederlands | Box Score | Play-by-Play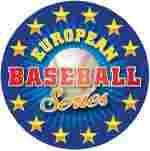 ROTTERDAM (Neth.) - The Dutch Baseball Team on Sunday closed the first series of three games vs. Italy with a 4-0 shutout. The European Baseball Series now shifts to Italy where the next three games will be played on Monday, Tuesday and Wednesday. On Sunday-evening, the two teams fly to Rome.
In Game Three, Rob Cordemans threw seven solid innings for the Dutch, which took a 1-0 lead in the fourth inning on a single by Dirk van 't Klooster. The second run was added in the seventh on a single by Johnny Balentina, then Raily Legito added a 2-run homerun in the eighth to make it 4-0.
As the game was nearing the 3-hour mark, the teams started to run out of time, as their flight to Rome (Italy) was scheduled for 5:50 PM from Rotterdam Airport. But in the end, there was time enough. The game lasted 2:44 hours and finished at 3:50 PM, exactly two hours before the scheduled departure-time. So, there was time for a shower and to say goodbye, but both teams left within a half hour of completion of the game to get in time to the airport. And there are some busy days ahead of them. After arriving in Rome, there was a busride of almost three hours north to Grosseto, where Game Four of the Series will be played on Monday-evening. On Tuesday, the teams have to travel to Nettuno, which is about an hour drive south of Rome, for Game Five. Then, on Wednesday, the teams will fly to Catania on Sicily, followed by a busride to Messina for Game Six late in the afternoon.
On Sunday, the Dutch team registered its second shutout-win of the Series after winning 2-0 on Friday-evening. Dutch starter Rob Cordemans threw seven innings and only ran into problems in the second when Italy got the bases loaded. Lead-off batter Gino Lollio reached base on an error by short stop Raily Legito, then next batter Dean Rovinelli's grounder also was misplayed by Legito, but on that play he might have been interfered a little by third baseman Ivanon Coffie, who also went after the ball. Cordemans then struckout Mario Chiarini, which was followed by a force play-grounder by Giuseppe Mazzanti, but then the bases were loaded when Marcello Malagoli was hit by a pitch. The inning ended when Seth La Fera grounded out.
Italy got another runner in scoring position in the fourth inning when Mario Chiarini tripled with two outs, but Cordemans followed by striking out Giuseppe Mazzanti.
In the home fourth, the Dutch team opened the score. In the first three innings, only one batter had reached base off Italian starter Roberto Corradini. That happened in the first inning when Corradini hit lead-off hitter Michael Duursma with a pitch, but he would strand on third base.
In the fourth, Sidney de Jong walked with one out, then moved on a 2-out infield-hit by Raily Legito and scored on a single by Dirk van 't Klooster. In the meantime, Legito tried to advance to third base, but was thrown out there, but that happened shortly after the run was scored.
In the next three innings, Italy got runners on base, but a double play and a caught stealing helped Rob Cordemans.
In the home seventh, the Dutch added its second run. Carlos Pezzullo took over for Roberto Corradini, but was greeted with a single by Dirk van 't Klooster, who then advanced on a sac-bunt by Percy Isenia. After pinch-hitter Johnny Balentina was announced, Pezzullo was replaced by Carlos Richetti, who started with a wild pitch, enabling Van 't Klooster to advance to third base. Balentina then reacted to the new pitcher with an RBI-single through the infield, that made it 2-0.
In the eighth inning, Michiel van Kampen took over for Rob Cordemans and gave up a lead-off single to Davide Dallospedale, then hit next batter Max De Biase on his hand. After it appeared De Biase was able to continue, he was replaced by a pinch-runner after all. But then a double play followed. Van Kampen was relieved by Gregory Gustina, who ended the inning with a comeback grounder.
In the home eighth, Ivanon Coffie walked with two outs, then Raily Legito followed with a 2-run homerun to make it 4-0.
Dave Draijer threw the ninth inning for Manager Robert Eenhoorn, saw a runner reach third base, but he was left there to end the game.
(July 9)
---
Thank you for visiting this site. See you soon!
Mail suggestions and questions to stoov@wxs.nl

Last Update: July 9, 2006
Copyright © 1997-2006 Marco Stoovelaar.