Grand Slam
Baseball Recaps
European Baseball Series
July 10, 2006
Compiled and Copyright © 1997-2006 by Marco Stoovelaar


Italy evens Series again
Nederlands | Box Score | Play-by-Play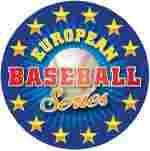 GROSSETO (Italy) - Italy brought the European Baseball Series in balance for the second time, as they won 6-5 in Game Four vs. the Netherlands on Monday-evening.
Italy initially led 5-1, but the Dutch team came alongside in the sixth inning. The winning run was then scored in the eighth inning. The Series continues on Tuesday-evening in Nettuno.
After the first three games on the European Baseball Series were played on Friday, Saturday and Sunday, the Series now shifts to Italy for the remaining three games. In Rotterdam (The Netherlands), the Dutch team won two of the three games, both shutouts. After Sunday's game, the two teams flew to Rome, followed by a busride to Grosseto where tonight's game was played. On a warm, sunny evening, about 27 degrees Celsius, the Dutch team initially was leading 1-0, but then Italy not only came alongside, but took a 5-1 lead, only to see the Dutch squad tie the score in the sixth at bat, then scored the decisive run in the eighth.
The Dutch team got a chance to take charge of the game right away in the first inning, but failed to score then. Veteran Italian starter Riccardo De Santis opened the game by walking the first two batters he faced, Michael Duursma and Eugene Kingsale. But De Santis then got some defensive help, as next next batters Raily Legito and Ivanon Coffie both flied out. Next, the third out was registered on a force play-grounder by Sidney de Jong.
In the third inning, the Dutch team was more successful and took a 1-0 lead. With two outs, De Santis hit Eugene Kingsale and Raily Legito with a pitch, then gave up an RBI-single to Ivanon Coffie. Two runners then stranded when Sidney de Jong flied out.
Italy reacted with three runs in the home third. Dutch starter Nick Stuifbergen struckout four batters, but also gave up nine hits, four of which came in the third. Seth La Fera, the former player of Dutch champion DOOR Neptunus, led off with a double, then advanced to third on a single by James Buccheri. Davide Dallospedale followed with another single on which La Fera scored the tying run. Stuifbergen recovered by striking out hot-hitting Max De Biase, but then gave up a 2-run double to Gino Lollio, who had a great evening offensively with four RBI's.
In the fifth inning, Italy added two more runs to increase their lead to 5-1. Lead-off hitter Luca Bischeri reached base on an error by short stop Raily Legito, then Davide Dallospedale followed with a single. After a flyout, Gino Lollio hit his second 2-run double of the evening to make it 5-1. It marked the end for Nick Stuifbergen, who was relieved by Kenny Berkenbosch, who started with a wild pitch on which Lollio reached third base. Berkenbosch then struckout Dean Rovinelli, but loaded the bases by walking the next two batters, before ending the inning with another strikeout.
After giving up the single to Ivanon Coffie in the third inning, Riccardo De Santis retired seven batters in a row, before giving up a lead-off single to Raily Legito in the sixth inning. This was a productive at bat for the Dutch, as they came alongside on four hits. After De Santis walked next batter Ivanon Coffie, he was relieved by Carlos Richetti, who was hit hard, faced only three batters, gave up three hits and was responsible for all four runs. The two runners he inherited from De Santis would score, as well as two runners he put on base himself. With runners on first and second base, Richetti first gave up an RBI-single to Sidney de Jong, then a 2-run double to Dirk van 't Klooster, who advanced to third base when leftfielder Gino Lollio added an error. Moments later, Van 't Klooster scored the tying run on a single by Johnny Balentina. Richetti was quickly relieved by lefthander Mattia Salsi, who was able to end the inning. First, Balentina was caught stealing, then Bryan Engelhardt popped out and the Salsi struckout Tjerk Smeets, who started at first base tonight. Salsi would allow only two more runners in the remainder of the game.
In the seventh inning, Max De Biase led off for Italy with a single, then tried to advance when the ball went passed rightfielder Dirk van 't Klooster, but was thrown out at second base on a fine throw by the experienced Dutch outfielder.
In the eighth inning, Italy broke the 5-5 tie and re-took the lead. Michiel van Kampen, who had taken over for Kenny Berkenbosch in the sixth, walked lead-off hitter Mario Chiarini, then gave up a bunt-single to Igor Schiavetti. After the two advanced on a sac-bunt by Luca Bischeri, Van Kampen was relieved by Robin van Doornspeek, who loaded the bases with a walk for Seth La Fera. James Buccheri then followed with a grounder on which La Fera was forced out, but enabled Chiarini to score. A flyout ended the inning, but Italy had taken a 6-5 lead.
In the ninth inning, the Dutch team came close to the tying run. First, Bryan Engelhardt hit a foul homerun on the second delivery to deep rightfield, but then struckout. Next, Percy Isenia, who had taken over at first base for Tjerk Smeets in the seventh, drilled the ball into leftfield for a double, but the ball went just foul. Moments later, Isenia also struckout. Harvey Monte was then brought in to pinch-hit for Michael Duursma and singled. Monte was replaced by pinch-runner Danny Rombley, but he stranded at first base, as next batter Eugene Kingsale flied out to end the game shortly after midnight.
(July 10)
---
Thank you for visiting this site. See you soon!
Mail suggestions and questions to stoov@wxs.nl

Last Update: July 10, 2006
Copyright © 1997-2006 Marco Stoovelaar.