Grand Slam
Baseball Recaps
May 27, 2006
Compiled and Copyright © 1997-2006 by Marco Stoovelaar
Saturday, May 27


ADO snaps losing streak vs. Neptunus


Kinheim wins on late comeback


Pirates fails to hold into lead


Almere vs. Pioniers postponed
---

ADO snaps losing streak vs. Neptunus
Nederlands | Line Score | Box Score | ADO's previous game | Neptunus' previous game
Standings | Schedule | All Line Scores & Box Scores
THE HAGUE (Neth.) - With a 2-1 victory on Saturday, ADO ended a 19-game losing streak against DOOR Neptunus, which started in 2002. Besides that, ADO remained unbeaten at home this season, raising its home record to 7-0, while it came alongside Neptunus with the same amount of points. 37 minutes after completion of their game, ADO and Neptunus got company of Corendon Kinheim, which had turned around its game against Mr. Cocker HCAW to win and therefore also got the same amount of points (22) to share first place.

Three years, 10 months and 27 days after winning 6-2 on June 30, 2002, ADO today won its next game against Neptunus. In between, there were 19 consecutive losses. Almost four years ago, Japanese Tetsuhiro Monna led ADO to victory, today it was another Japanese pitcher that did the same, as Akira Okamoto struckout ten batters and gave up only five basehits. In 2002, Jimmy Summers completed the game and earned a save, today, he was in the dug-out as the team's Manager. Three players, who were beaten then by ADO, now wore the ADO-jersey: C Maikel Benner, 1B Percy Isenia and RHP Rob Cordemans (who, just like then, didn't pitch).

While Okamoto did pitch a fine game, Neptunus threatened to score a few times. In the first inning, Benjamin Dille singled, moved on a wild pitch and advanced on a grounder. But after Okamoto had hit fellow Japanese Yuji Nerei, Dille would strand at third base.
In the third inning, Neptunus left the bases loaded. With one out, Johnny Balentina and Raily Legito singled. As Benjamin Dille was hit by a pitch in between, the bases were loaded, but two flyouts followed.
In the fourth, Lennart Koster led off by reaching on an error, but was forced out at second base. Okamoto then retired eleven batters in a row, before finally giving up a run in the eighth inning.

Was Neptunus not successful in moving the runners around, ADO did score runs in their second and third at bat. In the second inning, Kalian Sams was walked by Neptunus-starter Leoš Kubát, who then gave up a single to Marvin Bleij. The bases were loaded when Berry van Driel also walked. Kubát again had problems, as he also walked next batter Shurty Tremus, which gave ADO a 1-0 lead. A force play-grounder ended the at bat, but the problems for Kubát continued in the next inning.
In the third, the Czech righthander walked Maikel Benner, who advanced on a sac-bunt. After Percy Isenia also walked, James Rutherford followed with an RBI-single to make it 2-0. The bases were then loaded when Kubát walked another batter, this time Kalian Sams. Martijn Nijhoff came in to relief Kubát and gave up no more additional runs. He gave up a 2-out triple to Jermaine Esprit in the fourth, but he stranded at third. In the seventh, Esprit led off with a double, but this time was thrown out at third, trying to advance on a grounder.

However, the two runs proved to be enough, as Neptunus would score only once. In the eighth inning, Johnny Balentina led off with a single, then Benjamin Dille was hit by a pitch. Raily Legito followed with an RBI-single that scored Balentina and on which Dille advanced to third base. Next, Dille tried to score on a grounder to short by Yuji Nerei, but was thrown out at home. Evert-Jan 't Hoen then flied out, followed by a strikeout for Lennart Koster. When the at bat ended, there were some words exchanged between the two teams, which suddenly resulted in a bench-clearing brawl. Afterwards, Johnny Balentina (Neptunus) and Marvin Bleij (ADO) were ejected. According to stricter rules, which will be applied for this season, the Head Coaches also will be ejected in situations like these, as they are held responsible for the behavior of their players. So, Home Plate Umpire Henri van Heijningen also ejected Paul van den Oever (Neptunus) and Robert John (ADO). Van den Oever is the Bench Coach in Neptunus' coaching trio, which not lists a Head Coach, while John is listed as the Head Coach for ADO, but Jimmy Summers is the Manager.
In the ninth inning, Robin van Doornspeek, last year closer for Neptunus, completed the game for Akira Okamoto. He struckout the side and earned his fifth save of the season.
(May 27)
---


Kinheim wins on late comeback
Nederlands | Line Score | Box Score | Kinheim's previous game | HCAW's previous game
Standings | Schedule | All Line Scores & Box Scores
HAARLEM (Neth.) - After last Thursday's postponement, Corendon Kinheim and Mr. Cocker HCAW today played the first game of their 3-game series. Trailing 3-1, Kinheim came back with five runs in the eighth inning to win 6-3 and HCAW its sixth loss in a row. For Kinheim, this was their tenth consecutive victory, while it moved into first place.

HCAW had a good start, as it took a 2-0 lead in the second inning. With two outs, Gino Henson was walked by Kinheim-starter Patrick Beljaards. Nick Fridsma, who initially retired after last season, but came back during the exhibition season, followed with a 2-run homerun. This not only was his first homerun of the season, but also his first since 2000, the season in which the wooden bat was reintroduced in Dutch baseball. In the five seasons before that, Fridsma had hit 13 homeruns. Hereafter, Beljaards recovered fine, gave up only three more hits in the next four innings, in which only two HCAW-runners reached second base.
In the meantime, Kinheim was silenced by Nick Stuifbergen, who started his first game of the season. The righthander retired the first eight batters he faced and gave up only two hits in the 5 1/3 inning he pitched, while striking out five. After a comeback grounder resulted in the first out in the sixth inning, Stuifbergen was relieved by Jos de Jong, who allowed two batters to reach base, but ended the inning unharmed.

From the seventh inning, the HCAW-pitching fell apart. In the seventh, Jurjen van Zijl took over, but walked Robin Longhurst, then gave up a single to Wouter Heemskerk. Van Zijl was relieved by Kevin Roovers, who started with a wild pitch, then loaded the bases by walking Denny Beljaards. Next, Cliff Foster, the announced starter for Sunday, became the third HCAW-pitcher in the inning. He faced Danny Rombley, who lined into a double play. With runners on second and third base, the inning appeared to come to an end when René Cremer grounded to third, but third baseman Bart Gabriëls made a throwing error, enabling Longhurst to score. Another grounder did end the at bat.
HCAW got the run back immediately in the eighth inning off Duko Jansen, who had taken over the inning before. Martijn Meeuwis led off with an infield-hit, then the bases were loaded when Bart Gabriëls was hit by a pitch and Sidney de Jong walked. Kenny Berkenbosch grounded to short where René Cremer committed an error and gave HCAW a run. Bas de Jong then grounded into a 3-2-3 double play and a flyout ended the inning.

In the home eighth, Cliff Foster failed to hold onto the lead, as he had control problems and walked five batters, while giving up only one basehit. But Kinheim scored five runs and went on to win 6-3. Foster first walked Tjerk Smeets and Quincy Bernardus. The latter had replaced Jeffrey Verbij in the sixth, who left the game after being hit by a pitch and went to the hospital for a check-up after the game. His status is not known yet. After the two runners moved on a wild pitch, Foster loaded the bases with a walk for Roel Koolen. The righthander then got two quick outs on a strikeout and a flyout. With the bases loaded and two outs and Denny Beljaards in the batter's box, Home Plate Umpire Fred Westerhoff called a balk which moved the three runners and gave Kinheim its second run. But shortly after, that call was reversed, as Foster hadn't made a balk after all, but had stepped off the (because of the dirt invisible) pitching plate backwards, as was confirmed by Field Umpires Fred Groenewegen and Olav Steijger. When the call was reversed, Kinheim's Pitching Coach Eelco Jansen argued the decision and was ejected by 1B Umpire Fred Groenewegen.
It didn't help HCAW, however, as Foster issued a walk to Beljaards to bring in the run after all. He then also walked next batter Danny Rombley, which tied the score, then gave up a 2-run single to René Cremer that gave Kinheim the lead. On the same play, the ball was thrown to home, but when the ball was thrown back to second base, Rombley also scored from third base to make it 6-3. A flyout finally ended the disastrous inning.
In the ninth, Michiel van Kampen, closed the game for Kinheim and earned his third save.
Because Cliff Foster today threw the last two innings in relief, he will not start Sunday's game. Patrick de Lange, who initially was to start on Sunday, but was moved to Tuesday after Thursday's cancelation, now will start on Sunday after all. Foster now probably will start the make-up game on Tuesday.
(May 27)
---

Pirates fails to hold onto lead
Nederlands | Line Score | Box Score | Sparta/Feyenoord's previous game | Pirates' previous game
Standings | Schedule | All Line Scores & Box Scores
ROTTERDAM (Neth.) - Amsterdam Pirates appeared to be en route to their fourth win in a row, taking a 3-0 lead. But Sparta/Feyenoord came back and went on to win 5-3 in a rain-shortened game that lasted seven-and-a-half inning.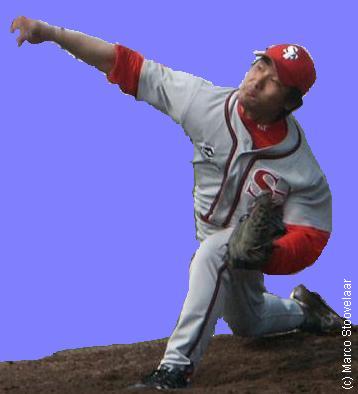 ...Satoru Fujii...
...Complete Game 4-hitter...
(Photo: Marco Stoovelaar)

In the second inning, Pirates took a quick 3-0 lead off Satoru Fujii. The Japanese righthander leads the league in walks with 33, but today added only two and probably pitched his best game of the season. He started the second with a walk for Boudewijn van Elswijk, then gave up a double to Ralph Lagas. After Mark Kan struckout, Björn Henrichs followed with an RBI-single that scored Van Elswijk and moved Lagas to third base. After Henrichs advanced on a fielder's choice, Bobbie van Duuren grounded out, but the two runners were unable to move. They then did move and both scored when rookie Bas Nooij followed with a 2-run single. From that moment on, Satoru Fujii took charge of the game and dominated. In the next six innings, he allowed only two batters to reach base. Fujii retired the next eight batters in a row, before walking Bas Nooij in the fifth, then retired the next four and gave up a single to Ralph Lagas. Hereafter, Fujii retired the next seven batters again and threw his third complete game to earn his second win of the season.

After Pirates-starter Robbert van der Pol had retired the first six Sparta/Feyenoord-batters, he gave up a lead-off double to Patrick Wabbijn in the third inning, followed by an infield-hit from Ramphis Trinidad. The bases were loaded when Earmy Isabella walked. Wabbijn then scored on a sac-fly by Dwayne Kemp. Two grounders ended the inning.
In the fifth, Sparta/Feyenoord added another run, while it started to rain. With one out, Ramphis Trinidad singled and stole second base. The bases were loaded again when Earmy Isabella and Dwayne Kemp walked. Again, a sacrifice fly would account for the run, this time by Nick Eppinga. Van der Pol re-loaded the bases when he walked Sjoerd Hermans and was relieved by rookie Kevin Gerard, who made his first pitching appearance of the season. Gerard is one of the infielder on the Pirates-roster, but has pitching experience, as he threw last season in Pirates-2 in the First Division. Head Coach Louis Hofer was forced to go to Gerard, as three pitchers are on the disabled list and he needs every available arm in this 3-game series. With the bases loaded, Gerard struckout Rutger Veugelers to end the inning.

In the sixth inning, Sparta/Feyenoord scored three runs to take a 5-3 lead when Head Coach Wim Martinus opted for some bunts. Jeffrey Sprott led off with a double, then scored the tying run when first baseman Ralph Lagas made a throwing error on sac-bunt by Jeroen Hermans, who advanced to second base. The same happened on a sac-bunt by Patrick Wabbijn. The ball was bunted back to Kevin Gerard, who also made a throwing error, enabling Hermans to score the go-ahead run and put Wabbijn on second base. Another sac-bunt followed, but this time Ramphis Trinidad was thrown out, but it brought Wabbijn to third base. Wabbijn then scored on a single by Earmy Isabella, after which the inning ended on a pop-fly and a groundout, but Sparta/Feyenoord had taken a 5-3 lead.
Hereafter, it started the rain harder and after completion of the Pirates-eighth, the umpire crew decided to stop the game, as both the weather conditions and the field became unplayable.
(May 27)
---

Almere vs. Pioniers postponed
Nederlands | Almere's previous game | Pioniers' previous game
Standings | Schedule | All Line Scores & Box Scores
ALMERE (Neth.) - The evening-game between Instant Holland Almere '90 and Konica Minolta Pioniers had to be canceled when it started to rain close to game time. The game was re-scheduled for next Tuesday.

After completion of batting practice, it started to rain hard in Almere, forcing to cancel the infield/outfield practice. It also meant the game would not start at the scheduled time of 7:30. A 30-minute delay was announced, but it became clear that the field became unplayable, and the game was canceled.

The field already was not in good condition after the covering blankets were blown away last Wednesday. In the days thereafter, it also had rained, meaning the covering clay on the infield had become soft. Rumors had it that cancelation of the game already was to be announced on Friday, because of the field conditions, but that didn't happen.
(May 27)
---
Thank you for visiting this site. See you soon!
Mail suggestions and questions to stoov@wxs.nl

Last Update: May 27, 2006
Copyright © 1997-2006 Marco Stoovelaar.