André Prins new Head Coach Gryphons
Nederlands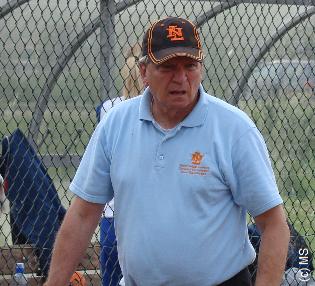 ...André Prins...
...Head Coach Gryphons...
(© Photo: Marco Stoovelaar)

ROSMALEN (Neth.) - Experienced coach André Prins is the new Head Coach of Gryphons, which ended up short in the Promotion/Relegation Play-Offs vs. Olympia Haarlem and therefore will play again in the First Division next season. At Gryphons, Prins succeeds his wife Mariana Prins-Atanasova, who led the team for one season and will remain with the squad as its Team Manager. Wout Isbouts, who was the Assistant Coach this season, will also assist Prins in the new season.

Last season, Gryphons relegated from the big league when it also faced Olympia Haarlem in the Promotion/Relegation Play-Off. Olympia won this series and took the spot of Gryphons in the big league. This season, Gryphons finished in second place in the First Division with a 24-12 record, 14 points behind champion Alcmaria Victrix, which promoted automatically to the big league. After losing the first two games of this years Promotion/Relegation Play-Off, Gryphons made it a tense day last Saturday in the next two games. In the opener, Gryphons came back from a 7-1 deficit to win 13-10 and force a fourth game. In the next game, Gryphons lost only 9-8, meaning Olympia won the series 3-1 to remain in the big league, while Gryphons therefore remained in the First Division.
André Prins is a veteran coach with a long career in coaching and instructing. He became first known as an umpire, officiating in both the Dutch baseball and softbal big leagues. Prins, who started umpiring in 1968, went on to become a respected international umpire and is the lone umpire to officiate in a World Championship on both the senior and junior-level in both basebal and softball, which of course is an unique combination. In 1980, he was an umpire during the World Junior Softball Championship in Canada and was the Home Plate Umpire in the final. He then was an umpire during the World Softball Championship in Taiwan. In 1984, André Prins switched from softball to baseball and then again was an umpire in both World Championships. In 1986, he was one of the umpires during the World Championship Baseball in The Netherlands, then in 1994, he again traveled to Canada, this time for the World Junior Baseball Championship. Prins has another unique feat, as in 1978, in Binghampton, he was the only non-American umpire to officiate during the 'Nationals', the final tournament for the American Softball Championship. After a brief umpiring career in American Football, Prins (who also has been an international billiard referee) returned to baseball in 1991, then was the softball umpire commissioner for the Dutch Federation in 1992-1995. After he initially retired as an umpire in the nineties, he returned in 2002, but retired again in 2004.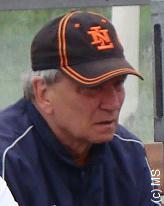 ...André Prins...
(© Ph: Marco Stoovelaar)

While umpiring, Prins also started to coach and through the years, he coached and instructed several clubs. Besides that, the last years, he was active abroad in coaching and giving clinics. In 1972, Prins was the coach of Westerkwartier in The Hague. He later also coached other teams from the area of The Hague, including Storks, VUC and Wassenaar. But he also coached Rotterdam-based Neptunus, then with Sparta, Prins coached in the Dutch Softball big league.

Prins became the Head Coach of Moscow-based team Carrousel, as well as the Russian National Team, whom he led to second place during the European Championship in 2003. In 2005, Prins as a member of the coachingstaff of both the Dutch National Women Team and the Dutch Youth Team as its Pitching and Hitting Coach, while also being the Manager of the Dutch Junior Team. From 2005-2009, Prins was involved in all national youth softball-teams, as its Manager. In 2007, he led the Junior-team to its first-ever Play-Offs during the World Junior Championship in Enschede (Netherlands), captured the European title with the Dutch Cadets Team in Plzen (Czech Republic) and won the Kingdom Games in The Hague (Netherlands) with the Under-18 team the same year. In 2008, his National Junior Team won the European Championship in Deggendorf (Germany). Last year, a highlight in his coaching career came when the Under-16 Team surprised during the first-ever World Championship Under 16 in Prague (Czech Republic) by reaching the final, then settled for the silver medal after losing 15-0 to Japan. At Alkmaar (Netherlands), Prins also led the Dutch Cadets Team to the final of the European Championship last year, but lost the final 3-1 to Russia.

For his involvement in player development, André Prins received the Nol Houtkamp Award in 2005. In October of the same year, he was elected into the Hall of Fame of the International Softball Federation.

In November last year, it was initially reported erroneously on this site that Prins would become the Technical Manager of Gryphons. While Prins was active fro Gryphons on the background, he wasn't involved in coaching the team this year. However, Prins did a lot of coaching and instructing other teams this year, traveling around in Europe. In the Summer, he had a busy schedule, traveling to the Ukraine, Belarus, Bulgaria, the Czech Republic, Italy and Austria.

While André Prins has agreed to become the Head Coach of Gryphons, he will conduct pitchingtraining-sessions at Euro Stars, but also keeps the options to coach National Teams.

(October 1)