Sparks evens Series to prolong season
Nederlands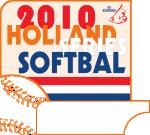 ENSCHEDE (Neth.) - Sparks Haarlem won 6-2 on Saturday-afternoon vs. Tex Town Tigers to even the best-of-five Holland Series at one game apiece. With this, the Haarlem-team prolonged the 2010 season, as a fourth game will be needed to decide the championship. Game Three will be played on Sunday at Haarlem, Game Four is scheduled for next Saturday at Enschede.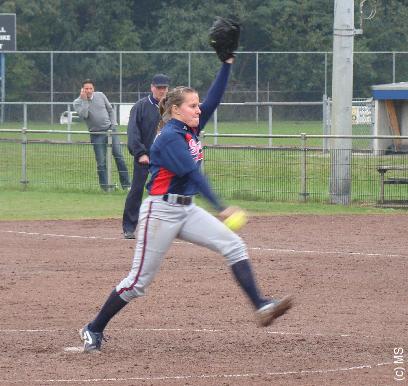 ...Winning pitcher Kirsten Scheele...
(© Photo: Marco Stoovelaar)

With the loss, Tex Town Tigers' 5-game winning streak in the Holland Series ended. The reigning champion lost its last game on October 12, 2008, when it was beaten 9-5 by Sparks Haarlem in Game 3, which was also played in Enschede. For Sparks, this was their 23rd Holland Series-victory in 48 games (including games played by predessor HHC).

What does the history of the Holland Series tell when a team that opens with a victory is beaten in the next game? In the 24 previous Holland Series, this happened six times. But the outcome is undecided, as three teams that opened with a won, then lost Game 2, went on to win the title. On the other hand, three teams that won Game 2 after losing the opener, also captured the title. This means, that the current series will make a difference.

On Saturday, the Tex Town Tigers-defense committed five errors, which is its hightest total this season. In the regular season, as well as the postseason, the Enschede-team had four games in which in made two errors. Today's errors contributed to three unearned runs.

The first four innings went by quickly. Sparks Haarlem reached base four times in that period and stranded three runners in scoring position. Tex Town Tigers reached base only twice and both runners were left on first base. TTT-pitcher Lindsey Meadows walked Chantal Versluis in the first inning, but she was left at first base. Sparks then got its first scoring opportunity in the second inning when Noémi Boekel singled and stole second base, but stranded there. In the fourth, the Haarlem-team got runners on second and third base with two outs. Kim Kluijskens led off with a single and advanced on a sacrifice bunt by Debby Connor. She then moved to third base when an error was made on a grounder by Marloes Fellinger, who then moved on a grounder by next hitter Noémi Boekel, but a flyout ended the inning. Sparks-pitcher Kirsten Scheele retired the first eight batters she saw, before giving up a 2-out single to namesake Kirsten Holshof. In the fourth, Karin Tuk singled for TTT with two outs, but also would strand on first base.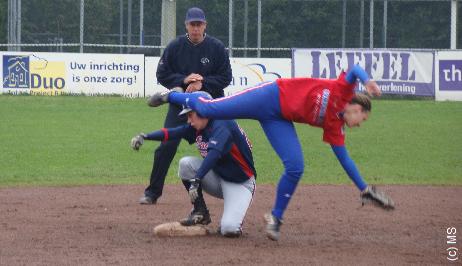 ...Areke Spel arrives safely at 2nd base...
...in the 5th inning after a throwing error...
(© Photo: Marco Stoovelaar)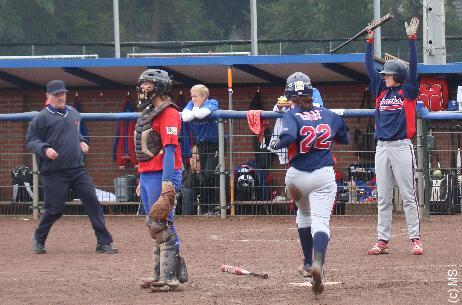 ...Moments later, Areke scores the first run...
(© Photo: Marco Stoovelaar)

Sparks Haarlem then opened the score in the fifth at bat. Areke Spel led off with a single, then advanced on a grounder by Kim Kafoé, which ended in an additional throwing error by pitcher Lindsey Meadows that enabled Spel to go all the way and score the first run. Kafoé, who ended up on second base, then scored the second run on a 2-out single by Kim Kluijskens.

Sparks added four runs (one earned) in the sixth inning on three hits, while the TTT-defense added three errors. Noémi Boekel led off with a walk, then Nathalie Gosewehr followed with a single. Next, a throwing error was made on a sacrifice bunt by Areke Spel, which enabled Boekel to score and gave Sparks runners on second and third base. After a strikeout accounted for the first out, Saskia Kosterink singled in the next run. A pop-fly followed, then Kosterink stole second base, resulting in a throwing error and because of this, Spel was able to score the next run. Kim Kluijskens, who was 3-for-4, then followed with a double to make it 6-0.

Sparks was then silenced in the seventh inning by Ginger de Weert, who took over the pitching. She walked one batter, but also struckout three.

In the meantime, Sparks-pitcher Kirsten Scheele dominated and threw a 3-hitter. The two hits she gave up in the third and fourth inning would be the lone two for TTT in six innings. The righthander retired 18 of the first 20 batters in the first six innings, including 10 of the last 11.

In the seventh, that streak ended and TTT scored twice. Scheele walked lead-off hitter Virginie Anneveld, who then scored all the way from first base on a double by Karin Tuk. The latter then advanced on a grounder by pinch-hitter Dinet Oosting. After Nadine Marinus also walked, Tuk scored on a sacrifice fly by Meike Witteveen, but then a flyout ended the game.

OK, you want another Holland Series-fact?
This was the second game in this years Holland Series and 40th overall that was won by the visiting team. The visiting team won 40 of the 83 games played in Series-history! Since the 2001 Series, 21 of the 36 games played in a Holland Series were won by a visiting team, meaning only 15 were won by the home team! So, how about home advantage? There has been only one Holland Series in which all games were won by the home team and that was accomplished in 1983 during the second Series in history. Back then, the final was a best-of-3 with Terrasvogels winning its two home games vs. DSS, which won its home game.

The last time, Sparks Haarlem won a home game in a Holland Series was on October 14, 2006 when it shutout Terrasvogels 1-0 to win the championship. The next year, Sparks was swept by Terrasvogels, then lost both home games during the 2008 Series vs. Tex Town Tigers.

(October 2)

...Noémi Boekel slides into third base in the 6th inning...
...but, after getting up quickly, she continued running...
...and scored on a throwing error...
(© Photo: Marco Stoovelaar)

...Saskia Kosterink takes off...
...from second base in the 6th inning...
(© Photo: Marco Stoovelaar)

...This young fan played his own game...
(© Photo: Marco Stoovelaar)

...Virginie Anneveld runs towards third base...
...en route to scoring the first TTT-run in the 7th inning...
(© Photo: Marco Stoovelaar)

...Karin Tuk and Noémi Boekel exchange views...
...after the first doubled in the 7th inning...
(© Photo: Marco Stoovelaar)

...Sparks' Head Coach Juny Francisca has a talk...
...with his infield in the 7th inning...
(© Photo: Marco Stoovelaar)