Sparks Haarlem takes lead in Series
Nederlands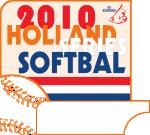 HAARLEM (Neth.) - Sparks Haarlem on Sunday-afternoon clubbed 14 basehits, while Tex Town Tigers was held to only two, as Sparks shutout the reigning champion 4-0 to take a 2-1 lead in the best-of-five Holland Series. Game Four will be played next Saturday in Enschede. If needed, a fifth game will follow on Sunday at Haarlem.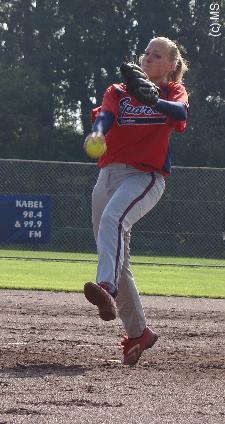 ...Dagmar Bloeming...
...2-hitter...
(© Photo: Marco Stoovelaar)

Sparks-pitcher Dagmar Bloeming threw a great game, giving up only two basehits in the second inning and walking a batter in the fourth, but that was it. The righthander needed only 78 pitches and threw only 13 in the last two innings! After retiring the side in the first inning, Bloeming gave up a lead-off single to Karin Tuk in the second inning. With two outs, Mieke Smit-van der Zwaan also singled, but that was to be the second and last basehit for Tex Town Tigers. Bloeming then struckout Martina Lackner and retired six in a row and 16 of the next batters she faced in the remainder of the game, interrupted only by walking Nadine Marinus with two outs in the fourth at bat. The last 10 batters were then retired again, including seven on a groundout.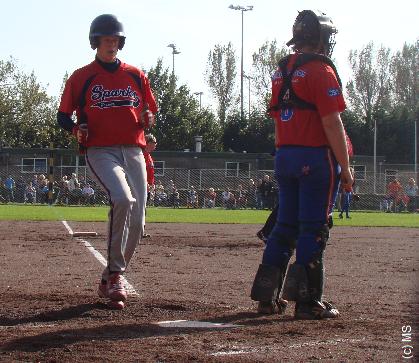 ...Saskia Kosterink scores the first run...
...in the second inning...
(© Photo: Marco Stoovelaar)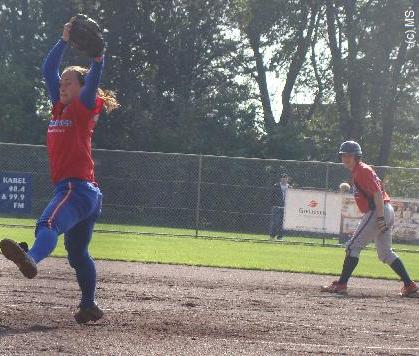 ...Noémi Boekel, who singled in Saskia...
...on second base with Martina Lackner pitching...
(© Photo: Marco Stoovelaar)

Offensively, Sparks was very productive today with 14 basehits and had its best game with the bat so far in the postseason. It even was the highest total for the team this season, except for the 16 basehits they hit on August 7 in Game 1 vs. Euro Stars on the last day of the regular season. Sparks, which led the league with 266 hits, had 13 games with 10 or more basehits, including the regular season, ranking round, Play-Offs and Holland Series.

Sparks was off to a good start right away, but didn't score yet in the first inning off starting pitcher Martina Lackner. With one out, Chantal Versluis walked, but then was thrown out at third base trying to advance on a single by Kim Kluijskens and then a flyout ended the inning.

The home team then opened the score in the second at bat. Saskia Kosterink, who was 1-for-6 in the first two games, led off with a double into deep leftfield, barely missing a homerun. She then scored the first run on a single by next hitter Noémi Boekel, who herself advanced on an outfield-error. An one-out single by Areke Spel brought her to third base, but then two outs followed.

Sparks added two runs in the fourth inning off new pitcher Ginger de Weert. Saskia Kosterink led off with a single, then the bases got loaded when Noémi Boekel walked and Marloes Fellinger reached on a bunt-single. With one out, Kim Kafoé singled in two runs, but Fellinger was thrown out at third base trying to advance. A grounder ended the at bat, but Sparks had taken a 3-0 lead, which was commanding at that moment, as Dagmar Bloeming dominated as pitcher.

The fourth run was then scored in the fifth inning. But while the first four batters hit a basehit, only one run was scored. Chantal Versluis led off with a triple down the rightfield-line, then Kim Kluijskens reached on a bunt-single, but Versluis was unable to score on this. Next, Debby Connor singled to bring in Versluis and then the bases got loaded when Saskia Kosterink also singled. But after a strikeout, Kluijskens was forced out at home on a grounder to short by Marloes Fellinger, then another strikeout ended the inning.

In the sixth, Chantal Versluis (who was 3-for-3) and Kim Kluijskens (who was 3-for-4) again singled, but this time the two were left behind. Saskia Kosterink was 3-for-3 and will return to Italy on Monday, where she still has some games to play for Sanotint Bollate for the Italian Cup. Because of this, she will not be able to play for Sparks coming weekend.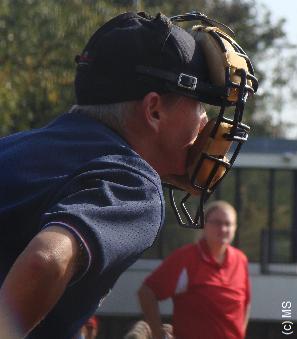 ...Home Plate Umpire...
...Carolien Stadhouders...
(© Photo: Marco Stoovelaar)

In the top of the seventh inning, Dagmar Bloeming retired the side for the fifth time in this game and third inning in a row to end the game.

The Holland Series-facts of today.
For Sparks Haarlem, this was their seventh shutout-victory in 24 wins in 49 Holland Series-games. In those seven shutout-wins, today's Home Plate Umpire Carolien Stadhouders was active in five of those games, including four behind the plate! The first of these games was Game 2 of the 1999 Series when Sparks registered its first Holland Series-shutout. By the way, today's 3B Umpire Peter Vonk was the 1B Umpire in that game eleven years ago, while the 3B Umpire in that game, Bert Loggen (who currently is the Umpire Commissioner) and Official Scorer Huub Nelissen today were in attendance. For the record, the other umpires who were behind the plate in the remaining three shutouts were Boyd Suk, Bob Krijnen and Rob Veldkamp (who today was the 1B Umpire). Arie Nokkert (3 games), Hans Hornstra, Bob Gieskens and Albert Tolen also officiated during these earlier shutouts.

This was Sparks' first home victory and first shutout in a Holland Series since they won 1-0 vs. Terrasvogels on October 14, 2006 in Game Four. Eh, yes, Carolien Stadhouders also was behind the plate in that game and today's Official Scorer Pieter van der Ploeg also did the scoring four years ago.

Since the best-of-5 format was introduced in 1990, this marks the tenth time that a team is leading 2-1. In seven of the nine previous Series with this situation, the team that led 2-1 also went on to win Game Four to win the title. On two occassions, the team that trailed 2-1 was able to come back and win both Game 4 and Game 5 to capture the championship.

(October 3)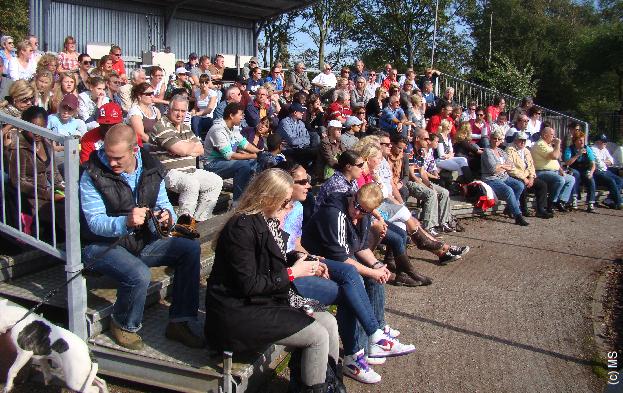 ...Today's game was well-visited...
(© Photo: Marco Stoovelaar)

...Ginger de Weert, who took the pitching...
...for Tex Town Tigers in the 4th inning...
(© Photo: Marco Stoovelaar)

...Sparks-Coach Juny Francisca has a talk with...
...Saskia Kosterink, Noémi Boekel and Areke Spel...
(© Photo: Marco Stoovelaar)

...Kim Kafoé on second base after her 2-run single...
...in the fourth inning...
(© Photo: Marco Stoovelaar)

...Debby Connor singles in the fourth run...
...in the fifth inning...
(© Photo: Marco Stoovelaar)

...Chantal Versluis scores the fourth run...
...on the single by Debby Connor...
(© Photo: Marco Stoovelaar)

...Kim Kluijskens is forced out at home in the fifth inning...
...Catcher Karin Tuk tries to complete a double play at 1st base...
(© Photo: Marco Stoovelaar)

...Hundreds of spectators watched Game Four of the Holland Series...
(© Photo: Marco Stoovelaar)