Euro Stars hands Juniors two small losses
Nederlands

SCHIEDAM (Neth.) - Euro Stars handed the Dutch Junior Softball Team two small losses on Thursday, 7-4 and 4-1.

In the opener, the game was scoreless for three innings, with both teams leaving one runner, but then Euro Stars scored twice in its fourth at bat. Kim Donkers led off with a single, advanced on a grounder, then scored when Anouk van den Heuvel tripled. Next, Davinia de Kwant also singled to bring in the second run.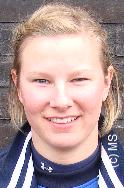 ...Kirsten Molle...
...3 hits...
(© Photo: MS)

In the Junior-fifth, Marisèla de Wind walked, but stranded, then Euro Stars scored four more runs to take an apparent big lead. Kirsten Molle, Michelle van Driel and Ellen Venker all singled to load the bases, then Kim Donkers connected for the fourth consecutive single to bring in a run. Hereafter, an error was made on a grounder by Daisy Verstappen to bring in two more runs. A grounder by Anouk van den Heuvek then accounted for the fourth run in the at bat and a 6-0 lead.

In the top of the sixth inning, the Dutch Juniors brought the tension back into the game by scoring four runs on four basehits off American starter Laura Belardinelli. Noëmie Brandjes led off with a single and stole second base. After Jessie van Aalst was hit by a pitch, Dinet Oosting followed with an RBI-single. Next, Mariëlle Vleugels brought in another run with a bunt-single, then, with two outs, Marisèla de Wind tripled to bring in two runs and narrow the deficit to 6-4.

In the home of the sixth, Euro Stars added an insurance run. With one out, Kirsten Molle doubled, then scored thanks to a single by Ellen Venker. Euro Stars collected 10 basehits, including three by Kirsten Molle, who was 3-for-3 with a double and scored twice.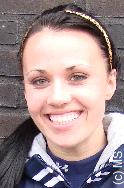 ...Laura Belardinelli...
...3-run double...
(© Photo: MS)

In Game Two, the Juniors took an 1-0 lead in the second inning. Euro Stars-pitcher Daisy Verstappen then walked lead-off hitter Mariëlle Vleugels, who advanced on a sac-bunt by Marisèla de Wind and scored on a single by Debby Barbé. Junior-pitcher Laura Treurniet gave up one hit to Euro Stars in the first three innings, but then gave up three more, resulting in four runs in the fourth at bat. With Kim Donkers (error) and Anouk van den Heuvel (single) on second and third base and one out, a grounder by Davinia de Kwant produced no outs, but a run. Next, the bases were loaded when Daphne Endlich reached on a bunt-single. Laura Belardinelli then cleared the bases with a 3-run double to make it 4-1.

The Juniors got two more runners on base in the fifth when Debby Barbé and Marit van Vulpen singled, but both were left behind. In the seventh, Laura Treurniet singled and Van Vulpen walked, but also stranded. Euro Stars failed to add more runs in its fifth, leaving three runners.

(May 5)

Line Scores, Box Scores & Play-by-Plays