Comeback, tiebreak win Tex Town Tigers forces 5th game!
Nederlands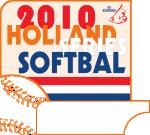 ENSCHEDE (Neth.) - Reigning champion Tex Town Tigers was four outs away from being dethroned by Sparks Haarlem on Saturday, but then tied the score and went on to win 4-3 in the eighth (tie-break) inning to even the best-of-five Holland Series at 2-2 and force a fifth and deciding game, which will be played on Sunday-afternoon at 2 PM at Haarlem. Tex Town Tigers trailed 2-0 in the fourth, then 3-1 in the fifth and 3-2 in the sixth, but managed to come back. Two outs at home in one situation in the fourth inning proved to be very costly for Sparks. The Haarlem-team then appeared to add an insurance run nevertheless an inning later, but in the end stranded too many runners and was left empty-handed on this bright, sunny day.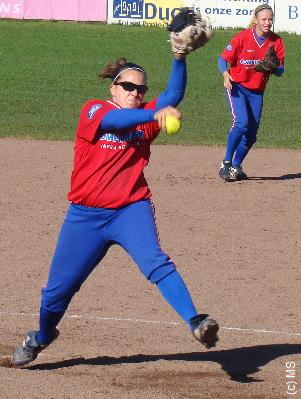 ...Winning pitcher Lindsey Meadows...
...In the back is 2B Lynn Dollekamp...
(© Photo: Marco Stoovelaar)

Sparks Haarlem was off to a good start. TTT-pitcher Lindsey Meadows walked lead-off hitter Nathalie Gosewehr, who then stole second base with one out. She then scored the first run when a drive by Kim Kluijskens was missed in leftfield to give Sparks an early 1-0 lead. Tex Town Tigers was close to coming alongside right away in its first at bat. Sparks-starter Kirsten Scheele gave up a lead-off double to Merel Oosterveld, who then advanced to an additional error in centerfield. But she would strand on third base, as next batter Dinet Oosting grounded back to Scheele, then Virginie Anneveld lined out to 1B Kim Kluijskens and a strikeout ended the at bat.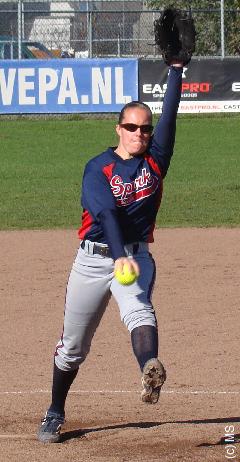 ...Sparks-starter...
...Kirsten Scheele...
(© Photo: Marco Stoovelaar)

In the second inning, Areke Spel singled with one out and stole second with two outs, but was left. After Kirsten Scheele retired the side in the TTT-second, she was supported with a second run, as Nathalie Gosewehr led off the third inning with a homerun over the leftfield fence, but again left two runners. After the homerun, the next two hitters were retired, but then Debby Connor and Noémi Boekel singled. However, a flyout then ended the inning.

Tex Town Tigers was retired again in order in the home of the third and then a crucial fourth inning followed for Sparks Haarlem. Lead-off hitter Areke Spel reached on an error, then Kim Kafoé followed with a bunt-single. But despite having the first two batters on base with no outs, the baserunning in this inning went TTT's way. First, the two runners advanced to second and third on a sac-bunt by Kinge Bouma. But then things went wrong. Spel was thrown out at home on a grounder to short stop Virginie Anneveld, which also led to another out at home. Kafoé advanced to third on the grounder, but then the throw from the catcher to third (after Spel was eliminated at home) trying to eliminate her ended up in leftfield. Kafoé was sent home, but leftfielder Kirsten Holshof covered the action correctly and threw the ball back to catcher Karin Tuk, who had time enough to tag out Kafoé at home for the second out in this action and third to end the inning.

The double play triggered the comeback of Tex Town Tigers and that showed in the home of the fourth, as Karin Tuk homered over the centerfield fence with two outs to narrow the defict to 2-1. The homerun came after Kirsten Scheele had retired the previous eleven batters after the lead-off double in the first inning. Sparks Haarlem then appeared to score an insurance run in the top of the fifth inning, but again stranded a runner. Chantal Versluis led off with a single, advanced on a sac-bunt by Kim Kluijskens and then scored on two consecutive passed balls. After a strikeout, Noémi Boekel walked and stole second, but then another strikeout followed.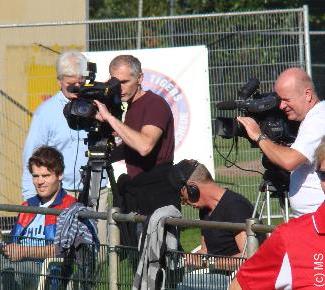 ...TV Oost covered the game...
(© Photo: Marco Stoovelaar)

Tex Town Tigers then got another run back in its fifth. Lead-off hitter Nadine Marinus reached on an error, then beat the throw to second base on a force play-grounder by Meike Witteveen. The two advanced on a sac-bunt by Mieke Smit-van der Zwaan and Marinus then scored on a sacrifice fly by Kirsten Holshof to make it 3-2.

In the sixth inning, Sparks Haarlem left its seventh baserunner. With two outs, Kinge Bouma singled, but stranded at first base, as a flyout ended the at bat. In the home of the sixth, TTT came alongside, but then also its baserunning resulted in an out at home. Dinet Oosting led off with a double over centerfielder Nathalie Gosewehr, then moved on a grounder by Virginie Anneveld. With two outs, Lindsey Meadows doubled to rightfielder Areke Spel and it was a complete new ballgame, as the score was tied at 3-3. It marked the end for Kirsten Scheele, who was relieved by Dagmar Bloeming. She was greeted with a single by Nadine Marinus into leftfield. Meadows advanced to third base, was waved home, but then was thrown out at home by leftfielder Kinge Bouma, as she tried to score, ending the inning.

As both teams were retired in order in the seventh inning, the game went into extra innings. Rebecca Soumeru pinch-ran at second base for Sparks as the tie-break runner and advanced on a sac-bunt by Noémi Boekel, but then Lindsey Meadows struckout Marloes Fellinger and Areke Spel to end the inning. In the home of the eighth, Kirsten Holshof was the tie-break runner. Tex Town Tigers didn't opt for the almost automatic sacrifice bunt to move the runner to third base, but choose to hit and that worked. Merel Oosterveld doubled through the infield into left-centerfield to bring home Holshof with the winning run and force a fifth and deciding game.

The 2010 season will last another day!

(October 9)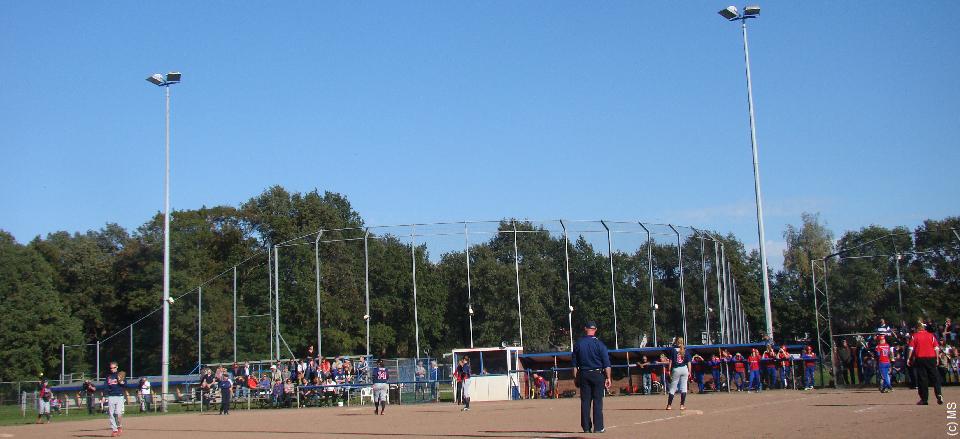 ...Today's game was played under a bright blue sky...
(© Photo: Marco Stoovelaar)

...Nathalie Gosewehr connects in the third inning...
(© Photo: Marco Stoovelaar)

...and hits a homerun...
(© Photo: Marco Stoovelaar)

...Areke Spel is eliminated at home in the fourth inning...
(© Photo: Marco Stoovelaar)

...as is Kim Kafoé moments later...
(© Photo: Marco Stoovelaar)

...Home Plate Umpire Peter Vonk...
(© Photo: Marco Stoovelaar)

...Karin Tuk is welcomed after her 4th inning homerun...
(© Photo: Marco Stoovelaar)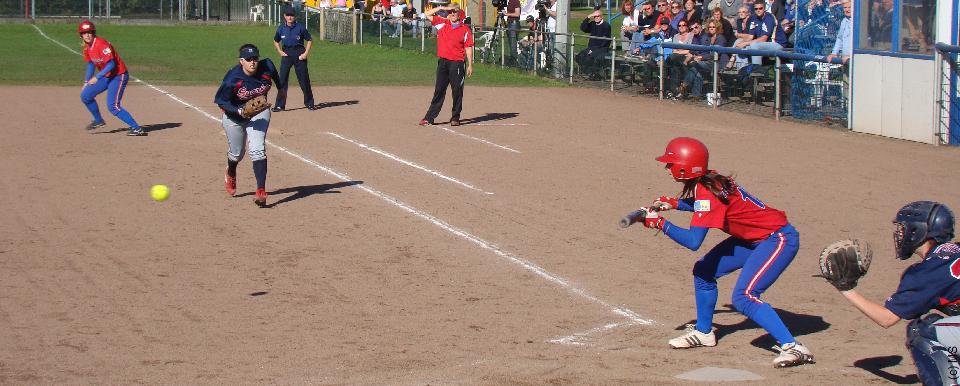 ...Meike Witteveen turns for a bunt with Nadine Marinus running at first base in 5th inning...
(© Photo: Marco Stoovelaar)

...Sparks Coach Juni Francisca has a meeting...
(© Photo: Marco Stoovelaar)

...Nadine Marinus scores the 2nd TTT-run in the fifth...
(© Photo: Marco Stoovelaar)

...Virginie Anneveld grounds out, but moves...
...Dinet Oosting in scoring position in 6th...
(© Photo: Marco Stoovelaar)

...Meike Witteveen shows it's 'Time to hit' to...
...Lindsey Meadows, who doubles in the tying run...
(© Photo: Marco Stoovelaar)

...Merel Oosterveld doubles in the winning run...
...in the eighth inning...
(© Photo: Marco Stoovelaar)

...Kirsten Holshof scores the winning run...
...and is welcomed by her teammates...
(© Photo: Marco Stoovelaar)