Centrals takes lead; Dutch Juniors make big league-debut
Nederlands

DE BILT (Neth.) - History was written on Sunday, April 11, as the Dutch National Junior Team made its debut in the Dutch big league for the first time in history. For the national youth team, the games are part of the selection process en route to the European Junior Championships this Summer in Vienna (Austria), but they are valid games in the Dutch big league and therefore will be of influence for the opponents, as a victory or loss against the Juniors may be very valuable for the eventual final ranking. Centrals won both games, 3-1 and 12-2, and therefore are 3-1 after the first weekend to become the season's first league-leader.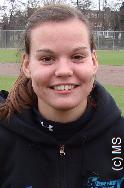 ...Anne Blaauwgeers...
...4 hits, 5 runs...
...5 stolen bases...
(© Photo: MS)
Dutch Juniors vs. Centrals, 1-3, 2-12 (5)

In the opening game, Centrals opened the score in the first inning when Anne Blaauwgeers led off with a bunt-single, advanced to third base on a single by Kimberly van der Lee and scored on a force play-grounder by Amber Dammers. Two runs were added in the second at bat. With one out, Silea Bos singled and stole second base. With two outs, Anne Blaauwgeers walked and the bases got loaded when Lotte Holvast reached on a single. Next, Kimberly van der Lee lined the ball into leftfield for a 2-run single and a 3-0 lead. The bases got loaded again when an error was made, but then Junior-hurler Mariëlle Vleugels struckout the nex batter to end the inning. In the remaining five at bats, the righthander would give only two more additional basehits and threw five shutout innings in which only one more player reached third base.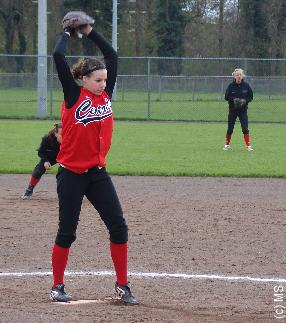 ...Eva Voortman...
...2nd victory...
(© Photo: MS)

The Dutch Juniors scored their run in the second inning. Marisèla de Wind led off with a single off Canadian starter Molly Yetman, which was followed by a single by Debby Barbé and a runscoring error on a grounder by Dinet Oosting. In the fourth inning, Debby Barbé doubled with two outs and stranded, but the Juniors were close to another run in the seventh. Dinet Oosting then led off with a triple, but a strikeout, grounder and pop-fly ended the game.

In Game Two, Centrals again scored its first run in the opening at bat when Anne Blaauwgeers singled, stole second and third base and scored on a sac-bunt by Lotte Holvast. The Dutch Juniors got the run back immediately in its first when Kimberly Jones led off with a single, stole second base and scored on a 2-out single by Marisèla de Wind.

Centrals re-took the lead in the second inning by scoring two runs. Marieke Brouwer led off with a double and Nikki Harte followed with a single, then a grounder by Maaike Blaauwgeers and a wild pitch led to two runs. Centrals then took charge of the game with a 7-run rally in the third inning, which started with a lead-off triple by Kimberly van der Lee, who later in the at bat added a 2-run single. Two more runs were scored in the fifth inning. Maaike Blaauwgeers and her twin-sister Anne both singled and both scored on a double by Lotte Holvast. Anne reached base seven times in this double-header, collecting four basehits. She stole five bases (four in Game 2) and scored five runs.

The Juniors scored their second run in the fourth inning. With one out, Dinet Oosting reached on an infield-hit, then advanced to third base on a throwing error and scored on a fielder's choice. The Juniors registered four basehits off lefthander Eva Voortman, who herself is a member of the Junior-squad, but went the distance for her clubteam Centrals. She struckout five batters and earned her second win of the weekend.

Line Scores, Box Scores & Play-by-Plays

Go for a complete lookback of this double-header with photos to the site of the Dutch National Softball Teams (in Dutch)