Tex Town Tigers lost experience
Nederlands

ENSCHEDE (Neth.) - Tex Town Tigers, which won the Dutch championship title in 2008 and 2009, reached the Holland Series again this year, but then was dethroned in five games by Sparks Haarlem.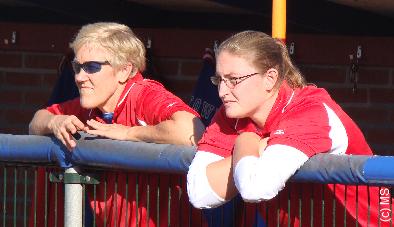 ...Head Coach Karly McKormack (right) and...
...her Assistant Coach Ingrid Oosterveld...
(© Photo: Marco Stoovelaar)

After completion of this season, in which the team won the European Cup, Tex Town Tigers lost several experienced players, as some players moved to the western part of the country, due to study, and therefore decided to play there. As a result, the team will have a facelift next season.

No (new) players have been added to the roster yet, while the team also is still without a coaching staff. After completion of the season, it was confirmed that American Head Coach Karly McKormack will not return, while Assistant Coach Ingrid Oosterveld stepped down. The latter also initially stopped after the 2009 season, but decided to come back again earlier this year to assist the new Head Coach. At the moment, Tex Town Tigers is searching within the club for a successor of McKormack. This will mean that the team will be guided by its fourth new Head Coach in four years. This season, McKormack succeeded Kaleo Eldredge, who this year coached and played in Germany. The latter had taken over in 2009 from Monti VanBrunt, who this year was the Head Coach of the baseball-team of Tex Town Tigers.
Five players will not return to Enschede next season, being Righthanded Pitcher Lindsey Meadows, Righthanded Pitcher Ginger de Weert, Catcher/Infielder Dinet Oosting and Infielders Virginie Anneveld and Meike Witteveen. Besides, the team will have to do without Short Stop Britt Vonk, who is studying and playing in the USA through May.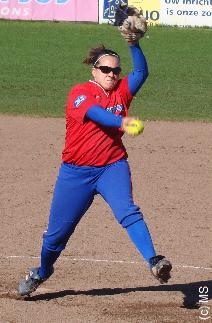 ...Lindsey Meadows...
(© Ph: Marco Stoovelaar)

Righthanded Pitcher Lindsey Meadows has been a more than valuable member of the Tex Town Tigers-team since she played in her first game in 2005, but will try her luck next season in Italy. In her six seasons with the club, Lindsey led the team in hitting and pitching and played a major part in guiding the squad to the top of the league, which eventually led to two Dutch championship titles and the winning of the European Cup this season. Except for her first season, Lindsey batted above .300 in the next five seasons. In 2007, she led the team in Runs (23), was second in RBI's (18) and third in Hits (35). A year later, she led in Batting Average (.480), Runs (31), Hits (49) and Doubles (15) and last season, Lindsey was the Best Hitter again (.425), led in RBI's (25) and Doubles (8) and was second in Hits (37). This season, she played in all 32 regular season-games, hitting .302 (26-for-86), scored 15 runs and had 14 RBI's.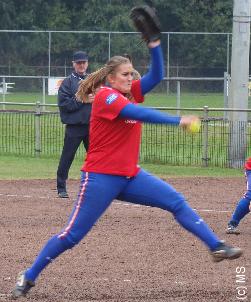 ...Ginger de Weert...
(© Photo: Marco Stoovelaar)

But Lindsey primarily made her name as a strong pitcher. Her most dominating seasons were 2007 and 2008 when she won 18 and 26 games respectively and struckout 190 and 235 batters. While still being one of the best pitchers and having league-leading statistics, Lindsey was less dominating this season. She threw in 20 games, was 13-3 with one save and struckout 150 batters in 96 1/3 inning. Lindsey walked only 13 batters and gave up only 25 hits and finished with a league-leading 0.36 ERA.

In her six seasons in the Dutch big league, Lindsey has a 92-26 record and struckout 897 batters and walked only 85 batters in 793 2/3 inning. She was the league-MVP and Best Pitcher twice (both 2007, 2008), as well as Best Hitter once (2008). This year, Lindsey made het debut in the Dutch National Softball Team and participated in the World Championship in Venezuela.

Righthanded Pitcher Ginger de Weert will play for Iber Lengua Terrasvogels next season after having played for Tex Town Tigers the last two seasons. In 2008, she made her big league-debut, pitching in 17 games for Centrals, where she was 3-5 with one save. Last year, she appeared in 20 games for Tex Town Tigers, finished with a 7-3 record, two saves and an 1.31 ERA, while striking out 41 batters in 58 2/3 inning. This year, she was used in only six games during the regular season and was 2-2 with eight strikeouts in 15 innings. Since last year, Ginger is an alternate on the preliminary roster of the Dutch National Softball Team.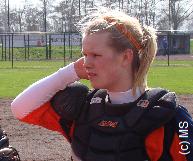 ...Dinet Oosting...
(© Ph: Marco Stoovelaar)

Catcher/Infielder Dinet Oosting will play for Olympia Haarlem in 2011. After having played for The Blokes in Veendam and Run '71 in Oldenzaal, Dinet this year made her debut in the Dutch big league, playing in 21 games for Tex Town Tigers. She hit .191 (9-for-47), scored five runs and had eight RBI's. She also played in the big league for the Dutch National Junior Team, appearing in 20 games, hitting .423 (22-for-52), scoring eight runs and having seven RBI's. Her 22 basehits and seven runs batted in led the junior-squad, with whom she also participated in the European Junior Championship this year in Vienna (Austria).

Third baseman Virginie Anneveld is one of the players who left Tex Town Tigers due to moving to the west of the country because of study and will play for Dutch champion Sparks Haarlem next year. Virginie made her big league-debut in 2005, playing for Tex Town Tigers, where she played for 17 years including six big league-seasons and won the Dutch title in 2008 and 2009 and the European Cup this year. In her rookie-season, she played in 31 games, hitting .158, while also being one of the pitchers of the team. In the last seasons, the became the regular third baseman for the Enschede-team.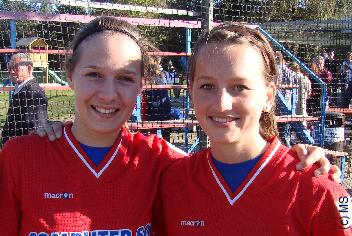 ...Virginie Anneveld and Meike Witteveen...
...played together for 15 years at...
...Tex Town Tigers, including six...
...big league-seasons...
(© Photo: Marco Stoovelaar)

From 2006 on, she steadily improved her batting average, raising it to .370 in both the 2008 and 2009 season. In 2007, she was second best in the team with 22 runs and 37 hits, then led the squad with 25 RBI's in 2009. This season, Virginie played in all 32 games, hitting .289 (28-for-97) with a team-leading nine doubles. She scored 15 runs and led the team with 15 RBI's. Virginie also played at short this season when regular short stop Britt Vonk was injured and when the latter left in August to start her study in the USA. Since last year, Virginie is the regular third baseman for the Dutch National Softball Team, with whom she won the European title in 2009 and this year participated in the World Championship in Venezuela. In total, Virginie played in 39 international games.

Second baseman/Short stop Meike Witteveen will play for Iber Lengua Terrasvogels next season after also having played six years for Tex Town Tigers, where she played for 15 years. In 2005, she made her debut in the Dutch big league, playing in 34 games for the team from Enschede and hitting, 237 with 18 basehits. Three years later, she increased her batting average to .340 then batted .326 last season in which she finished in third place in her team with 24 runs scored. This season, she batted .408 (20-for-49), scored seven runs and had five RBI's in 19 games, missing some game due to a leg-injury. Last year, Meike made her debut in the Dutch National Team, with whom she won the European title in Spain and this year participated in the World Championship in Venezuela, playing in 37 international games overall.

(November 15)