Not much changes at Twins
Nederlands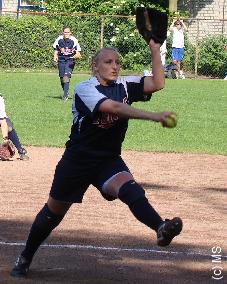 ...Michelle Haen...
(© Photo: Marco Stoovelaar)

OOSTERHOUT (Neth.) - Twins is the team with the least changes on its roster after completion of the 2010 season. The team from Oosterhout added one new player, another one from its Junior-team and a third one is returning after an one-year absence. Two players retired at the end of the season.

Returning to the team is Righthanded Pitcher Michelle Haen, who took this season off to make a tour around the world. Michelle is playing for the big league-team of Twins since 2002, when she made her debut, playing in 33 games and hitting .304 with 31 basehits. A year later, she made her pitching-debut in the main squad, finishing with a 2-1 record and one save, throwing in four games. In 2003 and 2004, she played in part of the seasons, then became a regular again in 2005, when she played in 35 games and threw 71 1/3 inning. She had career-highs by winning 10 games (10-8 record) in the 2007 season and throwing 116 2/3 inning. Last year, Michelle played in 34 games and batted .247, but appeared in only two games as a pitcher, having an 0-1 record.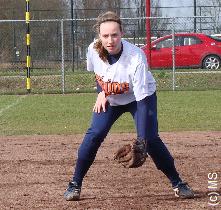 ...Femke Duffhues...
(© Photo: Marco Stoovelaar)

Added from its Junior-squad was Righthanded Pitcher/Infielder Femke Duffhues, who made her big league-debut with the team in 2009, playing in nine games, but none of them as pitcher. This season, Femke also played in nine games and was 0-for-5. As pitcher, she threw in four games, was 0-2 and threw 14 1/3 inning in which she struckout one batter, walked five and gave up 24 basehits. With the Dutch Junior Team, Femke played in two more big league-games and was 0-1.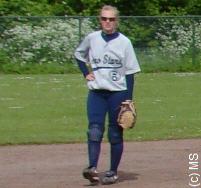 ...Kirsten Molle...
(© Ph: Marco Stoovelaar)

Infielder/Outfielder Kirsten Molle is the lone newcomer and comes to Oosterhout from Euro Stars. In 2004, she made her big league-debut, playing in one game for Birds, then played her next games in the highest division during the 2006 season, also for Birds. In 2008, Kirsten played in her first of three seasons for Euro Stars and played in 32 games. Last year, she played in only six games, but this season, Kirsten played in 25 games and batted .184 (9-for-49), scored four runs and had three RBI's.

New Head Coach Ton van Koeverden probably also will add some Junior-players from both Twins and Roef!, with whom the club has a working agreement, to give them some big league-experience.

As of now, American Righthanded Pitcher Ashley Smuda (pictured left) will return to Oosterhout next season. In her first season in the Dutch big league, she played in 10 games, hitting 0-for-3. Ashley, who arrived during the season, was 6-4 and struckout 46 batters in 63 1/3 inning, while walking only 11 and giving up 68 basehits, finishing with an 1.55 ERA.

Veteran short stop Daisy de Peinder and second baseman Micky Jansen both retired.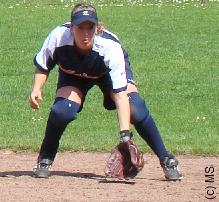 ...Micky Jansen...
(© Photo: Marco Stoovelaar)

Micky Jansen played her first two seasons in the big league for HCAW, making her debut in 2002 when she appeared in 24 games and batted .182. After having played for HCAW in the First Division, Micky returned to the Majors in 2005, which was her first of six seasons at Twins. There, she became a regular player, playing in 30 or more games in four of her six seasons in Oosterhout. Last year, Micky set a career-high by scoring 13 runs and also registered the most basehits with 22. This season, she improved the latter category by finishing with 25 basehits and also ended with a career-high batting average with .263 (25-for-95), while scoring eleven runs and having two RBI's. In total, Micky played in 180 games for Twins.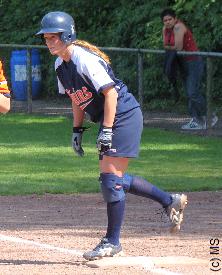 ...Daisy de Peinder...
(© Photo: Marco Stoovelaar)

Daisy de Peinder made her big league-debut in 1993, playing in nine games. This was her first of 17 seasons playing for Twins, for whom she played in 462 regular season-games. In 2001-2002-2003, Daisy had three consecutive seasons in which she hit .400 or higher, including a career-high .469 average in 2003. The year before, she set career-highs in runs (30), RBI's (27) and basehits (46). After hitting .355 in 2006, Daisy left Twins after having played there for 14 consecutive seasons, as she played for Macerata in the Italian Softball League in 2007. But she returned to Twins the next year and added three more seasons, but batted under .280 in all three of them. After hitting .258 in 2008 and .279 last season, Daisy played in 26 games this year and batted only .190 (12-for-63), while scoring seven runs and having six RBI's.

In 1997, Daisy made her debut in the Dutch National Softball Team and remained a member of the team through 2008, appearing in 146 official games, resulting in her receiving the Award of Merit by the Dutch Federation in 2009. With the Dutch squad, Daisy participated in the Olympic Games in Beijing (China) in 2008, three World Championships, five European Championships and two Haarlem Softball Weeks, amongst other events.

Coming season, Daisy will be the Assistant Coach of the team. She will assist new Head Coach Ton van Koeverden, as was announced on September 23. Van Koeverden succeeds René Roovers, who had taken over the coaching in mid-season from Leon Kaptein.

(November 15)